BEST INDIE SONGS: THE 10 TOP TRACKS THAT DROPPED THIS WEEK
Photo by Dana Trippe
What. Phoebe. Said.
— v (@ViralMaterials) June 24, 2022
For those looking for information on safe abortion access, click here.
Check out the latest edition of We Are: The Guard's Best Indie Songs, featuring Djo, MUNA, Alex G, and more.
-
DJO – CHANGE
Stranger Things actor Joe Keery takes time out from The Upside Down to return to his Djo moniker this Monday with the monumentally funky "Change." The latest single to be lifted from his forthcoming sophomore album, Decide, "Change" is a psychedelic odyssey that a press release claims was inspired by "Parliament Funkadelic and the 70s glam of T. Rex." With Joe's Kevin Parker-esque falsetto vocals dancing atop chunky disco synths, "Change" is the definition of a big cosmic bop. Move aside, Kate Bush.
MUNA – WHAT I WANT
Saddest Factory signees MUNA takes another step toward world domination with the dazzling "What I Want." The latest single to be unveiled from their recent self-titled third album, "What I Want" is a maximalist ode to unapologetically living your truth. "I want the full effects/I want to hit it hard/I want to dance in the middle of a gay bar," sings MUNA's Katie Gavin on the cut. With its blend of cathartic vocals and pulsating synths, "What I Want" is a sparkling anthem arriving just in time for the end of Pride Month.
ALEX G – RUNNER
Back in May, Alex G's Alexander Giannascoli threw us quite the curveball with the darkly dirgy psychedelic freakout "Blessing," and this month, the Philadelphia experimental act continues to explore the various sides of his sound on "Runner." Featured on his forthcoming ninth album, God Save the Animals, "Runner" is a bright and brilliant celebration of friendship that exudes a genuine heartland-rock soul: "I like people who I can open up to/Who don't judge for what I say, but judge me for what I do."
DAYGLOW – THEN IT ALL GOES AWAY
Dayglow's Sloan Christian Struble is back and sounding more exuberant than ever on "Then It All Goes Away." Arriving just in time for summer, "Then It All Goes Away" is a disarmingly fun and catchy banger that hears Dayglow coming to terms with a relationship slowly collapsing around him. "You tell me everything and tell me it's fine, but/There's something tells me that there's something going on here," sings Sloan, with cowbells and handclaps uniting in glorious harmony behind the Fort Worth star.
SOCCER MOMMY – FEEL IT ALL THE TIME
Soccer Mommy can't outrun her demons on the radiant "Feel It All the Time." The penultimate cut on her recent third album, Sometimes, Forever, "Feel It All the Time" is a freewheeling excursion through her darkest thoughts. "So I wanna drive out for the sunshine/Drown out the noise and the way I feel," sings Sophie Regina Allison atop an Americana lilt – her voice striving for a brief crack of light. "But even the light is so temporary/And I see the dark at the back of my heels/I feel it all the time."
DAY WAVE (FEAT. KENNYHOOPLA) – SEE YOU WHEN THE END'S NEAR
A few weeks on from teaming up with Hazel English on our Bop of the Week, "All Dressed Up," Day Wave is returning this Monday with the hazy "See You When the End's Near." Featuring KennyHoopla, "See You When the End's Near" hears Jackson Phillips surrendering to the apocalypse with a note of dreamy acceptance. "Everything was cool then/Now it's all a mess," sings Day Wave – his ethereal voice giving itself over to a chugging guitar churn. "Think it's in the air/See you when the end's near."
GINGER ROOT – LONELINESS
He recently teleported to 1981 to deliver City Slicker – the soundtrack to the American adaptation of the fictitious Japanese film 街のやつ – and today, Ginger Root's Cameron Lew is once again returning to the 1980s on "Loneliness." "The year is 1983, Ginger Root is asked to write and produce songs for up-and-coming Japanese idol Kimiko Takeguchi," states Cameron of the premise behind "Loneliness" – a sweet and glittery piece of lo-fi pop that sounds like it was made from the innards of a VHS tape.
LIVING HOUR – NO BODY
They recently teamed up with Jay Som on the staggering shoegaze cut "Feelings Meeting," and today, Living Hour returns with "No Body." The latest single to be taken from the Winnipeg band's forthcoming third album, Someday Is Today, "Feelings Meeting" is a foggy piece of post-rock that hears Sam Sarty's untethered incantations floating in the ether. "This song is about dissociating at a restaurant and feeling completely isolated and alone in the experience," reveals Sam. Tune in. Drop out.
TRIATHALON – DREAMS
We've already heard the title song alongside "Time" and "Floating in Love," and today, New York City auteurs Triathalon is returning with the latest single from their forthcoming fourth album, Spin. Clocking in at three and a half minutes, "Dreams" is a potent experimental-pop ode to the land of nod. "I'm sorry if I don't reply/I'm sleeping just to pass the time," sings Adam Intrator – his soft and heavy-lidded voice fully encased in a duvet of keys and hip-hop-indebted drums. Heady, heady stuff.
OLIVER MALCOLM – BABY DON'T GO
Having recently performed his first sold-out headline show at Folklore, London, Oliver Malcolm is making his joyful resurgence this June with "Baby Don't Go." Written and produced by Oliver, "Baby Don't Go" is a bombastic blast of Motown-adjacent soul that sees him channeling early-aught greats like Jamie T and Mark Ronson. "Baby don't go/I'm begging don't leave/My heart no more/Please stay by me," sings Oliver – his distinctly scratchy voice oozing with charm and charisma atop a Stax-esque stomp.
-
Follow We Are: The Guard's Weekly Chart on Spotify for more. xox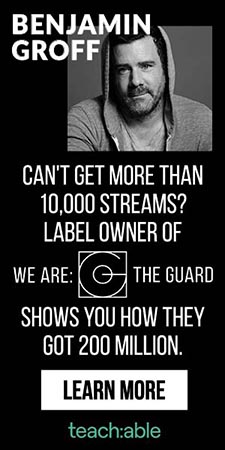 Jess Grant is a frustrated writer hailing from London, England. When she isn't tasked with disentangling her thoughts from her brain and putting them on paper, Jess can generally be found listening to The Beatles, or cooking vegetarian food.