BEST INDIE SONGS: OUR 10 FAVORITE TUNES OF THE WEEK
Photo by Laura Jane Coulson
Happy Memorial Day. Fingers crossed you're taking some time out to look after yourselves following a heavy, intense few days of news. While music can seem like a small deal during times like this, the team and I nevertheless hope the latest edition of We Are: The Guard's Best Indie Songs helps you to make the most of the final hours of the long weekend before we continue the good fight. Check out the following indie tunes from Oliver Sim, MUNA, Sky Ferreira, and more.
We're devastated for Uvalde, Texas.

Once again, gun violence has forced its way into our schools, leaving nothing but devastation, trauma, and tragedy in its wake.

We can't afford to wait for action — we must demand it now.

Join us: Text ACT to 644-33.

— Everytown (@Everytown) May 24, 2022
-
OLIVER SIM (FEAT. JIMMY SOMMERVILLE) – HIDEOUS
The xx's Oliver Sim continues the countdown to his debut solo album, Hideous Bastard, by unveiling "Hideous." A collaboration with Bronski Beat's Jimmy Somerville, "Hideous" hears Oliver speaking out for the first time about being diagnosed with HIV. "I've lived with my status since I was 17 and it's played with how I've felt towards myself and how I've assumed others have felt towards me," reveals Oliver. A liberating opus about overcoming shame and stigma, "Hideous" is a steeply moving, touching symphony.
MUNA – HOME BY NOW
Back in March, MUNA sang about boldly, confidently leaving a relationship on the glittering "Anything but Me." Fast forward a couple of months, however, and the Saddest Factory trio is confronting the doubts that can follow a breakup on "Home by Now." "Would we have turned a corner if I had waited?/Do I need to lower my expectations?/If we'd kept heading the samе direction/Would we be homе by now?" questions Katie Gavin over pummeling drums on the cut – a sad dance banger of the highest order.
SKY FERREIRA – DON'T FORGET
It's coming up to a decade since she dropped the generation-defining Night Time, My Time, but Sky Ferreira is finally back today with the massive "Don't Forget." "There's a fire on your street/Terrorized the whole community/Little troubled girl, you see/Burning down your house of certainty," begins "Don't Forget," with distorted riffs and loud drums announcing Sky's arrival like a lightning bolt. It only gets bigger from there on out, with the 29-year-old sounding more than ready to reclaim her grunge-queen crown.
BEABADOOBEE – LOVESONG
Filipino-British act beabadoobee takes time out from supporting Halsey on her Love and Power Tour to share the deeply, deeply sweet "Lovesong." Featured on beabadoobee's forthcoming sophomore album, the much-anticipated Beatopia – alongside "Talk" and "See You Soon" – "Lovesong" is a tenderly honest acoustic devotional that hears Beatrice Laus delighting in love's most unextraordinary details: "Know we had better days/But to keep me sane/I guess that this is just another love song about you."
EMPRESS OF – DANCE FOR YOU
Empress Of's Lorely Rodriguez is emerging from a breakup with a newfound lust for life on her euphoric latest single, "Dance for You." Featured on her forthcoming EP, Save Me – a collection of five tunes as headed by the string-swept title song of the same name – "Dance for You" hears Lorely continuing to strive for post-love joy through cathartic club beats. "'Surrender to me like this' is a touching lyric for me because I'm not hurt over this person anymore," reveals Lorely. "I've come out the other side."
GORDI – WAY I GO
She recently teamed up with Troye Sivan on "Wait" for the Jared Frieder-directed Three Months, and today, Australia's Gordi is making her solo return with the comforting "Way I Go." Featured on her forthcoming EP, Inhuman, "Way I Go" is a tribute to the nourishing nature of love that hears Gordi's richly profound vocals surrounding us like a reassuring embrace. "'Way I Go' is about the newness and the oldness of being in love," says Gordi in a statement. "How it saturates and warms you, expands and transforms."
SUPERORGANISM – ON & ON
Life can sometimes feel like one disaster after the next, with Superorganism focusing in on this feeling on their vibrant latest single, "On & On." The latest single to be taken from the London-based collective's forthcoming sophomore album, World Wide Pop – after "Teenager," "It's Raining, and "crushed.zip" – "On & On" is a glaring bit of maximalist pop music that hears Superorganism continuing to paint existential crises in primary-color synthesizers: "The latest craze, can't relate/Yeah, it goes on and on."
HOVVDY – RUBY
Just a few weeks on from opening our Chill column with the honey-dipped lullaby "Hide," Hovvdy is back today with the Andrew Sarlo-produced "Ruby." Lifted from the Austin duo's recent EP, billboard for my feelings – a four-song collection featuring offcuts from 2021's True Love – "Ruby" is an ecstatic barn burner that Hovvdy's Charlie Martin reveals was inspired by late-nineties legends Sugar Ray. "I tried to almost overwhelm Sarlo with melody, and the chemistry he achieved is so fun," he adds. Enjoy.
ALEX G – BLESSING
He's no stranger to experimentation, but Philadelphia-based musician Alex G is truly throwing us a curveball on his latest single, "Blessing." Produced alongside Jacob Portrait, "Blessing" is a darkly dirgy psychedelic freakout that sees Alexander Giannascoli putting his own mocking spin on the toxic-positive affirmations that define much of wellbeing culture. "Every day/Is a blessing/As I walk/Through the mud," hisses Alexander before becoming consumed by an inky swamp of synthesizers. Crank. It. Up.
A. G. COOK & ALASKA REID – SEEDS
It's been two years since Alaska Reid released her debut EP, Big Bunny, as produced by her boyfriend, PC Music's A. G. Cook. Since then, the couple have collaborated on a multitude of singles, with Alaska and A. G. teaming up once again this Monday on the gorgeous "Seeds." Featured on For the Birds: The Birdsong Project – a benefit album supporting the National Audubon Society – "Seeds" is a sprawling folky grunge drift that hears Alaska beautifully equating our paths in life to seeds dispersing in the wind.
-
Why not follow We Are: The Guard's Weekly Chart on Spotify for more? xo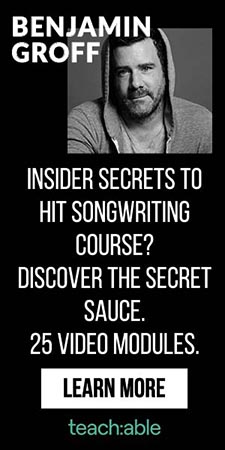 Jess Grant is a frustrated writer hailing from London, England. When she isn't tasked with disentangling her thoughts from her brain and putting them on paper, Jess can generally be found listening to The Beatles, or cooking vegetarian food.