BEST INDIE SONGS: 10 TRACKS FOR THE HOLIDAY SEASON
Photo by Lisanto 李奕良 on Unsplash
Can you believe it? We've finally made it to the last indie column of the year! Before I sign off, I just wanted to say what a blast it's been sharing music with you over the previous 12 months. While 2021 wasn't exactly the perfect return to normality we hoped it'd be, it was nevertheless great to see our favorite artists back in the recording studio and back on the road like "old times." Fingers crossed that we'll be able to keep things that way going into 2022. Just don't forget to stay safe, wear a mask, and get your hecking booster shot! Check out the latest edition of We Are: The Guard's Best Indie Songs, featuring Pom Pom Squad, Big Thief, Animal Collective, and plenty more below!
-
POM POM SQUAD (FEAT. MATTHEW CAWS) – POPULAR (NADA SURF COVER)
This. Is. Iconic. In March, Pom Pom Squad's Mia Berrin tweeted her intentions to recreate the music video for Nada Surf's "Popular." Just under nine months and one tour with Nada Surf on, and Mia is living up to her promise this Monday. While the original is the stuff of legend, Pom Pom Squad's take on both the song and the visual makes for a perfect extension of their angsty, grungy cheerleader aesthetic, with Nada Surf's Matthew Caws even offering a cosign in the form of backing vocals in the chorus.
BIG THIEF – NO REASON
Big Thief is dropping their double album, Dragon New Warm Mountain I Believe In You, in a couple of months, but before all of that, the New York City outfit is back with "No Reason." According to Big Thief, "No Reason" came together in Colorado's Rocky Mountains after Adrianne Lenker and her bandmates overheard the session musician, Richard Hardy, playing the flute in the distance. The final result is spellbindingly gorgeous, with Adrianne ruminating on grief and the unstoppable passage of time.
ANIMAL COLLECTIVE – WALKER
Back in October, Animal Collective made their return with the shape-shifting "Prester John," and this Monday, the Baltimore act is continuing to build up to the release of Time Skiffs with "Walker." According to Panda Bear, "Walker" is an ode to Scott Walker, the British-American avant-garde singer-songwriter who died in 2019. With glassy, organic percussion folding into Animal Collective's heavenly vocal harmonies, "Walker" is the kind of multidimensional offering I could get lost in for several hours.
BEST COAST – LEADING
It's coming up to two years since Best Coast dropped their fourth album, Always Tomorrow, and to celebrate, the Los Angeles two-piece is returning with the certifiable ripper "Leading." A collaboration with The Linda Lindas, who went viral earlier this year with "Racist, Sexist Boy," "Leading" is a song "about trying to find hope during the apocalypse." Bringing together a "Celebrity Skin"-esque riff with Bethany Cosentino's signature sunny lilt, "Leading" is a Best Coast banger of the highest order.
RUTH RADELET – TWILIGHT (ELLIOTT SMITH COVER)
Just a few months on from Chromatics announcing their breakup, Ruth Radelet is making her solo debut today with this deeply lovely cover of Elliott Smith's "Twilight." "Elliott was a brilliant songwriter, and I have always been blown away by his ability to craft such lovely, catchy melodies around devastatingly sad lyrics," says Ruth, with the Portland act infusing the song with a quiet sense of sparkling optimism. "'Twilight' is a beautiful example of that, and one of my favorite songs he ever wrote."
NEIL FRANCES (FEAT. BENNY SINGS) – WHERE I BECOME SOMEONE
They recently opened our column with "finding rhythm," their collaboration with GRAE, and today, Los Angeles band NEIL FRANCES is getting back in the groove with "where i become someone." Featuring Dordrecht's Benny Sings, "where i become someone" is the kind of sultry, balmy boogie that transports listeners to a summer club night. NEIL FRANCES: "This song is about becoming. It's about the feeling of being in a transitional state, eyes on the sky, ready to ascend to the great disco ball in outer space."
ALICE PHOEBE LOU – UNDERWORLD
Kommetjie singer-songwriter Alice Phoebe Lou celebrates an unspoken connection between a pair of lovers on her deeply glorious latest single, "Underworld." Featured on her recent fourth album, Child's Play, a 10-song collection recorded on Vancouver Island, "Underworld" is a swooning, romantically jangly ode to the joy of reaching a quiet comfortability in a relationship. "I hear you clearly without sounds/Oh, I don't need these ears when you're around," sings Alice in the opening verse. Delightful doesn't cover it.
MIYNT – STATION STATION
Miynt's Fredrika Ribbing is delving deep into the American desert on her mythological latest single, "Station station." Written and produced alongside Theodor Arvidsson Kylin, "Station station" is an arid adventure through barren landscapes occupied by drifters, dreamers, and the occasional rattlesnake. Bringing together dusty riffs and Fredrika's fabled voice, "Station station" is dedicated to Easy Riders everywhere: "Don't wake me up/I love this dream/Forever young and free/Far from the heat/Life is so sweet."
RUBY – ELECTRIC FENCE
There isn't a whole lot I can tell you about Ruby, but honestly? It really doesn't matter listening to "ELECTRIC FENCE." The Los Angeles act as fronted by Ruby McGinn is delivering an official party in a box on their funky latest single and the follow-up to 2020's Imperfector EP. "Are you ready?" asks Ruby against a Pharrell Williams-esque three-note stab, before launching into a groovy floor-shaker that can be filed alongside the likes of Metronomy, Talking Heads, and LCD Soundsystem. More, please?
JAMIE LIDELL – DO YOU HEAR WHAT I HEAR? (BING CROSBY COVER)
The countdown to Christmas is on, and We Are: The Guard is officially getting in the festive spirit today by revisiting Jamie Lidell's cover of "Do You Hear What I Hear?" Featured on We Are: The Guard's very own Christmas covers album, Indie Christmas, Jamie's interpretation of the Bing Crosby classic is quite unlike any carol that's come before it. Bringing together mutant synths, big, chunky beats, and Jamie's freakily soulful voice, "Do You Hear What I Hear?" is nothing short of a Christmas essential.
-
Merry Christmas, everyone! See you next year! x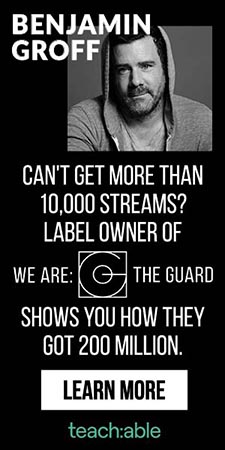 Jess Grant is a frustrated writer hailing from London, England. When she isn't tasked with disentangling her thoughts from her brain and putting them on paper, Jess can generally be found listening to The Beatles, or cooking vegetarian food.