TOP INDIE SONGS: 10 SPOOKILY GOOD TRACKS
Photo by Steven Aguilar on Unsplash
Halloween is almost here, but before you dust down the spooky classics on Spotify, it's time for the latest edition of We Are: The Guard's Top Indie Songs. With brand new material from Anjimile, Wet, Animal Collective, and more, this week's playlist contains no tricks and all treats. While I go and put the finishing touches to my Phoebe Bridgers costume (I'll be the girl in the skeleton suit performing "Kyoto" on a ukulele), check out the best indie tracks on the blogosphere below.
-
ANJIMILE – STRANGER
Having released one of We Are: The Guard's favorite albums of 2020, Giver Taker, Anjimile is back today with the quietly triumphant "Stranger." His first single since signing to 4AD, "Stranger" starts out as a hushed acoustic reflection on the Boston musician's trans journey and gender transition. The song doubles in size come the climax, however, with celebratory horns surrounding Anjimile as he sings about living with the ghosts of his past: "I think I'm haunted/My name will never be the same."
WET (FEAT. BLOOD ORANGE) – BOUND
Wet and Blood Orange unite this Monday for the beautifully hazy "Bound." The latest single to be lifted from Wet's recent album Letter Blue after "On Your Side," "Larabar," "Clementine," and "Far Cry," "Bound" is a softly focused percussive cut that hears Kelly Zutrau and Dev Hynes singing about being trapped in a toxic love. "Bound to you had me tied/Never even had to try/What's it like to never mind/When no one seemed to care?" signs Zutrau, her glassy, translucent topline coming backed by a twitching pulse.
ANIMAL COLLECTIVE – PRESTER JOHN
It's been five years in the making, but Animal Collective is finally making their return in February with Time Skiffs. Before all of that, however, the Baltimore band is sharing the hypnotic "Prester John." Built around two songs – one written by Panda Bear and one written by Avey Tare – "Prester John" is a softly shape-shifting harmony that fills the air like a smoke signal "Here's a little tip/How to look at what is really living/Treating every day/As an image of a moment that's passed." Captivating.
DIJON – RODEO CLOWN
The countdown to Dijon's brand new album Absolutely – due out November 5th via Warner and R&R – continues this Monday with the release of the astonishingly raw, soulful "Rodeo Clown." Coming after "Many Times," "Rodeo Clown'' hears Dijon heading into more twangy ballad territory, with the Los Angeles act pouring every fiber of his being into the vocals as he sings about his partner falling out of love with him: "So why? Could you еxplain?/'Cause I can't lie I'm fed up/Why you always standin' mе up?"
RITT MOMNEY – HEADSTART
Ritt Momney continues to render his melancholy through the brightest-colored bedroom-pop on "HEADSTART." Featured on his recent album Sunny Boy – home to "Not Around," "Set the Table," "Escalator," "Show Runner 99," and "Sometime" – "HEADSTART'' begins light and dreamy, with Momney's falsetto taking center stage atop synth chords. It's once the mutant, squelchy bassline hits that "HEADSTART'' really comes into its own, however, with Momney choosing to cut ties with a toxic lover.
HEALTH & POPPY – DEAD FLOWERS
HEALTH has shared some fantastic collaborations over the last few years, with the Los Angeles industrial band continuing down that path this Monday with the Poppy-featuring "DEAD FLOWERS." The inky follow-up to the Chino Moreno duet "ANTI-LIFE," "DEAD FLOWERS" is as tall as a gothic cathedral, with Poppy and Jake Duzsik hovering like a couple of specters above the darkened churn beneath them: "Dead flowers/Pressed against my lips/Dead flowers/Just another fix." Brilliant.
NO ROME – WHEN SHE COMES AROUND
Dirty Hit signee No Rome takes inspiration from Icelandic auteur Björk on the eruptive "When She Comes Around." According to Guendoline Rome Viray Gomez, "When She Comes Around" was written after he watched a live performance of Björk's Vespertine. "I wanted to make a song that was heavy on the strings but after days of working on it I eventually brought it to a more guitar-driven song," Gomez reveals of the sputtering industrial engine, which was produced with help from The 1975's George Daniel.
HIPPO CAMPUS – BOYS
They recently shared Good Dog, Bad Dream EP – a five-song record that was inspired by their time in quarantine – and today, Saint Paul's Hippo Campus is making their return with "Boys." Hippo Campus singer Jake Luppen reveals "Boys" was written after a hangover that left him feeling like he'd hit rock bottom. "Because you're there, you assess everything around you, and then become a better person," Luppen adds of the cut, which sears with a kind of reckless optimism in spite of its heavy subject matter.
JOE P – CROWN VIC (BLACK CLOUD)
He recently caught the attention of Apple Music's Zane Lowe and BBC Radio 1's Jack Saunders, and today, Asbury Park's joe p is continuing his ascent with the galvanizing "Crown Vic (Black Cloud)." Featured on his brand new EP Emily Can't Sing, "Crown Vic (Black Cloud)" is a pummeling anthem about the impact capitalism has on our mental health. "I wanted this song to be about sort of losing your mind due to the lack of time we have to fix ourselves," joe p says of the incisive, electrifying cut. Listen.
THE BRAZEN YOUTH – CHANGING
The Brazen Youth's Nicholas Lussier, Charles Dahlke, and Micah Rubin continue to process some of the heaviest, most intense months of their lives on "Changing." Written last year, while they were dealing with "leaving our adolescence, navigating a world of chaos, and the loss of a parent," "Changing" swells with gorgeous emotion as the New Haven storytellers come to terms with the fact that change is an inevitable part of being a human: "I think I'm changing/Like shaking off this dead skin/I'm shining through."
-
Follow We Are: The Guard's Weekly Chart on Spotify for more. xo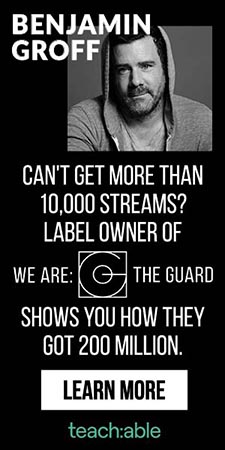 Jess Grant is a frustrated writer hailing from London, England. When she isn't tasked with disentangling her thoughts from her brain and putting them on paper, Jess can generally be found listening to The Beatles, or cooking vegetarian food.