FEATURED FIND: INTRODUCING LEV, THE ARTIST PUTTING VULNERABILITY BACK INTO INDIE POP MUSIC
Photo by Whitney Otte
"Hi. I'm Lev. And I've been scared of sharing music my whole life." And so begins the open letter addressed to fans on Los Angeles-based singer-songwriter Lev Freedman's official website. It's a startlingly vulnerable admission from an artist who – at least in We Are: The Guard's eyes – is very much shaping up to be The Next Big Thing™ in indie pop music. Dig a little deeper, however, and it soon becomes clear that vulnerability is the sacred ground upon which Lev's entire career is made.
LEV - "WHEN I HURT YOU"
Growing up a shy child, Lev found himself fascinated by artists such as Frank Ocean and D'Angelo, who, like him, thrived in a land of quiet solitude. Even after being accepted into the coveted Berklee College of Music, Freedman continued to withdraw, explaining on his website: "I wrote alone, I performed either alone or as the leader of my own band, and I wouldn't under any circumstances perform unless I was asked." Eventually, however, solitude gave way to depression and anxiety, with Lev returning to his childhood home to recover and recalibrate. It was time, he finally realized, to step out of the shadows of his darkened mind and expose the world to his talent. It was time, he finally realized, to make himself vulnerable.
LEV - "ALWAYS THE RAIN"
The result is a string of singles that introduce us to an artist who checks all of the boxes while remaining radically true to himself. Mixing indie pop accessibility with a richly creative soul, Lev is the kind of songwriter who can really do it all. And with lyrics that traverse everything from his experience with toxic relationships to his existential angst, Freedman maintains a signature fragility at the core of everything he creates.
LEV - "JON BELLION"
This even goes for his official website. While some may say "the artist website" died out many years ago – replaced instead by a profusion of social media – Lev is bringing his fans a desktop experience not seen since the days of Yahoo! GeoCities. Spilling over with curios such as voice notes, photographs, and stream-of-consciousness writings, it's Freedman's latest exercise in creative vulnerability, while also offering his listeners an intimate dive into the mind of a modern-day pop star.
 

 

 

View this post on Instagram
With a brand new EP, A Year Underwater, due for release in early 2021, it finally feels as though Lev is close to overcoming his fear of sharing music as touched on at the beginning of this blog post. Of course, there's still some road to tread before he's completely free of his phobia, but it's only a matter of time before vulnerability makes way for confidence. And then it's only up from there.
We chatted with Lev about his creative process, Antiques Roadshow, and more!
WE ARE: THE GUARD: Hey Lev! Thanks so much for taking the time to answer these questions. How have you been lately? Has COVID-19 impacted your daily routine?
LEV: Things are good! My daily routine pre-COVID was mostly writing sessions, so the only real adjustment for me was moving those online. Plus, it forced me to stop spending nearly as much money on coffee. Considering those have been the biggest changes- I'm doing alright. I won't say it's been easy, but I'm very lucky to have not known too many people who've gotten sick, and my family is healthy and accounted for. All good things.
WE ARE: THE GUARD: You've been making music for a long time, but for years chose not to share it. Can you speak to that mentality and discuss how it has felt to start releasing music in 2020?
LEV: Looking back, another part of the reason I didn't share for so long was that I'm a perfectionist to a fault, and sometimes it prevents me from starting ideas. It doesn't really prevent me from taking things to the finish line, I just usually have to work a good amount harder to get there. But starting an idea comes hand in hand with the knowledge that it will inevitably not be perfect. So it can feel like a huge mountain to climb, just beginning the creative process. But every time I climb the mountain, I realize there is no mountain, and when I'm in those creative moments- I live for them. So the process goes on like that: having difficulty starting, having the time of my life while I'm in it, and then having difficulty starting again. I think becoming a professional boils down to practicing the process of starting. That's why co-writing was such a revelation to me 2-3 years ago, because it gives you a date and time that you have to show up and start. Without it I think it would've been really hard for me to get to where I am now in terms of writing and sharing.
WATG: On your website (which is amazing by the way), you talk about struggling with the idea of what it meant to be successful. What does success look like to you now?
LEV: Thank you! I get so excited when people like the website. I tried really hard to tell that story in a way that recognized the progress I'd made, but also made a point to show I still struggle with these things. The truth is- I still have no idea what success really means to me. I have a lot of trouble balancing my ambition with a more grounded view of success. Like I understand on an intellectual level that if me being successful relies on vanity numbers I'll never be happy, but my ambition still drives me to get X number of fans, sell out certain rooms, get a Grammy. What I try to do now is be aware of the dissonance between those two and just keep my head down and focus on process instead of outcome. If I'm even happier and more passionate about what I'm creating in 5 years I'll consider that success.
WATG: Is there something you're passionate about outside of music that people might not guess?
LEV: I desperately want to be on Antiques Roadshow. Don't ask me why. Is it a stupid ambition? Maybe. Either way, I've been putting this out into the universe for a couple years and I am going to continue to until it happens. Please reach out to me with all leads for exclusive and valuable antiques.
WATG: Who's one artist you love that needs more attention right now?
LEV: Emilia Ali is one of my all time favs. And she's in the middle of changing up her sound which I think is so compelling. She's putting out a project this year and all the new songs have been so good and so cohesive. The newest one is called "Quiet."
EMILIA ALI - "QUIET"
WATG: We love Emilia! She recently released a cover of "What's My Age Again?" on our label! Is there someone you love working with, and if so why?
LEV: My friend Bendik and I produce all my songs together and I have a lot of fun. I mean I can't speak for Bendik, but I know I go into happy Lev mode as soon as we get to the studio. It's always special when you find somehow who hears what you hear without having to explain everything at length.
WATG: You've got an EP coming out in 2021! Anything you can share with us about that project?
LEV: Yes! A Year Underwater was a way for me to talk about things that I had a lot of trouble talking about otherwise. It's been a little house for my insecurity and ambition and regret and loneliness that I get to visit instead of having it all live inside me all the time. I hope people can feel empowered by the songs the way I've been empowered by them. And honestly on top of that, I just want people to have fun listening to the project. I really don't have much more of an agenda than that. I hope it can help make your 2021 better than your 2020.
Listen to Lev's singles now, out on all streaming platforms.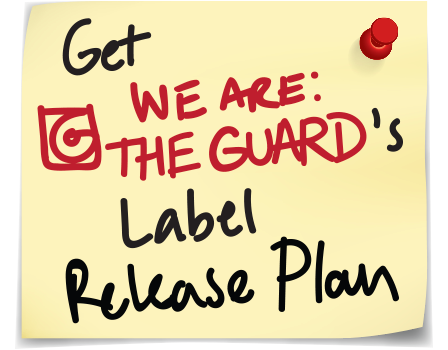 Jess Grant is a frustrated writer hailing from London, England. When she isn't tasked with disentangling her thoughts from her brain and putting them on paper, Jess can generally be found listening to The Beatles, or cooking vegetarian food.
Lev
Favorite Book
Animal Dreams - Barbara Kingsolver
Instruments played
Drums, percussion, guitar, bass
Favorite song you've written
When I Hurt You
Favorite song by another artist
A Case of You - Joni Mitchell
Life changing album
Songs in the Key of Life
Favorite City
New York City
Hobby / Passion
Gardening
Dream Collaboration
Frank Ocean
Education
Berklee College of Music
Celebrity Crush
Always, Natalie Portman
WE ARE: THE GUARD LATEST RELEASES
Leon Else