FEATURED FIND: INTRODUCING "HOMESCHOOL TO HOLLYWOOD" HEROINE AMELIA MOORE
Image provided by Capitol
With the Internet providing them access to the world at their fingertips, it feels like most artists have at least *the potential* to become an overnight success in the modern music industry. Gone are the days when bands would have to tour the toilet circuit and sleep on random apartment floors to scrape a living. Now, you can have tens of thousands of fans in a matter of weeks – assuming you post the right kind of content, at the best sort of time, with the optimal number of hashtags, of course. With a large social media following and only two songs to her name, pop flamethrower Amelia Moore might, on the surface, come across as one such overnight success. Dig a little deeper, however, and you'll soon discover this data oversimplifies the long journey undertaken by this "homeschool to Hollywood" heroine.
Born in Lawrenceville – the second oldest city in the metropolitan Atlanta area – to a conservative Christian household, Amelia Moore got her start playing violin and singing in the local church choir at the age of five. It wasn't until she grew older and took on the role of worship leader, however, that Amelia began writing her own songs. Within the next few years, Amelia enrolled at Belmont University in Nashville, where the Euphoria-esque student lifestyle proved to be quite the culture shock for the sheltered star. "Pretty quickly I started questioning everything I was raised to believe," says Amelia, with the rising artist eventually dropping out and moving to Los Angeles to channel her new experiences into her music.
It was while in Los Angeles that Amelia Moore connected with her producer, Pink Slip, and began forming the vision behind her project. Just as she was getting ready to introduce her art to the world, however, the pandemic hit. "Like so many other people, everything I'd been working toward was swept out from under my feet," writes Amelia, who subsequently turned to TikTok as a form of catharsis during such a creatively confusing time. Within a week of posting her original material, the 21-year-old had amassed over 100,000 followers on the platform. Magnetizing with her fiery personality and powerhouse vocals, Amelia went from success to success on the app, leading to a record contract with Capitol in the fall of 2021.
@icryatwork lol my side boob at the end ig and spotify r in my bio !!! #fyp #ChimeHasYourBack ♬ original sound - amelia moore
Despite being on TikTok since May 2020, it wasn't until October 2021 that we got our first official taste of Amelia Moore's twisted pop music in the form of her debut single, "sweet and sour." Produced by the aforementioned Pink Slip, "sweet and sour" made for an immediately wall-shaking introduction to this viral upstart. With glitched-out textures and crunching hip-hop beats clinging to her glassy, Ariana Grande-esque melisma, it's an intoxicating showcase of the dark and light inflections that make Amelia's songwriting so unique. Much the same can be said for the lyrics of "sweet and sour," described by Amelia as "a perfect statement of who I am as a person." The singer continues: "For the most part I'm a total angel and super sweet, but the second you mess with me or any of my friends, that's all over. It's kind of a warning to everyone, telling them to be careful and tread lightly, or else they'll get the sour."
Earlier this year, Amelia Moore offered up a second plunge into her dynamic pop universe with "vinegar." While "sweet and sour" raged like a long-lost Yeezus cut, "vinegar," with its steeply honest narration and vocoder-chromed whistle notes, unearthed a more fragile, vulnerable side to Amelia – a brave young artist with no intention of being held back by genre stereotypes. And with "sweet and sour" and "vinegar" well on their way to clocking up almost three million streams on Spotify alone, such creative freedom is clearly already playing off for the exceptionally talented Amelia Moore. "Homeschool to Hollywood," indeed.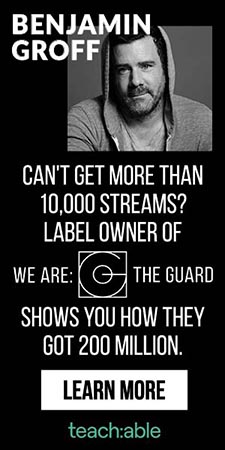 Jess Grant is a frustrated writer hailing from London, England. When she isn't tasked with disentangling her thoughts from her brain and putting them on paper, Jess can generally be found listening to The Beatles, or cooking vegetarian food.
Amelia Moore
Hometown
Lawrenceville, GA
WE ARE: THE GUARD LATEST RELEASES
Leon Else