FEATURED FIND: AUDREY BUSSÀNICH SHINES A NEW LIGHT ON CREATIVE STORYTELLING
Image by Koo Chung, provided by Audrey Bussànich
Audrey Bussànich is the new Americana artist you want to have on your radar for an innovative approach to songwriting, singing and storytelling. Like a fresh cup of tea on the weekends, Audrey's music is refreshing, entrancing and soothing.
Her debut studio EP, Go for a Drive, captures her talent for melodies and ingenious lyrics. Her picturesque descriptions take you on a peaceful yet exciting journey through the EP. From taking it slow with your partner to painting your shared house green, her lyrics are the perfect depiction of "show, not tell" - lyrics that make you want to rearrange your bookshelves filled with classic literature and experience love as precious and fleeting as a shooting star.
Poetic lyrics are always best supported by memorable melodies, and none of Audrey's songs fall short of a catchy chorus. Her knack for hooks may stem from her experience with classical music - she was transcribing motives from Prokofiev's Symphonies on her toy piano at the wise old age of 3, after all! This precocious young musician went on to discover songwriting in high school, and all her hard work since then culminated in her many achievements, notably: garnering 186k streams on Spotify on her 2018 bedroom-recorded live EP What I'm Looking For, opening for Bruno Major on his North American Tour, and performing as an endorsee of Kurzweil Music Systems at NAMM Show 2017 and 2019.
AUDREY BUSSSÀNICH - "TAKE TIME"
Audrey's grasp on melodic development is commendable - I always smile at the turnaround on the pre-chorus lyric "When I think of you in the future tense / I call you mine." That, coupled with the instrumental rest between "If you want to take some time," and "take mine," makes the track a brilliant opener for the EP. Not to mention, the chorus melody is infectious.
AUDREY BUSSSÀNICH - "GREEN"
The dreamy piano sounds, motivic development, and sweet velvety vocals teleport you into a fantastical love story for 3 minutes and 21 seconds. Co-written with Abigail Orsborn and Rodney Alejandro, the song describes the uncertainty and elation of a new relationship, and being "held over heels, stuck on a feeling." The chorus melody runs and leaps across the octave, taking us on a new turn with every word.
AUDREY BUSSSÀNICH - "GO FOR A DRIVE"
Audrey's track arrangements are always interesting, with some recognisable instrumental hooks you can hum along to, yet they never overpower her lyrical message and conversational tone. The brushes groove sliding in on the intimately sung "I don't wanna lose you" kicks off the song with an energetic yet subtle momentum. She translates the scary feeling of taking the next leap in a relationship with a simple statement: "We could sit here and wonder all our lives, or go for a drive."
We chatted with Audrey about her inspirations, artistry and ambitions.
WATG: Congrats on the release of your debut EP! How does it feel to finally have it out in the world?
AUDREY BUSSÀNICH: Thanks Aashna! It feels surreal to know that the music I've lived with for the last two years now belongs in other people's worlds. The songs get to travel the world without me and become part of someone else's life. And that's the thing I think is most exciting.
WATG: Can you tell us about your biggest inspirations while writing and producing your EP?
AB: My then-crush, now husband, Eric, was the biggest inspiration. While I wouldn't have admitted it at the time of writing, I was processing all the feelings of what it's like to be at the beginning of a new love, where everything is hopeful and nothing is certain. All you have is the adventure beyond if only you're brave enough to pick up the keys and say "Let's Go!"
WATG: What was the experience that made you realize that music is your calling?
AB: Where do I begin?! I began studying classical piano at age 3. I loved it, but I was always more interested in playing the music I heard in my head than the notes on the page. When I discovered songwriting around my junior year of highschool, it was a huge moment for me. My love of composition, music, performance, singing, language - all of those passions met in songwriting. From age 17 on, I really took songwriting seriously and made the most of every chance I had to learn and grow as a writer and musician.
WATG: What's your dream collaboration, dead or alive?
AB: Jacob Collier and Madison Cunningham all the way!
WATG: How do you want people to feel when they listen to your music? Do you keep that in mind while writing?
AB: It's very important to me that people feel connected either to themselves or the world around them. While I'm not afraid to write about the harder things - disappointment, anger, or heartbreak, I never want my music to come from a place of broken bitterness.
It's something I think a lot about, because I so believe in the power of words to shape our understanding and experience of the world. I hope that all my songs uplift the listener, even if it's a "sad" song.
WATG: "If you wanna take some time, take mine" is such a beautiful concept! What sparked the inspiration for that line?
AB: My genius co-writer Emily Dini and I were trying to capture the feeling of anticipating the future possibilities with someone, while also wanting to soak up each little moment along the way. She said that line so casually during our co-write, and it was almost like a lightning bolt hit the room. I'm a sucker for songs with a good punch line chorus, and that line was the perfect one for the song.
WATG: If you were stranded on a deserted island, what would be the 3 albums you'd want to have with you? 
AB: Court & Spark by Joni Mitchel, Who are You Now by Madison Cunningham and….. Red (Taylors Version) by Taylors Swift. But if I could, I'd pick the whole T Swift Anthology.
WATG: What's next for you as an artist?
AB: This fall, I'll be releasing the acoustic live version of the "Go for a Drive" EP with live video performances of each song. I have such an amazing team working on the project with Rodney Alejandro as producer (former keyboardist/music director for The Script). While I love the studio version of the EP, I can't wait to share this reimagined version. I'm also working on a book of illustrations for each song on the EP and scheduling a tour for the fall. After that, who knows. But I'm excited to see!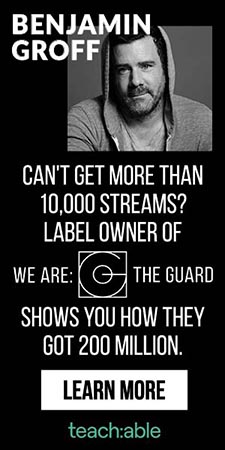 Aashna Gupta is an artist and writer from New Delhi, India. Other than singing, writing, and scouring through playlists for new artists to listen to, her daily activities involve napping, playing video games, and wondering when Rihanna's next album is going to drop.
Audrey Bussànich
Hometown
Colorado Springs Co
Birthday / Sign
Sept 22 - equinox baby!
Inspirations
Her husband, long walks, early 20th century literature
WE ARE: THE GUARD LATEST RELEASES
Leon Else