FEATURED FIND: BAYNK'S ELECTRONIC MUSIC IS THE PULSE OF THE PRESENT
Image from Paper Planes PR
New-Zealand-By-Way-Of-Los-Angeles Producer BAYNK straddles the club/rave divide and finds the pulse of the present in the process.
Binaries are stupid. Once upon a time, in the not so distant past, there was an imaginary, invisible line in the world of electronic music. On one side of the divide, you've got "the club" with its emphasis on big names, big hooks, addictive melodies, pretty people, and legal intoxicants. On the other hand, you've got "the rave" which focuses more on energy, repetition, and the crushing power of volume. Rave was largely perceived as more "pure" by dance music fanatics, with less glitz&glamor, flash and dazzle than poppier sounds. Which, as anyone who's spent much time on either side of the dial, is pure bollocks.
Anyone who's spent any time on underground dancefloors can tell you there's nothing "pure" or "moral" or sometimes, sadly, even good about a 12-minute PsyTrance remix. By the second  beat drop fakeout, you're BEGGING for a hook, or for anything to happen for that matter.
Pop and underground dance music need not be mutually exclusive, however, as we are so gratefully reminded with the music of BAYNK.
BAYNK - GO WITH U
Jock Nowell-Usticke, the producer behind BAYNK, has actually been on the scene for a while now, releasing a string of solid singles and EPs since 2016. Listening to BAYNK's signature mixture of smooth, soulful r&b vocals, glitchy beats, and glowing synths is like watching a time-lapse photo of the evolution of 2010s Adult Swim glitchtronica to today's sophisticated technological Pop. There's literally something for anybody who appreciates either well-executed electronic music or catchy Pop, as BAYNK is both and at all at the same time.
BAYNK - ESTHER FEAT. TINASHE
Nearly a decade into his career, it sometimes feels like BAYNK has always been here. The floodgates are primed to burst open with "Esther," though, his newest single featuring a very high profile guest appearance from Tinashe, and right around the release of her own 333 release.
Prior to the pandemic, BAYNK earned a lot of his reputation due to being a stellar live performer, blending unique performance touches like live saxophone with a striking live setup. With the world on pause but BAYNK still issuing world-class singles, let's take this opportunity to appreciate this talented, up-and-coming producer in our midst, so we can catch him with his saxophone and plexiglass cube once the world resumes. We Are: The Guard absolutely cannot wait. We hope to see you there!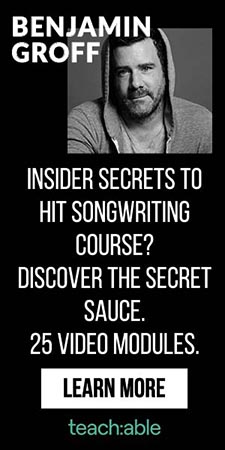 J. Simpson occupies the intersection between criticism, creativity, and academia. Based out of Portland, Or., he is the author of Forestpunk, an online journal/brand studying the traces of horror, supernatural, and the occult through music, fashion and culture. He plays in the dreamfolk band Meta-Pinnacle with his partner Lily H. Valentine, with whom he also co-founded Bitstar Productions, a visual arts collective focused on elevating Pop Culture to High Art.
Baynk
Hometown
Havelock North, Hawkes Bay, New Zealand
WE ARE: THE GUARD LATEST RELEASES
Leon Else