FEATURED FINDS: DANA AND ALDEN BREATHE NEW LIFE INTO MODERN JAZZ
Oregon brothers Dana and Alden bring some much-needed levity to their unique strand of international jazz. It's a breath of fresh air!
The fact that jazz eventually fell under the auspices of polite (read: snooty) society is the height of irony. Jazz is, after all, a genre created predominantly by Black musicians, most likely in bars, night clubs, and sitting rooms. Not only does the genre have unruly, shambolic roots, it's also responsible for some of the furthest out, freakiest music of the last 200 years. Fiery free jazz like Anthony Braxton or Sun Ra are so extreme they'd make Omar Rodriguez-Lopez blush and lose his cool.
And yet, despite the oceans of truly forward-thinking jazz music bubbling up from the underground to this very second, jazz still has a reputation of belonging to the rich, the "cultured" and elite. Oregon fraternal duo Dana and Alden are here to set the record straight, beginning with their debut EP, brothers.
DANA AND ALDEN - VROOM VROOM
Dana and Alden have played jazz together their entire lives, beginning on their apple farm in Southern Oregon. This would prove to be as influential on the duo's modernist soul jazz as their influences of Khruangbin and Badbadnotgood, as can be heard on "Serrano," the first single from brothers.
Speaking on the origin of the single's name, Dana and Alden state "Serrano is a spicy pepper that we grow on our organic farm in Eugene, Oregon that invigorates you as soon as you bite in. We strived to make the song sound like the pepper in the most simplistic way possible. Dana played an infectious tenor sax melody and I laid down a samba groove and a simple conga beat. My friend Arlo Sims, a talented guitarist dual enrolled at Harvard and Berklee, added some warm guitar runs and ambience."
DANA AND ALDEN - SERRANO (FEAT. ARLO SIMS)
Dana and Alden are doing their bit to remove the stick from jazz's posterior with their TikTok, as well, where the pair regularly use humor and hilarity to spread their slinky grooves. We Are: The Guard say this is a good thing for a few reasons, as Dana and Alden's unique blend of soulful brass and cross-cultural melodies and rhythms need to be heard by as many people as possible. In the process, it also helps to rehabilitate the sadly terrible genre of Acid Jazz and tone up some of the flab of Miles Davis' fusion.
back in Boston! ##shenanigans ##fyp ##boston ##birthday ##commons ##mullet ##parati ##mustache ##hotdog ##prank ##granola ##softboy
Keep reading to see We Are: The Guard's interview with Dana and Alden!
WE ARE: THE GUARD: Hey Dana and Alden! Thanks so much for taking the time to chat with us. Congrats on the release of your debut EP brothers. How does it feel to have this body of work out in the world?
ALDEN: It's terrifying because it makes you feel so vulnerable, but it's our dream to make music and we're making it happen.
DANA: It's the best thing ever to make music with my brother and put it out for our friends, family, and the whole world.
WE ARE: THE GUARD: Can you tell us about the process of writing and recording the EP?
DANA: Basically, we were stuck together during the pandemic. It was the perfect storm. Most days we would grind at the apple orchard and then come home and jam or watch Curb Your Enthusiasm.
ALDEN: We have always wanted to release original music together so we hit up Don Latarski, a legendary Eugene guitarist, who welcomed us into his home studio for 3 days and we busted it all out.
WATG: How did two get started in music, both as individuals and together?
D: We were both clarinetists in middle school band, but got hooked on playing jazz at a local club, The Jazz Station. Kenny Reed ran an All-comers jazz jam on Sundays and we would go every week even though it scared the shit out of us. Reed was our first mentor- he took us under his wing and hired us for wedding gigs around town.
A: As brothers, we always had chemistry on stage. Dana has always been my favorite person to play with because he plays so simplistically and musically. I now attend Berklee College of Music and feel so grateful to be here every day learning, growing, and collaborating.
WATG: Who inspires you musically?
A: I get inspired by a lot of Rap and Reggaeton like Jack Harlow, Bad Bunny, and Playboi Carti. When I was younger, Manu Chao's music shaped me a lot and inspired me to travel to Latin America.
D:  I am currently obsessed with everything coming out of London. Sault, Cleo Sol, Lil Sims, Yussef Dayes, Nubya Garcia, Joe Armon-Jones, and Mansur Brown. Also my girlfriend is an up and coming DJ named Earth Tonez.
WATG: Who inspires you in life?
A: Action Bronson. I love how he has mixed Rap music with cooking and humor because I wanna do something similar by combining drumming with Tik Tok and comedy.
D: Andrew Callaghan from Channel 5 News and All Gas No Breaks because he reaches out to all the communities in America and produces real journalism without any biases. He's also funny as hell.
WATG:  Is there anyone you guys love working with?
A:  Arlo Sims is a silky guitarist from Cambridge, MA who we featured on "Serrano". The kid is enrolled at Harvard AND Berklee College of Music. He's a beast.
D: Our recording engineer and producer, Don Latarski, is such a beam of light. We grew up two doors down from him so it's a full circle to have him be our producer and play on the EP.
WATG:  Do you guys have any hobbies or talents outside of music that people might not guess?
A:  I'm fire at NBA2K. My dream was to play basketball until I realized I was bad.
D: I'm an expert people watcher. I remember faces years after I see them and love to spin stories about their lives. I was also a national finalist at the Elks Free Throw Competition at age 9.
WATG: Who's an artist we need to know about?
A: Azymuth from Brazil because Ivan Conti is my fav drummer.
D: Arthur Russell
WATG: To end with a fun one, have you guys ever had a paranormal experience?
D: Running and fasting alone in the remote Steens Mountains of Oregon
A: Still waiting for mine!
---
Dana and Alden's new EP, brothers, is out now on all streaming platforms.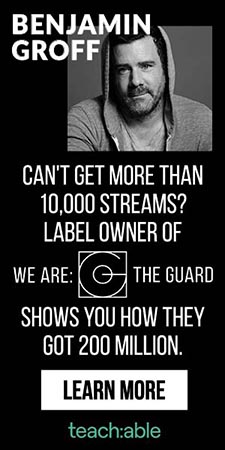 J. Simpson occupies the intersection between criticism, creativity, and academia. Based out of Portland, Or., he is the author of Forestpunk, an online journal/brand studying the traces of horror, supernatural, and the occult through music, fashion and culture. He plays in the dreamfolk band Meta-Pinnacle with his partner Lily H. Valentine, with whom he also co-founded Bitstar Productions, a visual arts collective focused on elevating Pop Culture to High Art.
Dana and Alden
Birthday / Sign
Dana is a Cancer/ Alden is a Virgo
Favorite Movie/Show
Before Sunrise
Inspirations
Mom, Farmer Tom, and Kenny Reed
Instruments played
Dana plays saxophone and Alden plays drums:)
Favorite song by another artist
Masterpiece by Sault
Life changing album
Rose in the Dark by Cleo Sol
Hidden Talent
Weed-whacking
Hobby / Passion
Cold Showers and Gardening
Dream Collaboration
Khruangbin
WE ARE: THE GUARD LATEST RELEASES
Leon Else