FEATURED FIND: ELIO, THE ONLINE IT GIRL MAKING POP MUSIC FOR A POST-PANDEMIC WORLD
Image by Charlotte Grace Victoria
For years – decades, even – pop music has been built around a culture of hard, fast partying, mass consumption, and unregulated excess. However, in a world bludgeoned by a literal-ass plague – in which people are locked in their homes, barely scraping by on non-existent stimmy checks – there's a real risk that this original breed of pop music is quickly becoming redundant. It's why We Are: The Guard is thanking its lucky stars, then, for acts like ELIO – the online it girl making pop music for a post-pandemic planet.
 

 

 

View this post on Instagram
Born in Wales, ELIO – better known to those closest to her as Charlotte Grace Victoria – moved to Canada at the age of seven after her older brother tragically died from a drug overdose. It was here that ELIO would get her first taste of songwriting, beginning in the arena of shoegaze while attending the University of Toronto, before dropping out and shifting her attention to the world of pop music. Several months of hard grinding followed, with ELIO starting to see success in late 2019 when she was taken on by Twiggy Rowley, manager of Charli XCX, who in turn became ELIO's creative consultant.
It was the breakthrough that ELIO had been waiting for, with her debut single "My Friends Online" quickly following in March 2020. Written a whole year ahead of the outbreak of COVID-19, the song – along with much of the content on her inaugural EP u and me, but mostly me – proved to be eerily intuitive, describing a life lived entirely through a screen, with only Netflix and Twitter eggs for company. "I'm socially exhausted/But haven't looked up from my phone/I swear, I think I'm dying/Here's hoping I don't die alone," sings a nerve-fried ELIO in the opening verse, before moving into the complete kicker of a chorus: "I just want my friends online/To be around me when I die."
ELIO - MY FRIENDS ONLINE
While lockdown has dragged on far longer than any of could have predicted, it hasn't proved a problem for ELIO – a boundless creative who recently returned with her Can You Hear Me Now? EP. Packed full of socially conscious bangers like "Jackie Onnasis" – a denunciation of consumer culture that touches on everything from climate change to antidepressants – and "CHARGER" – an ode to being in a codependent relationship with your Lightning connector – it's a shimmering seven-song distillation of ELIO's take on Pop 2.0. With isolation, technology, and mental health all sparking up against each other, this a musical microcosm for the modern age, when a dose of Lexapro and a TikTok dance challenge is all we have to distract ourselves from almost-certain oblivion.
ELIO - JACKIE ONASSIS
Not even two years into her career, ELIO is clearly only at the start of her journey of reinventing pop music. And with an increasingly sane-looking summer fast approaching, We Are: The Guard recently caught up with the rising starlet to discuss her resolutions for next few weeks and months ahead, her advice for her fellow artists, and plenty more.
WE ARE: THE GUARD: Hey there, ELIO! Thanks so much for chatting with us. As 2021 kicks off, do you have any New Year's resolutions?
ELIO: I think this year, I really want to work on being more positive and putting my mental health first. I'm a very pessimistic person naturally, so I always expect the worst of situations which can be pretty draining. Also more walks.
WE ARE: THE GUARD: How did you get started in music, and is it what you always thought you'd grow up to do?
ELIO: I guess I started making music and performing when I was in high school. I would sing at school events and stuff which eventually turned into me writing and performing in an alt rock band until I was 18. When I was around 4 or 5, I would get up early on a Saturday morning and watch MTV's top music videos. I think that's when I knew I wanted to do music, but never fully tried until I was a teenager.
WATG: Who inspires you?
ELIO: My friends. They make such cool stuff and I think we all push each other to do better just by the standards we surround ourselves with, whether it's music, art, fashion etc
WATG: We love "hurts 2 hate somebody" and the school-vintage vibes are awesome in the music video. Could you tell us about the creative process in making that song and video?
ELIO: Thank you! I sent a mood board to my friend Sahil who does all of my music videos with me. We planned shot by shot of what should happen, and made a storyboard. I bought like 20 matching ties and just put a post on instagram for people to come. We actually broke into a football field, and it was terrifying because I thought I was going to get fined haha. But I gave them all a tie, and we just hung out. I was super lucky everyone was like weirdly good at acting and dancing?
ELIO - HURTS 2 HATE SOMEBODY
WATG: Your EP Can You Hear Me Now? is out now! What was it like planning out a release throughout COVID-19?
ELIO: I don't really know much different! I released my first single right as lockdown began so I've never released music when the world has been normal (whatever normal is).
WATG: Who is an upcoming artist we should know about?
ELIO: The Accents! They're a Toronto indie pop/hip hop duo and they're amazing!
WATG: Not only are you an amazing singer and songwriter, you're also an extremely talented producer.   Do you have any advice for artists/writers who are learning to produce?
ELIO: Wow thank you! Umm I would say just do it as much as you can. For artists that are used to writing, I think just learning from your producers is super helpful, watching them work, and asking questions! Personally I don't produce that much when I'm actually writing the song, I give myself days where I'll sit with the song and work out my ideas, I feel like that takes the pressure off a little bit when you're not 100% comfortable producing with other people around yet. But yeah, just force yourself to keep learning and trying at it, even if it sucks because it will suck for a while!
WATG: Outside of music, do you have any fun hobbies or talents that people might not guess?
ELIO: Music is pretty all consuming for me, but I do like to paint and go to art galleries. I was an art history major before I started making music so when I can I like to read about art and go see it. I'm lucky in the sense that even though I'm a musician, my artist project allows me to get creative in other ways (directing, design, fashion). There's so much more to being an artist than just music so it works out for me because I love all those things just as much!
WATG: To end with a fun one: Have you ever had a paranormal encounter?
ELIO: I haven't but a few people in my family have. My dog died in June (RIP Millie ILY) and I swear I heard her collar hitting the tile for like 2 weeks afterwards, but nope, never seen anything. I think they know I'd just bolt.
Can You Hear Me Now is available on all streaming platforms.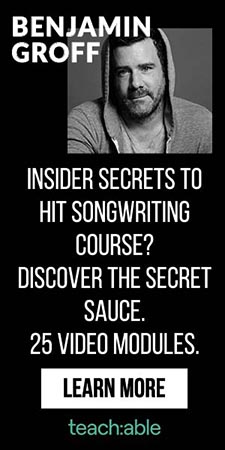 Jess Grant is a frustrated writer hailing from London, England. When she isn't tasked with disentangling her thoughts from her brain and putting them on paper, Jess can generally be found listening to The Beatles, or cooking vegetarian food.
Elio
Birthday / Sign
September 8th, 1997 / Virgo
Pets
Two cats: Floyd and Darcy and a dog: Tessa
Favorite Movie/Show
Gilmore Girls
Instruments played
Guitar and Piano
Favorite song you've written
CHARGER
Favorite song by another artist
Be Careful -by Cardi B
Life changing album
The 1975 by The 1975
Favorite City
London, UK or Siena, Italy
Hobby / Passion
Music, Painting, Cooking
Drink of choice
Hazelnut latte with oat milk
Favorite Condiment
Chipotle Mayo
Education
75% of a degree in Art History haha
What's in your fridge
Veggies, humus, soup, quiche
WE ARE: THE GUARD LATEST RELEASES
Leon Else