FEATURED‌ ‌FINDS:‌ GLIMLIP IS SERIOUSLY CHILLIN BEATS
Image Credit: jonathan de waart
Picture your most chill day imaginable. The chillest. Straight up vibes. A full on mood of relaxation station. Go ahead and picture that perfect day in your mind's eye (I mean, no stress here, this is just a thought exercise after all). Close 'em tight and just let your memory and imagination take over your mind. That's what they're there for. Now, on this most chill day imaginable, what are you doing? Is it a day just lounging around the apartment in pajamas? Ordering take out when you're hungry? Or are we vibing at the beach where the sun's not so hot it gives you a sunburn and you have to pack it in early? Is it hanging with friends, sitting around a fire and reminiscing about how much fun you used to have and discussing how mellow things have gotten more recently (not that that's a bad thing)?
Whatever the case, Glimlip is the soundtrack. Guaranteed chill times.
No lie, I was having a stressful day until I started listening to Glimlip's songs and it all washed away like music truly was the answer to all of life's problems and Glimlip is my own personal beat savior.
This Netherlands based producer might just be the quintessential chill out beats producer. Sure, there are a lot of artists vying for that very mantle, but after an incredibly busy 2020/2021 song release season, Glimlip is definitely vying for the top of that scene. His sound melds hip hop and jazz and SiriusXM Chill's entire radio output. His songs are a blast, but without ever requiring more than a casual head bob.  If I was taking a bubble bath, this would be without a doubt what I put on. Hmmm...not so bad of an idea. Ah… now that's better.
GLIMLIP - "GREEN HEART"
It's impossible to talk about Glimlip without mentioning his penchant for collaborations. As far as collaboration goes, for an artist this fresh, it's hard to tell what is theirs and what is their collaborators. One thing we do know for certain is that everytime Glimlip is on a track, we like what we hear.  "Green Heart," along with "Up the Block" are the first two singles off of Glimlip's debut album (alongside Yasper (and on these two tracks, Louk)), Undertones. While "Up the Block" is a full vibe in it's own right, there's something about the jazzy instrumentation of "Green Heart," Glimlip's most recent release at the time of publication, that has us cheesing like no other. Maybe it's opening with a full stand-up bass sound before the other layers come in, maybe it's underlying flamenco guitar, but this beat is full of ideas that seem as fresh and reimagined as anything out there right now. This is just about the perfect mix of smooth jazz and beats. If that doesn't make you feel like the King or Queen of chill, then I don't know what to tell you.
GLIMLIP - "PEACH"
Beats to relax and play Mario to. 
Now for this one, I've started up my Nintendo Switch, turned off the volume on the TV and started this one playing on a nonstop loop. So far, I've correctly timed a coin grab, a hill run, and even a pitch perfect 'yahoo' jump. Though, this doesn't make me want to jump on bad guys heads. I keep dying. Too chill. The catch is, this beat is so good that it plays over and over and I don't mind what happens. It's all just good times.  Looks like Koji Kondo and Mahito Yokota have some competition.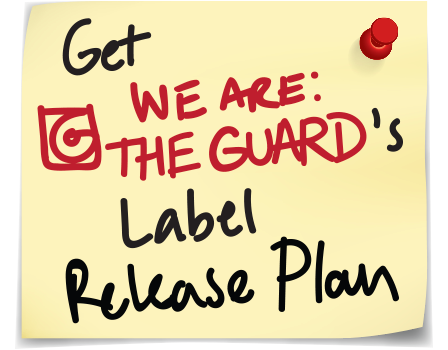 From deep within the murky depths of the Los Angeles River emerged a creature: 50% raver, 50% comedian, 10% Robotcop. Kurt Kroeber doesn't own a dog, operates Soundbleed (the world's only dance party comedy talk show rave), and is down to party with you. Come up some time and say "Hey dude!" But definitely make sure to casually drop the secret Illuminati password.
Glimlip
Hometown
Amsterdam, Netherlands
WE ARE: THE GUARD LATEST RELEASES
Leon Else