FEATURED FIND: HALF WAIF HURTS AND HEALS ON NEW RECORD MYTHOPOETICS
by Charlotte Stack
7/14/21
Photo by Ali Cherkis
Just a year after the release of her fourth record, Caretaker, Nandi Rose (Half Waif) is back with her fifth, full-length record Mythopoetics; a cathartic, yet dark body of work that depicts Rose on the hunt for her most enlightened self.
Nandi Rose has been making music for a while now. While she debuted as a solo act in 2014 as Half Waif, Rose's career in music began in 2010 as a member of indie-rock band Pinegrove. Created by New Jersey natives Evan Hall (lead guitar, vocals) and Rose's now-husband Zack Levine (drums), Pinegrove originally started when Hall and Levine were children; it was when Hall went to Kenyon College and met Nandi Rose that Pinegrove became the band we know today.
PINEGROVE - NPR MUSIC TINY DESK CONCERT
I first heard of Half Waif in October of 2018 when she visited Drexel University to host an exclusive masterclass about how she used Ableton, one of the three main music softwares, to create her third album Lavender. Even though I didn't know who Half Waif was or how Ableton worked, something compelled me to attend this masterclass. I am so glad that I did.
I learned a couple really important things about Half Waif from this masterclass. The first thing is that Rose has been gifted with a brain that is far more creative than the average brain. She is meticulous in her production, melodic arrangements and songwriting. Every single word she sings, note she plays and sound she creates is there for a reason. Her music is truly an extension of her soul. The second thing that I learned is that Rose is a bona fide badass. Despite the progress that's been made in recent years, the music industry is still very much male-dominated - especially in the music-making sector of the industry. To see a woman navigate music theory, technology and engineering so effortlessly and masterfully was truly inspiring.
Half Waif released her third record Lavender on April 27, 2018 to critical acclaim, with raving reviews from NPR, NME, and Pitchfork. A record featuring expertly layered synths and emotional piano melodies, Lavender perfectly encapsulates the many complexities that come with being human. On the single "Back in Brooklyn", Rose cries, "I'm casting off my half-empty shell / Through all that I've lost, now I know myself so well / The further away I walk, the more I'm a whisper".
HALF WAIF - NPR MUSIC TINY DESK CONCERT
Mythopoetics, Half Waif's fifth studio record, is her best, most vulnerable work yet. Here, Rose explores her relationship with herself and her family through sometimes painful, sometimes resentful memories. If these memories are lemons, then Mythopoetics is lemonade. The pain is most definitely still present - there is no denying that. However, Rose is healing. Whether it be the way most songs blossom into grand, multi-layered sonic experiences or the way Rose confidently belts her lyrics, it is clear that Mythopoetics is the product of serious introspection. This is especially evident on the record's second single "Party's Over", where Rose sings, "Nobody's gonna do it my way / So I walk through the dawn / And I don't look back anymore".
HALF WAIF - PARTY'S OVER
I tend to get a little nervous whenever artists release large bodies of work close in time to each other, because there could be a lack of quality control. This is never the case when it comes to Half Waif. There are only a few artists I trust to release quality work, always. Half Waif's understanding of music and emotions are what place her at the top of this small list of mine.
Mythopoetics, Half Waif's fifth studio album, is available now via ANTI- Records wherever you listen to music.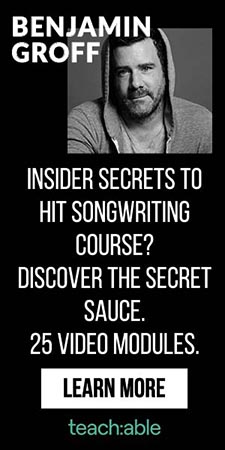 Charlotte Stack lives in Philadelphia, Pennsylvania, where she studies Music Business in Drexel University's Music Industry Program. When she isn't working, Charlotte is most likely cuddling with her dog, Jade or at a show.
Half Waif
Hometown
Williamstown, Massachusetts
Birthday / Sign
January 12 / Capricorn
WE ARE: THE GUARD LATEST RELEASES
Leon Else