FEATURED FIND: MEET HUNTER MOREAU, THE SMALL-TOWN INDIE-POP STAR WITH BIG AMBITIONS
When Hunter Moreau was 16 years old, she found herself in her small-town bedroom, recovering from an 11-hour surgery to remove a precancerous cyst from her bile duct. It was a tragic turn of events for the Massachusetts native, who – after a life of relative calm and creativity – suddenly found herself being tested beyond what any teenager should have to endure. Despite the initial shock of her diagnosis, though, Hunter was determined to transform the experience into something positive – life-altering, even. The result? Her debut single "Drive In" – a jazzily precocious indie-pop ode to living in the moment as written in the wake of Hunter's operation.
HUNTER MOREAU - DRIVE IN
Born and raised in Mattapoisett, Massachusetts – a coastal town near Cape Cod with a population of just 6,045 according to the latest census – Hunter Moreau started taking voice lessons at the age of eight. It was four years later, however, that Hunter's love for music really picked up pace after she successfully auditioned for Showstoppers – a volunteer-run singing troupe that performed for charities, festivals, nursing homes, and assisted-living centers across Massachusetts. "The group taught me about the real value of music, as well as its incredible healing power," gushes Hunter of the collective – which I'm pleased to say is still going strong to this day.
 

 

 

View this post on Instagram
Following her life-threatening surgery in 2019, Hunter Moreau started to channel her love for singing into original music, with her debut single arriving that same year in the form of the gorgeous "Drive In." A poetic, soulful examination of the dichotomy between living and existing, and how we tend to prioritize the expectations of others over our own values ("Expectation chasing/Daylight wasting/Watch life like a drive in movie, everyone wondering who to be/Struggling with a false identity," Hunter sings in the chorus), "Drive In" quickly clocked up almost 200,000 listens on Spotify and earned the praise of veteran music managers Ron Shapiro and Joe Hegleman.
 

 

 

View this post on Instagram
Just under two years on from the release of "Drive In," Hunter Moreau returned in March with her second single "Hazy." Produced by Doug Schadt – the desk-manning mastermind behind the likes of Maggie Rogers and SHAED – "Hazy" hears Hunter continuing to showcase her jazzy dulcet tones, albeit within a more cinematic indie-pop setting. A tribute to a sizzling summer romance that sounds like Stevie Nicks circa Bella Donna as filtered through an Instagrammable lens, "Hazy" is already shaping up to be another viral smash hit for this Mattapoisett act. Before Spotify's summer algorithms transform Hunter Moreau into a household name, then, check out We Are: The Guard's interview with this small-town star with big ambitions below.
HUNTER MOREAU - HAZY
WE ARE: THE GUARD: Hey Hunter! Thanks so much for taking the time to chat with us. You released "Hazy" recently! Can you tell us about the process of writing that song?
HUNTER MOREAU: Thank you so much for having me! I wrote "Hazy" with Doug Schadt. He and I were reminiscing about stories with friends, both new and old, and the magic that seems to happen on warm nights where nothing seems to really matter. We began writing the song by taking these thoughts and conversations of summer nights, and putting them into lyrics. We wrote this song to capture the nostalgia of looking back on those carefree times, and the longing of that same feeling again. We based our lyrical ideas and the beginning process of the song around trying to convey this feeling as well as we could. The feeling that no other moment matters besides right now. The excitement of not caring how exactly you're going to get home, or where you even are, but just knowing that you want whatever feeling this is to last forever.
WE ARE: THE GUARD: The music video is stunning. What was it like filming it?
HUNTER MOREAU: Ironically, even though the video takes place on a warm summer day, we actually shot it on a 20 degree day in the middle of winter. This made the process for the video quite fun actually. We had to come up with different ways to make it look and seem like it was summer, even though it was far from it. The videographer (Macky Macguire) and I had to think of ways to play with the light, breeze and time of day, as well as capturing a summer feel through my hair, makeup and wardrobe. Despite the weather, the experience of filming the music video was amazing, and I love the final product.
WATG: Can you tell us about how you got started in music?
HM: I began singing and taking lessons around the age of 8. At 12 I decided to audition for a community service singing troupe called "Showstoppers" that was based in my hometown. Much to my excitement, I made it in. For the next 6 years of my life, I spent hours upon hours every year practicing with the group and performing at charities, festivals, nursing homes, and assisted living centers all across the state. This group taught me so much about music, and made me realize that this is what I wanted to do for the rest of my life.
WATG: Your songwriting is so honest and vulnerable. Is it ever scary to share that part of yourself?
HM: It can be. Sometimes you find yourself writing about things you haven't even talked about yet, which is scary. But whenever I start to second guess myself, or am worried about being too vulnerable, I just think about how everyone goes through life and faces so many different things. Everyone is trying to deal with their own struggles, thoughts and feelings every single day, and there is no shame in that, it's part of life.
WATG: Who's one artist you love that needs more attention right now?
HM: Tai Verdes. His music has such a feel good, positive vibe and could lift anyone's mood. Definitely needs more recognition.
WATG: What's the best piece of advice you ever received?  
HM: To do what makes you happy, no matter what anyone else thinks.
WATG: What does success look like for you?
HM: Success to me looks like happiness and fulfillment. No matter where I am, I just want to be doing what I love and enjoying every minute of it. Love and happiness is top priority for me, no matter how my life turns out.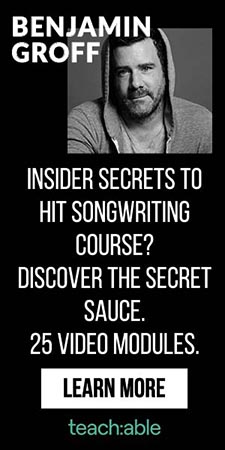 Jess Grant is a frustrated writer hailing from London, England. When she isn't tasked with disentangling her thoughts from her brain and putting them on paper, Jess can generally be found listening to The Beatles, or cooking vegetarian food.
Hunter Moreau
Birthday / Sign
December 31 / Capricorn
Favorite Movie/Show
Euphoria
Favorite song by another artist
Pursuit of Happiness
Favorite Food
Noodle bowl
Dream Collaboration
Frank Ocean
WE ARE: THE GUARD LATEST RELEASES
Leon Else