FEATURED FIND: IRISH ROCK BAND INHALER IS A CASE STUDY ON SYNERGY WITH THEIR TRANSCENDENT DEBUT LP "IT WON'T ALWAYS BE LIKE THIS"
by Charlotte Stack
12/4/21
Photo courtesy of Chuffmedia
Featuring roaring guitar, cathartic vocals, and energetic drums, Inhaler combines trademark Irish rock sounds, unexpectedly raw lyricism encompassing the tumultuous experience of growing up.
The relationships that band members have with each other are vital, and affect more than just live performances. Obviously, understanding the musical behavior of each bandmate is necessary for a remotely successful live performance. Obviously, band members need to like (or at least tolerate) each other in order to have a remotely sustainable career. These types of bands, the ones where the members know how to play together and seem to enjoy doing so, are good. What makes a band great, however, is intangible. Some band members understand each other so deeply that it affects their essence as artists. This synergy is impossible to replicate and few bands possess it. Inhaler is one of the few.
Inhaler is a four piece rock band hailing from Dublin, Ireland. Band members Elijah Hewson (vocals and guitar), Robert Keating (bass), Josh Jenkinson (guitar) and Ryan McMahon (drums) met in school, initially bonding over their mutual distaste for, well, school. Upon realizing they shared a love for drums, bass and melodic earworms, they started playing and writing together out of Hewson's garage in 2012. The rest is history. Oh, also: Elijah Hewson is the son of Bono. Yes, that Bono.
INHALER - IT WON'T ALWAYS BE LIKE THIS
For a song that represents a lot of firsts for the band - first song they wrote together, first song off of their first album - "It Won't Always Be Like This"  is remarkably advanced and almost suspiciously well constructed. "It Won't Always Be Like This" is an excellent introduction to what this band stands for - explosive melodies, celebrating instruments and lyrics about fleeting happiness and love. Beneath the surface of an infectious melody and drums that demand you dance are lyrics that are unexpectedly mature and existential. Looking into the future, Inhaler recognizes, "You're in my head / It won't always be like this, always be like this / Again, honey, I'll be dead / It won't always be like this, always be like this".
INHALER - MY HONEST FACE
Hewson's soaring vocals in the chorus and McMahon's powerful drumming come together in holy matrimony on Inhaler's fiery track "My Honest Face". In "My Honest Face," the band insists that dancing through an identity crisis is the best way to resolve them. They put up a convincing argument. "My Honest Face" was originally released in 2019 (two years before the release of their debut LP), but was recently rereleased as the second single for their record. It makes sense - the track is a tune, and the subject matter is universal.
TOTALLY - INHALER
When it comes to love, the only thing more difficult than a relationship coming to an end is the time before it does when you recognize the relationship simply isn't what it used to be. "Totally" encompasses this realization. Hewson sings, "I could be totally mad / You could be going insane / I think you live in a dream / You say I'm empty and vain". In situations like these, sometimes it is best to lean on your friends for support. Speaking about Totally with Apple Music, Hewson says that song is the, "...hold-your-mates-at-the-end-of-the-gig [song], going 'Waaaaaayyy!'" It makes sense. As one of their slower songs, "Totally" gives you the chance to catch your breath from dancing and to appreciate the people you have in your life. Remember - it won't always be like this. Take that how you will.
Inhaler's debut LP It Won't Always Be Like This was released July 9, 2021 via Polydor Records and is available to stream wherever you listen to music. They're going on tour soon, and you can buy tickets here.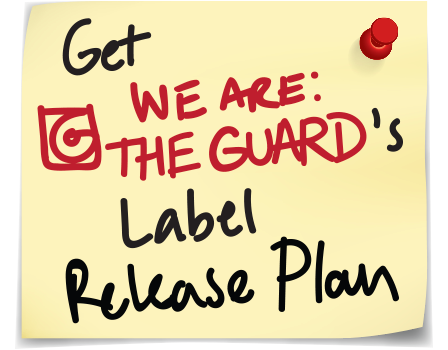 Charlotte Stack lives in Philadelphia, Pennsylvania, where she studies Music Business in Drexel University's Music Industry Program. When she isn't working, Charlotte is most likely cuddling with her dog, Jade or at a show.
Inhaler
Label
Polydor Records / Universal Music Group
WE ARE: THE GUARD LATEST RELEASES
Leon Else