FEATURED FIND: IZZY CAMINA IS POP PERFECTION ON ECLECTIC EP "NIHILIST IN THE CLUB"
by Charlotte Stack
7/16/21
What do you get when clever lyricism, vibrant production and the voice of an angel come together in perfect harmony? The answer: Izzy Camina's EP Nihilist in the Club.  
Los Angeles born, New Jersey raised Izzy Camina has been marching to the beat of her own drum for a while now. As a teenager, she was listening to Mobb Deep. In university, she taught herself how to use Ableton. As a young adult, she left university for London to pursue her dream of becoming a musician. Now 26, Camina has amassed quite an audience, and for all the right reasons: she is immensely talented, and just as original.
Camina, like many aspiring artists, began posting covers and original demos to her SoundCloud while she still attended college in the US. At the time, a majority of her audience on Soundcloud was from the UK, which she thinks, according to an interview with Loud and Quiet, was because her profile picture was taken at the Brighton Pier. Among her UK audience was an A&R from a music company in London. They reached out to her, and soon enough she was in London.
IZZY CAMINA - BATTLE ROYALE EP
During Camina's three years in London, she independently released her first EP Battle Royale (which now only exists on her SoundCloud) under the name ISADORA, worked at a restaurant to support herself, and continued to fine tune her sound. At the same time, she was adjusting to London's social scene, collecting the experiences needed to inspire new music. 
Among these experiences were interactions and conversations with what she called, according to an interview with NME, "manic, pixie dream boys". As someone from northern New Jersey, Camina wasn't used to this type of male. In the same article, she says, "Moving to East London, it's a smorgasbord of these arty boys. And under the façade of being a sensitive, trendy, arty boy, there's still so much shittiness, there's still so much misogyny. Especially being a female producer". The anger, frustration and shock that came from these interactions set the foundation for her clever masterpiece "Kill Your Local Indie Softboy".
IZZY CAMINA - KILL YOUR LOCAL INDIE SOFTBOY
Camina's voice is delectably light, airy and delicate. So when she delivers lines that are dark and (tastefully) vulgar like, "You make shitty beats in your bedroom on Garageband / But you're still patronizing as shit / I don't wanna see your socks / Roll your jeans down" it catches you off guard. Paired with the equally light, airy and delicate production of the song, "Kill Your Local Indie Softboy" is the perfect song for anyone who has attempted to date their local indie softboy.
IZZY CAMINA - UP N DOWN
On the totally opposite side of Camina's sonic spectrum is "Up N Down". If "Kill Your Local Indie Softboy" is angelic, "Up N Down" is devilish. This track, unlike KYLIS, features dark lyrics that aren't masked with humor and darker, more robust production. Over a pulsing, bass driven beat, she sings, "We don't know what it is that we're both running from / We make it rain, sadism and pain / The kind of thing that makes you want to rearrange your ways". "Up N Down" is clearly influenced by the clubbing scene in London. If you close your eyes, you can practically feel your shoes stuck to the beer-soaked dance floor. Camina wrote this song about how her frustrations connected to her day job as a waitress interacted with her guilt connected to her ability to be in the privileged situation she was in. Reflecting on her emotional headspace at the time she wrote the song, she said, "You experience these intense lows, and then you're looking in the mirror and telling yourself, 'grow up. Deal with it.'
Izzy Camina is a fiery force to be reckoned with - hopefully she will be back soon with new music! Nihilist in the Club EP was released March 27, 2020 via Silent Rcds2.0 UME and is available to stream wherever you listen to music.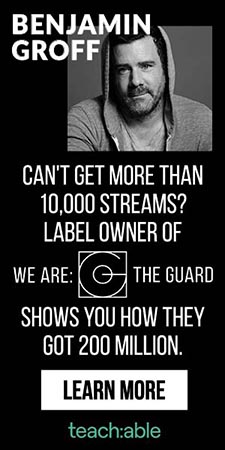 Charlotte Stack lives in Philadelphia, Pennsylvania, where she studies Music Business in Drexel University's Music Industry Program. When she isn't working, Charlotte is most likely cuddling with her dog, Jade or at a show.
Izzy Camina
Hometown
Los Angeles, California
Birthday / Sign
February 6, 1996 / Aquarius
Inspirations
Frank Ocean, Grimes
WE ARE: THE GUARD LATEST RELEASES
Leon Else