FEATURED FIND: NICHE INDIE ROCKSTAR J SOLOMON TALKS ART, GROWING UP AND HIS EXCEPTIONAL NEW TRACK "MONA LISA"
Photo via Tiffany Galicia
Philadelphia native j solomon could have written "Hamlet," but I don't think Shakespeare could have written "Mona Lisa." I am perfectly content dying on this hill.
J SOLOMON - MONA LISA
There are a couple artists out there whose talents - whether it be their voice, musicianship or songwriting skills - regularly exceed any and all of my expectations. Jesse Moldovsky, better known as j solomon, is one of these artists. He is a poetic, visceral and wise songwriter blessed with the ability to take any situation and turn it into a piece of art.
Jesse was born and raised in the suburbs of Philadelphia, observing those around him and collecting concepts and material that would later inform the music he wrote. As a senior in high school, Jesse released his first song "Hazel Eyes," a lovely acoustic track featuring lyricism suspiciously advanced for a teenager. Before he graduated high school the track amassed over one million streams. Keep in mind, this was BTT (before TikTok) - the success of "Hazel Eyes" was not a product of virality. People came across this song and fell in love with it, understandably so.
After graduating high school, Jesse briefly attended Drexel University as a student in their Music Industry Program before transferring to NYU for a more music-focused music industry education. Coming of age in a big city during college can be overwhelming -  just ask Jesse. His song "Subway Sick" experly depicts the dynamic experience that is confronting your past, present and future while living a full and busy life.
J SOLOMON - SUBWAY SICK
Over the past four years, Jesse has grown so much as a musician, lyricist and person. As a friend of his, I am so proud. As a fan of his, I am prouder. I was lucky enough to catch up with Jesse to talk about life and his new song "Mona Lisa."
WE ARE: THE GUARD: Hi j solomon! Thanks so much for taking the time to chat. We're big fans of your music, especially your new track "Mona Lisa". Can you tell us about the process of writing and recording it?
J SOLOMON: Hey thank you! "Mona Lisa" is a song that I wrote a while back and kind of just had sitting around, then when I went into the studio to start putting together the next project, it just made sense to include it as the first song of the new "era." Recording it was definitely a process; we started out the tracking by live-recording drums and rhythm guitar at the same time, but my drummer, Danny, had a broken arm at the time so we had to re-track all the drums a few months later when Danny had use of both his arms. From then, I moved forward with my producer, Nick, to finish up recording the guitars, bass, vocals, etc. After that it was honestly a pretty smooth process (except for the two day stretch when I thought I wanted to scrap the whole song and start from scratch but then I changed my mind haha).
WATG: You first started releasing music in 2018. In what ways have you grown since then?
JS: I think I've grown in every way. I was a kid in 2018, now I feel like an adult (sort of). Since 2018, I moved from my parent's house in the suburbs to Philly, then from Philly to NYC, and I've been hopping around apartments in Manhattan for the past few years. I've met a lot of people who've influenced the way I think, seen a lot of things that have opened up my worldview, my girlfriend and I adopted a puppy, lots has happened.
WATG: "Mona Lisa" is incredibly well written - what inspired the lyrics of this song?
JS: The idea for "Mona Lisa" started after I visited the Louvre in 2019. I spent the whole time walking through empty rooms, looking at crazy impressive pieces of art, and when I finally got to the room where the Mona Lisa is, I was shocked. There was a huge crowd semi-circling around this small picture in a plexiglass frame, you could barely even see it between the glare of the fluorescent lighting and the flashing lights of cameras. It just got me thinking about what makes certain pieces of art so much more significant than others, and how we as humans choose to attribute importance to some things and not to others.
WATG: What else is on the horizon for 2022?
JS: I've got a show in NYC on February 10th at Mercury Lounge, I'll be playing some more shows and releasing some more music, expect a lot from me over the next year.
WATG: Are there any lyrics in your discography that you're really proud of? If so, why?
JS: I really like the writing in "Greetings From Suburbia." I like how it's all based in truth but also how it hyperbolizes this shared upbringing that I feel like many of us experienced.
WATG: Have you ever received a life changing piece of advice that you'd like to share?
JS: The most important piece of information that I've gotten over the past few years is if you want to succeed in life, just don't be an asshole.
WATG: To end with a fun one, can you name three green flag albums for us?
JS: Hell yeah! Dan Reeder's self-titled album, Pom Pom Squad's Death of a Cheerleader, and M. Ward's Hold Time.
j solomon's new single "Mona Lisa" is available February 4, 2022 wherever you listen to music.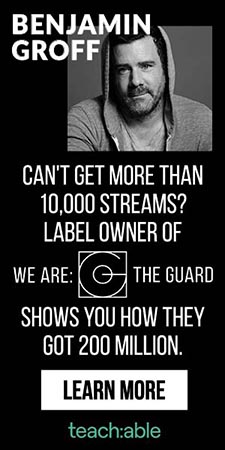 Charlotte Stack lives in Philadelphia, Pennsylvania, where she studies Music Business in Drexel University's Music Industry Program. When she isn't working, Charlotte is most likely cuddling with her dog, Jade or at a show.
J Solomon
Hometown
Washington Crossing, PA
Birthday / Sign
May 14th, Taurus
Genre
Tony Hawk Pro Skater rock
WE ARE: THE GUARD LATEST RELEASES
Leon Else