FEATURED FINDS: LET JORDANA BE YOUR INDIE SECRET
Image: Something to Say to You Album Artwork
Some music is for sharing. Hook up to bluetooth speakers or toss off in the group chat: 'y'all have got to hear this one.' Other music is personal. In the headphones. On repeat. A reminder that there's someone out there who gets *YOU* even if that person lives hundreds of miles away and you will never actually have a chance to meet them. 9 times out of 10 this kind of statement would mean that the music is fundamentally depressing (and that's why you wouldn't want to share), but that's not close to being the case with Jordana. These songs are just too personal. The indie singer-songwriter is underscored by a driving beat that makes these playful and self-aware songs a party for one. Pretend that each one of your headphones is a friend and you're all listening together because these tracks are too rich to share with just anyone.
Jordana is understated. Catchy, but adverse to going all the way into full pop. Full production, but with muted and restrained ideas. A beautiful voice with the lyrical equivalent of a light scowl. These are complex indie-pop songs. But not overly so either. Just the kind you probably want to consider listening to alone. 
"Something to Say to You" is Jordana's second full-length release (both in 2020!) with production duties from We Are: The Guard favorite, MELVV. Going out on a real limb sharing this one with y'all. Hope it's not too personal. 
JORDANA - "I'LL TAKE IT BORING"
Jordana is a natural storyteller. And while the details of "I'll Take it Boring" are a bit vague, the underlying feeling is absolutely not. This indie track is a treasure trove of emotionality, offering an alternative kind of perspective for those who aren't living their lives full of fun and games and loving every second of it. Totally get this mindset with all of our hearts, and believe it is something that many people will likely have awoken to in themselves over this past year. When things 'return to normal,' I'm sure many of us will want to take it boring as well. May this be the anthem to a post-quarantine world. Play it at home on a Friday night and dance around to MELVV's funky guitar riffs and sped-up drums instead of just doing what everyone else is. Let this be the guide to your own life's simplicity. 
JORDANA - "BIG"
"Big" is exactly that. A massive tune that's rich with production layers set behind a killer indie hook. Jordana sounds like she's channelling Hole or Veruca Salt through a dimensional wormhole into the 22nd century (not like they would've known what to do with sounds this big back then). This isn't some bedroom indie rock tune. It's peak alternative music. Crafted in the studio with someone who truly understands sound manipulation to try and find the perfect beat to compliment such a well-written tune. "Big" takes genres and throws it out the window. There's a little bit of rock and indie and pop and electronic all mixed into one to find such a fantastic concoction of sounds. Be ahead of the curve on this one. You'll be laughing when friends start recommending it to you. 
 

 

 

View this post on Instagram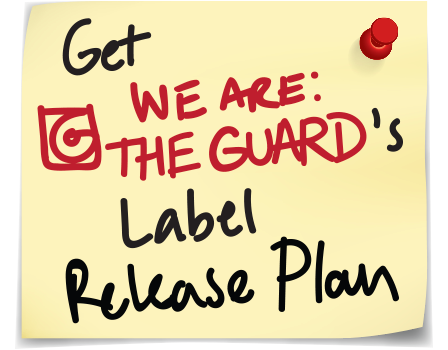 From deep within the murky depths of the Los Angeles River emerged a creature: 50% raver, 50% comedian, 10% Robotcop. Kurt Kroeber doesn't own a dog, operates Soundbleed (the world's only dance party comedy talk show rave), and is down to party with you. Come up some time and say "Hey dude!" But definitely make sure to casually drop the secret Illuminati password.
Jordana
WE ARE: THE GUARD LATEST RELEASES
Leon Else