FEATURED FIND: LAUNDRY DAY – A NOT-SO-CONVENTIONAL BOY BAND
Photo by: Camilla French, provided by Warner Records
Imagine an indie rock band made up of five highschool best friends in New York City. While it may sound like a great plot of a coming of age movie, that band is real and they go by the name Laundry Day. While so far no one has made a movie about them, they are quickly rising to stardom due to their immense talent and unique sound.
LAUNDRY DAY- "CONNECT 5"
After meeting at Beacon High School in the Hell's Kitchen neighborhood of Manhattan, Jude(Vocals), Sawyer(Vocals, Guitar, Piano), Henry Pearl(Bass), Henry Weingartner(Guitar), and Etai Abramovich(Drums) quickly began recording music and releasing bodies of work. After they began to create buzz around their name in 2018 and 2019 with the release of their albums Trumpet Boy, Keep It Bright, and Homesick, people began flocking to their music because of its authentic sound. In a world where so many boy bands go for a straight pop sound, Laundry Day is able to maintain originality by adding an underground indie/alternative grit to their music. The Song "Connect 5" which was the first single released in anticipation of their latest album, We Switched Bodies, is a perfect example of how the band is able to incorporate honest lyrics and unique production techniques to create a new and unique sound for the listener that is still palatable.
LAUNDRY DAY - "DID YOU SLEEP LAST NIGHT?"
"Did You Sleep Last Night?" - which was the second single in anticipation of Laundry Days' latest album - showcases the band's ability to incorporate new sounds and experiment with song structure. Splattered with gritty guitar riffs and driving drums, the single which was co-produced by Kevin Abstract of BROCKHAMPTON is an excellent example of how the band is able to create a new and unique experience for the listener.
With the recent release of their latest album We Switched Bodies, Laundry Day is able to showcase a new exploration of sounds. In working with Brendan O'Brien, a world renowned rock producer, the band seems to have found a new level of intricacy within their music. After listening to the album, it feels as though you can hear the journey the band took in creating it. All of their influences are present on the record. As Jude(Vocals) said in an interview with the Magazine and music blog Mud, "If you listen closely, you can hear everything we grew up on: The Beatles, Ben Folds, Prince, The Ex Boyfriends, etc. etc., etc."
LAUNDRY DAY - "WE SWITCHED BODIES"
It's clear that the band is made for the big stage. With as much talent and originality as they have, it seems as though it's destined. As Sawyer (one of two lead singers for the band) said in an interview with the music blog and magazine Dork, "My goal is to play the biggest shows ever! I love everything we've already been able to achieve, and the only place to go is up, so I'm excited to get back out on the road and keep making fans!" With that kind of drive and now, a major record deal with Warner Records, it seems as though the only possible way to go is up for this young group of New Yorkers.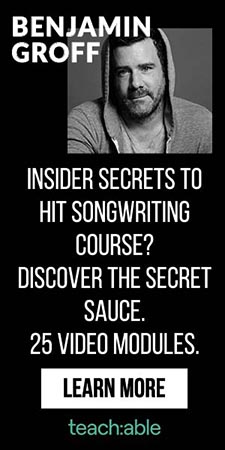 Tom Siletto is a songwriter and producer who currently studies music business at Berklee College of Music. Originally hailing from Carmel, California, Tom loves to both listen to and create music. In his free time, Tom can be found playing basketball or gardening with his mom.
Laundry Day
Instruments played
Guitar: Henry Weingartner, Bass: Henry Pearl, Etai Abramovich: Drums, Jude Ciullia: Vocals, Sawyer Nunes: All
Education
Beacon High School, Manhattan, New York
WE ARE: THE GUARD LATEST RELEASES
Leon Else