FEATURED FIND: MICHELLE ON EVERYDAY LOVE
Image by Sophia Wilson, provided by Atlantic Records Press
MICHELLE hails from New York, New York where they formed in 2018 and is composed of Sofia D'Angelo, Julian Kaufman, Layla Ku, Emma Lee, Jamee Lockard and Charlie Kilgore. Shoutout to Charlie Kilgore -- we went to a summer camp together in Boston. You probably don't remember who I am, but that is okay because I remember you and I love your collective.
Anyway, MICHELLE is an eclectic group of talented musicians, songwriters, and producers who write with a cohesive sound, but all the while exploring how they can push boundaries. The collective's music explores many different topics from a simple sunrise to a deeper look into everyday love.
The collective is signed to Canvasback, Transgressive Records and in an interview with NME, they talk about how amazing it is to be part of those respective families. Arlo Parks and SOPHIE are some of the other artists on Transgressive to give you an idea of the incredible talent and legacy of the labels. MICHELLE doesn't fall short and adds a new dimension to Canvasback (a Atlantic Records subsidiary) and Transgressive Records.
Their signing to these labels is helping push the music industry forward to promote a more inclusive community. Moreover, in their interview with NME Jamee mentions, "We want to foster a really inclusive community that is free of hate and calls out injustices. We just want to share our ideals with our listeners and spread positivity." The importance of this is for young people (which are the majority of MICHELLE's listeners) to read these statements and listen to their music, to interpret, feel deeply and connect with their message of spreading love. For a collective which is made up of "a predominantly queer band with Black members and members of colour, their rise has marked a renewed approach to pop, where representation is not a performative focus and visibility becomes a beautifully normalised element of their group" (Grace Almond - The Forty Five).
This gives the younger community an opportunity to use MICHELLE's music as an outlet for their possible struggles with everyday love and the hardships that come with discovering oneself and navigating vulnerability.
"SYNCOPATE"
MICHELLE connects raw feelings with direct statements in their latest single, "SYNCOPATE." The line "I can't stop for more than a minute. It's my body, I need you in it" touches upon the lives we live day to day -- how we yearn for connection whether physical or mental. "SYNCOPATE" being the title gives the rest of the lyrics the context that we, as humans, after a year of isolation are restless to be in sync with each other. It's important to listen to this song by MICHELLE and remember that the humans behind the art are just like you and me and their story is like all of our stories at some point in our lives.
"UNBOUND"
Continuing the theme of everyday love, "Unbound" explores the uncertainty in a relationship. The line "Kiss me real slow so I know how you do feel for me (Don't you know you're coming on too strong?)" shows the limbo period that we all sometimes feel when we're in a vulnerable spot. MICHELLE captures this feeling in the best way by writing with a vague story arc that ultimately leads to the title of the song "unbound." Unbound can mean a lot which I think is great for this sentiment because one could feel unbound with someone whether it's in a negative or positive way.
"SUNRISE"
It is amazing how many love songs can be written. So many of us have such different experiences with love and heartbreak and while everyone feels some level of the emotional experience of being "in love" or a feeling of deep connection with a friend or mentor, you will most likely feel the way MICHELLE writes about in their first single out this past summer, "Sunrise." The opening line, "Couldn't ever be my sunrise (sunrise, sunrise) You're just a setting sun, I'd pray and you would pass me by" is the perfect example of longing in a relationship. It's the phase in which we all need a certain attention from someone who is comforting to us like a sunrise.
Overall, MICHELLE relates to their audience and goes above and beyond with showing their understanding and vulnerability with their thoughts on the role of various types of love in our everyday lives.. Each song lets you in a little bit more into the minds of the entire collective and the individual members who let us connect with all of them and their music on a deeper level.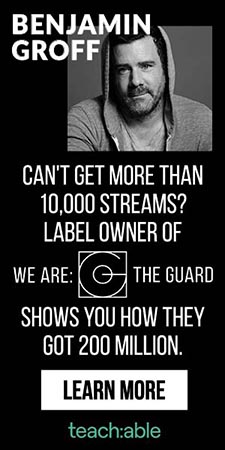 Micah Rubin is an avid music connoisseur who loves to watch movies and spend time at dinner parties. He loves The Sopranos and playing shows with his band, The Brazen Youth. His dreams and goals include wanting to bring people together through music, striving to always create an efficient and safe space for others to work and create. He hopes to become an A&R or Music Supervisor one day.
MICHELLE
Hometown
New York, New York
WE ARE: THE GUARD LATEST RELEASES
Leon Else