FEATURED FIND: MEET NIKO RUBIO, THE NEW FACE OF THE CALIFORNIA SOUND
Image by Lauren Dunn provided by Atlantic Records
California and music are so very synonymous, to the point that the California sound even has its own dedicated Wikipedia page. Originating in the early 60s with bands like The Beach Boys, the music of California started almost cloyingly idealistic, reflecting the sun-and-surf-centered culture being packaged and sold to most young people at the time. As the decade progressed, the genre began to steer in a more ambitious, socially conscious direction, with the "beach and babes" branding of old making room for an increasingly politicized affair. Since then, the California sound has continued to bend, move, and twist with the generations. As we enter a new decade with a new set of challenges, then, it gives that the music of California is starting to shift once again, with today's Featured Find Niko Rubio leading the march with her sun-kissed indie-rock rays.
NIKO RUBIO - YOU COULD BE THE ONE
Born and raised in the South Bay of Los Angeles, Niko Rubio initially discovered music through her grandparents, who frequently played traditional Mexican genres such as mariachi and banda at their home in Palos Verdes. By the time she was 12, Rubio was regularly performing on Spanish television, showcasing the powerhouse voice that'd one day become characteristic of her original music. As she grew older and started to listen to more alternative acts such as Vampire Weekend and Two Door Cinema Club, the California native was soon reaching for the guitar, with Rubio writing her first fully-formed song at the age of 15. It was the beginning of a prolific burst of creativity for Rubio, who, after several years of refining her sonic identity, released her breakthrough single, the lilting, reggae-esque "I Dreamt About You Again Last Night…," in October 2019.
NIKO RUBIO - I DREAMT ABOUT YOU AGAIN LAST NIGHT
Having spent her childhood driving up and down the Pacific Coast Highway on a near-daily basis, Niko Rubio was determined to infuse her guitar-laced confessionals with a certain dappling radiance. "When you're driving from Palos Verdes, it's the most gorgeous view you've ever seen – it looks like mermaids are jumping from the ocean every time the sun glistens on the water," says Rubio. "I hope my EP feels like that drive, and gives people some kind of an escape." Nevertheless, it's not all California dreamin', with Rubio also taking inspiration from her Mexican and Salvadoran heritage. Citing Latino legend and all-around rock-and-roll queen Linda Ronstadt as one of her principal influences, Rubio also has a depth and richness about her music that feels like a culmination of a long line of powerful female storytellers from the Hispanic community.
NIKO RUBIO - BED
As summer slowly draws to a conclusion, Niko Rubio is here to keep a ball of fire burning in our hearts with her beaming indie-rock bangers. Consider "You Could Be the One," a heady, ascendent ode to the rush of new love that the 20-year-old wrote after meeting her boyfriend in the middle of the pandemic. Or "Go With You," a pounding tribute to throwing your inhibitions to the wind and diving headfirst into a relationship. As we gradually emerge from the darkness of COVID-19, Rubio is making music that genuinely feels full of potential and optimism, like driving along the sunset boulevards of our minds into a more hopeful, promising future. And with a debut EP only around the corner, it seems like only a matter of time until Rubio brings her California sound to the attention of a larger international audience. We Are: The Guard couldn't be more stoked.
NIKO RUBIO - GO WITH YOU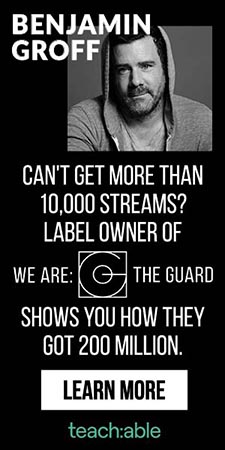 Jess Grant is a frustrated writer hailing from London, England. When she isn't tasked with disentangling her thoughts from her brain and putting them on paper, Jess can generally be found listening to The Beatles, or cooking vegetarian food.
Niko Rubio
Label
Sandlot Records / Atlantic
WE ARE: THE GUARD LATEST RELEASES
Leon Else