FEATURED FIND: PEACHY! MIGHT BE A GENIUS + NEW MUSIC VIDEO FOR "BLOOD!"
Peachy! has many talents. From instruments, to songwriting, to languages, the Atlanta native keeps himself busy by constantly learning. Today, he released a brand new music video for his song "Blood!," but more about that in a minute. First, a bit of background on the clever, rising talent.
Peachy! started playing guitar at just 8 years old, and picked up more and more instruments along the way including guitar, piano, ukulele, and bass. In 2016, he began to carve his unique sound by releasing beats inspired by Atlanta's underground hip hop scene. Peachy!'s sound meshes a lot of genres, and doesn't stay in one place, however it is uniquely his own. Combining live instruments and electronic elements, he's able to achieve this lofi, chill sound that flows between darkness and light.
PEACHY! - "FALLING FOR U" (FT. MXMTOON)
One of his early beats became the breakthrough lofi song "Falling for u (ft. mxmtoon)." "Falling for u" features sweet lyrics about having a crush, supported by a chill track. It's relatable and just makes you feel warm and fuzzy, like falling in love for the first time. "Falling for u" resonated with audiences in a big way, racking up over 200 Million streams across platforms. Achieving this level of success while still in high school, it became more and more obvious that Peachy! was onto something really special.
 

 

 

View this post on Instagram
In 2018, Peachy! made his debut as a vocalist on "Drown With You" with Ward Willis. The dark pop track showed a new side of Peachy! as a songwriter.
PEACHY! & WARD WILLIS - "DROWN WITH YOU"
In addition to writing music while in high school, Peachy! also picked a fascination with learning languages. He studies 5 different languages (English, Korean, French, Polish, and Finnish) and even speaks them in his music. I was curious and did some research to see if there was a link between learning music and languages. There are actually many! It has been found by a few studies that learning an instrument at a young age can help people learn second, (or in Peachy!'s case third, fourth, and fifth), languages later in life. Additionally, according to a study conducted by the Baycrest Centre for Geriatric Care, learning instruments and languages actually trains your brain to be more efficient. So basically, he's just really, really smart and I think that's made clear in his musical choices.
This interest in languages appears in his music. With lyrics in English and Korean, the chill, but danceable song "Pop Star" is light and airy. The lyrics are poetic and honest.
'Cause I don't wanna be a pop star
I just wanna mean something
To you
PEACHY! - "POP STAR 팝스타"
With today's release of the music video for "Blood!," we see yet another impressive side of Peachy! This is his first ever music video, and it doesn't disappoint. A bright red backdrop follows him through his day. To me, this looks like a clever, modern flip on the classic image of a rain cloud following a character to symbolize sadness. On "Blood!," however, maybe this red symbolizes a different type of hurt.
PEACHY! - "BLOOD!"
Peachy! wrote "Blood!" about a friendship that "just took a disappointing turn," and he doesn't really interact with anyone else in the music video- a visual representation of feeling alone. He also wrote the song while isolated in a cabin. "Blood!" doesn't sound angry, with it's lush synths, driving hi-hats, and gentle vocal delivery, though the chorus definitely reads like it would be. This is a really interesting juxtaposition, and I think it symbolizes how linked sadness, anger, and disappointment can be. It's a very human experience, and the music video offers a very real glance of the heaviness people carry around day to day.
"Blood!" was written, recorded, produced, mixed, and mastered by Peachy! himself. He's got an album coming soon, and based on "Blood!," we couldn't be more excited. Peachy! is guided by an interest in learning. He's already achieved quite a bit at a young age, and that will to learn will only take him further. The best musicians are those who never stop studying and evolving, and Peachy! is on course to be one of the greats. We chatted with him about 2021, his inspirations, and more.
 
---
WE ARE: THE GUARD: Hey there, Peachy! Thanks so much for chatting with us. As 2021 begins, do you have any New Year's resolutions?
PEACHY!: Nope. I'm not eager to set goals for a new year - it never works. I just set goals when I want to!
WE ARE: THE GUARD: What's your musical background and who inspires you?
PEACHY!: When I started playing guitar at 8 years old, I was obsessed with Metallica. Over the years, I've gotten into lots of different genres and musical tastes. I started to get my name when I got involved in lofi hip hop, listening to J Dilla, Aso, Lanzo, and more. These days I'm interested in Polish tape-loopers like William Basinski and Tomasz Bednarczyk and ambient legends like Brian Eno, Aphex Twin, and Stars of the Lid. I can go on and on about my influences like Piero Piccioni, Bring Me The Horizon, M83, and Chihei Hatakeyama, but it would be a never-ending list.
J DILLA - "LIFE"
WATG: We LOVE "Blood!" and are stoked about the music video. Could you tell us about the writing/creative process behind that song?
P: First off, thank you! The intro was a voice memo on my phone and actually had nothing to do with the track's rest. The lyrics are written about a completely different person. I feel like I've written songs about breakups before, but I keep my friends very close, so I wanted to explore that more with the newer music. I only got a couple of songs completed in 2020 because it was a dumpster fire of a year, so I needed lots of focus and NO distraction. I found a cabin up in the Catskills (about a 2-3 hour journey from my apartment in NYC) and stayed there for 4 days rewriting and recording the track. The cabin was in the middle of the forest, so I just spent my time enjoying the silence of nature and disconnecting from the world. I discovered that complete seclusion is very important to my creative process.
WATG: You have an interest in learning languages. When did that start, and what has it been like to incorporate that skill into your music?
P: It's a funny story: It started in high school, and the first language I learned was Swedish. As someone with social anxiety, I wanted a quick way to get out of conversations with strangers, so I learned the most obscure language I could think of to pretend to be Swedish when someone I don't know approached me. Anyway, I eventually took a French class for 2 years in high school (because my sister said it was easy), and I was very fortunate to have amazing teachers that supported me. I had SO much fun. I wanted to learn any language that could prove useful, and since I lived near Duluth (aka the Koreatown of Atlanta), I decided to learn Korean. Korean was the first language I decided to extensively write into my music (before that, it was just a concise phrase in Finnish on my preceding album), and it was used as an attempt to connect with my closest friends and a different side of the world I had not really engaged with before. I had a new tool to express myself, and it was exhilarating. After seeing all the positive feedback for my Korean singing on "Pop Star," I decided to embrace it head-on. Learning languages (not just Korean, but primarily so) has changed my life, and I'm so glad I get to use them to share my story with people who otherwise would have never heard it.
WATG: Who's an upcoming artist that you're excited about?
P: One of my good friends, oceanfromtheblue, has been getting a lot of attention lately, and I'm so proud of him. The guy is an incredible singer, and I love his motive. I love seeing genuinely good people get popular cause god knows that ain't always the case.
OCEANFROMTHEBLUE - 검은머리 (GIRL) (FEAT. 블루 BLOO)
WATG: What trend do you wish would come back?
P: Flip phones, or at least the era before social media was a big deal. Also, Usher's 2004 album Confessions is making a comeback, so I'm stoked about that.
WATG: What's on the horizon for 2021?
P: I'm moving to Korea in a couple of months, and I'm super stoked to get more involved over there! My next album will be half English and half Korean, which will also be dropping this year. I may also explore posting on YouTube more frequently.
Peachy!'s music is available on all streaming platforms.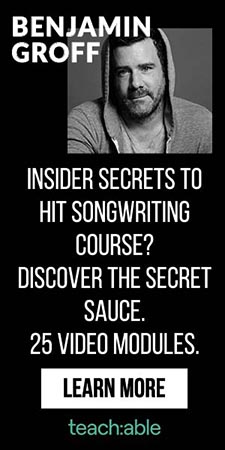 Arielle Tindel is from Cleveland, Ohio. She recently graduated from Berklee College of Music with degrees in Music Business Marketing and Songwriting. In her free time, Arielle can be found gardening or playing bass.
Peachy!
Birthday / Sign
Jan 24th, aquarius
Favorite Book
Silence - Erling Kagge
Instruments played
Guitar, piano, ukulele, bass
Favorite song by another artist
"Maybe They Will Sing For Us Tomorrow" - Hammock
Life changing album
And Their Refinement of the Decline - Stars of the Lid
Favorite City
Helsinki and Seoul
Hobby / Passion
Learning Languages
Drink of choice
Iced Americano
Favorite Condiment
Hot Sauce
Celebrity Crush
Lee Joo-Yeong
WE ARE: THE GUARD LATEST RELEASES
Leon Else