FEATURED FIND: PETER MCPOLAND - THE NEXT BIG THING IN INDIE/FOLK POP
by Olivia Flattery
2/16/22
I, like 489.7K other people, discovered Peter McPoland about a year ago on Tik Tok. Although his music journey began in 2018 with his first single "Lady Bird," Peter's first TikTok video dates to 2020 and his popularity has only gone up since then - with his videos now having over nine million total likes. He has a unique Indie Folk-slightly-pop sound that's so refreshing to hear nowadays if you're a fan of that kind of music, or any music at all really. What's more, when you watch McPoland's videos either performing live or showing his fans a new snippet of a song you can see the pure joy music brings him and the passion he has for creating it. However, what really made McPoland blow up this past year aside from a few viral videos was his TikTok cover of Dua Lipa's "Levitating" that showcases his own style because he was able to give that song a whole new meaning with his own arrangement. As I'm writing this, that video has over three million plays and over thirteen thousand people used the sound for their own videos. I literally heard it constantly last year!
PETER MCPOLAND - LEVITATING
McPoland is credited as the sole songwriter on most of his music which greatly speaks to his artistic abilities and has frequently cited John Prine as someone who has inspired him. He released a wildly popular song called "Romeo and Juliet" in 2020 about waiting for love and being a hopeless romantic. On a different note, however, his other song "Shit Show" (released in 2021), takes an edgy turn compared to some of his other released music. It's about life being somewhat messy and maybe not always going the way you want, but owing it and doing what you can with it. "Shit Show" has been incredibly popular with McPoland's fans- as most comments on YouTube praise the song for its relatable lyrics. This has even made McPoland gain more new followers. The music video came out in September of 2021, making it his first official music video for any song since signing to Columbia Records.
PETER MCPOLAND - SHIT SHOW
2022 is looking good for Peter McPoland, as he'll be out on the road for his first tour of the year in April and he'll be visiting various cities across the United States (go get your tickets now!!). He's continuing to release music with his most recent song titled "String Lights." It's a beautifully poignant song about growing up and realising that at some point everything just inevitably ends. I can't wait to hear more from him in 2022 and who knows, maybe there'll be an album on the way?
PETER MCPOLAND - STRING LIGHTS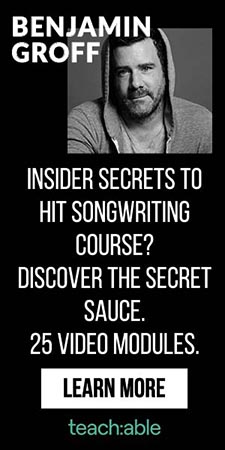 Olivia Flattery is a music business geek originally from London, UK, but just graduated from Berklee in Boston. She is also a singer-songwriter and one day hopes to work in the realm of film and TV as a Music Supervisor to combine her love of songs as well as her love of visual media. Olivia also enjoys collaborating with others on various music projects and is working on sharpening her production skills to open more doors for creativity.
Peter McPoland
WE ARE: THE GUARD LATEST RELEASES
Leon Else