FEATURED FIND: SMELLS LIKE TEEN ANGST - ROYAL & THE SERPENT
If Kurt Cobain were alive and getting started making music in the 2010s, what would it sound like? Considering the impact Nirvana had on the blossoming Grunge scene, combined with Kurt's almost fanatical devotion to punk rock and its DIY ethos, it's hard to imagine what strange spiky blossoms would have burst forth if rooted in another pot. Nirvana was way more than the beefy, burly metal-like guitars and "o well, whatever, nevermind" apathy, though. If you listen close and pay attention, you hear the college rock melodicism of Teenage Fanclub; the quietLOUDquiet of The Pixies' artiness; or the romantic naivete of bands like The Vaselines.
Of course, anyone who grew up in the 90s through the 2010s instead of the 70s and 80s is even more likely to have had those same urges soundtracked by the explosive emotiveness of emo; the angsty sludge of nu-metal; or the "eff it all" nihilism of pop rap. What sort of music are these kids going to make? Who's writing the lyrics destined for a new generation of Converse All-Stars and Jansport backpacks.
Royal & The Serpent, that's who.
ROYAL & THE SERPENT - PHUCKBOI REJECTS
With all-caps titles like "PHUCKBOI REJECTS" and "ALT BITCH POSER," you get a pretty good idea of what you're in for when you dial up Royal & The Serpents' newest EP, If I Died Would Anyone Care? Incredibly, tracks like "BETTER" update Cobain's candid struggles with depression for life in 2022, and it ain't pretty. This is no arty, moody black and white filter. This is depression bedrooms, eating disorders, disconnection. It brings to mind fellow 90s miserablists Crack with its "Low, low, low" refrain. Royal & The Serpents' subject matter might be hard to process, but it's certainly not hard to listen to, especially for those with a thirst for the snotty emo rap of Post Malone, Pop Smoke, or Juice WRLD.
ROYAL & THE SERPENT - BETTER
Of course, 2 out of 3 of those artists are also an example of the perils of those struggles. Add in Cobain and it's 3 out of 4. Considering how much of the inspiration that Royal & The Serpent derives from the dark side of life, it further complicates matters. Not only does Ryan Santiago need to have to deal with the struggles that comes with mental illness and the flaming hellscape of being a young adult in 2022, she also needs to deal with the struggles that can come with success! Getting happy can be even more of a struggle for artists, especially those working in some of the darker genres. We Are: The Guard wish her all of the best, as we hope to hear music from her for a long, long time to come!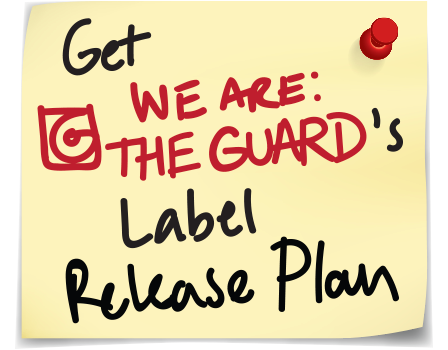 J. Simpson occupies the intersection between criticism, creativity, and academia. Based out of Portland, Or., he is the author of Forestpunk, an online journal/brand studying the traces of horror, supernatural, and the occult through music, fashion and culture. He plays in the dreamfolk band Meta-Pinnacle with his partner Lily H. Valentine, with whom he also co-founded Bitstar Productions, a visual arts collective focused on elevating Pop Culture to High Art.
Royal & The Serpent
WE ARE: THE GUARD LATEST RELEASES
Leon Else