FEATURED FIND: SAM FENDER - A FORCE TO BE RECKONED WITH
Image courtesy of samfender.com
Sam Fender has been making waves across the Atlantic in his native United Kingdom since 2017. I personally discovered him after finding his BBC Radio 1 Live Lounge cover of Arianna Grande's song "Break Up With Your Girlfriend, I'm Bored." I thought it was so original and interpreted so well to fit his own sound that I just had to go and listen to the rest of his music. He released his first full studio album titled Hypersonic Missiles in 2019, which included hit songs such as album namesake "Hypersonic Missiles," "Play God," and "Will We Talk?" after releasing some singles throughout 2017 and 2018. The same year of this album's release, Sam won the prestigious  Critics' Choice Award at the BRITs, which are the UK's equivalent to the Grammy Awards.
SAM FENDER - WILL WE TALK?
Sam's songwriting is very reminiscent of Bruce Springsteen's, and the musician has cited him as a major influence various times. It's also worth noting that Sam writes all of his own songs and is the only credited songwriter on both of his albums released to date. He clearly writes from the heart, and has a great way of writing about life's misfortunes in a way that's so relatable to all of us. To make it even better, his melodies are also excellent and catchy. The instrumentation you hear in his songs, such as the use of saxophones and synths that are reminiscent of 80's rock, aren't usually heard these days in mainstream pop/rock music. You also get more of a sense of his songwriting skills, as well as who Sam is as a person in his second album, released just last year, called Seventeen Going Under. Much like Hypersonic Missiles, Seventeen Going Under deals with self-reflection, world issues, complicated relationships, mental health, and complex working class life and poverty. The title track, 'Seventeen Going Under', which is about the struggle of growing up and dealing with 'real' problems, actually became a hit on Tik Tok which led to more people discovering Fender's music.
SAM FENDER - SEVENTEEN GOING UNDER
Sam has had quite the year since releasing Seventeen Going Under and went on to win another BRIT award earlier this year for Best British Alternative/Rock Act. He's also up for six NME Awards due to take place in early March in London. On top of that, Sam is due to go on tour in March and will be visiting various cities and arenas across the UK and Ireland as well as other European cities. He'll also briefly support The Killers on some of their shows. It's fair to say that this is going to be a great year for Sam Fender and he truly deserves his success. While he's becoming a household name and a force to be reckoned with in Europe, he has yet to win over audiences in the US on a large scale but I don't think he'll have much of an issue with that as people are starting to pay attention to what he has to say and he writes in his own uniquely eloquent way and sings about issues that are relatable, yet not many artists dare to go tackle them. I can't wait to see what else 2022 will bring for Sam Fender!
SAM FENDER - SPIT OF YOU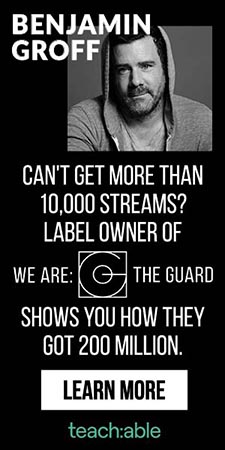 Olivia Flattery is a music business geek originally from London, UK, but just graduated from Berklee in Boston. She is also a singer-songwriter and one day hopes to work in the realm of film and TV as a Music Supervisor to combine her love of songs as well as her love of visual media. Olivia also enjoys collaborating with others on various music projects and is working on sharpening her production skills to open more doors for creativity.
Sam Fender
Hometown
North Shields, UK
WE ARE: THE GUARD LATEST RELEASES
Leon Else