FEATURED FIND: THE DREAM OF THE 90S IS ALIVE IN FLORIDA'S SARABEAN
Photo by Sarabean
Florida singer/songwriter Sarabean fuses the soul of the 90s into one white-hot nucleus, dreamy yet personal and intricate as she leads you into her inner world.
 

 

 

View this post on Instagram
The dream of the 90s sounds alive and well in the music of 18-year old singer/songwriter Sarabean. Sonically, her music seems to be drawing on 90s indie/alt-rock like Juliana Hatfield, Liz Phair, maybe even PJ Harvey if she'd taken a downer. Sarabean's music is far more tender and personal than those alt-ladies, however, as if she'd taken the radical vulnerability of twee and alt-folk to heart at the same time. The results are mesmerizing - shimmering chorused vocals floating weightlessly above bare strummed acoustic guitar. It gives the whole affair an intimate air, like Sarabean is inviting you into her bedroom to show you her song. There, among posters of bands and childhood relics, you'll find dreams of the sea, of endless waves of wheat as skies darken and bruise, as she tells you her stories of yearning and loss.
Sarah Holland, the voice behind Sarabean, is realizing the true potential of Bedroom Pop - intimate and personal yet still rendered in shimmering, perfect fidelity. Her music is in the tradition of newer Indie/Bedroom Pop auteurs like girl in red or even Olivia Rodrigo, but Sarabean's music is not so glossy and polished, less posed, instead glowing with a dreamy soft-focus romanticism. It invites you into her Polaroid reveries to float and dream. Her production is considered and intentional, never becoming busy, augmenting the barebones skeleton of her acoustic guitar with slight flourishes of synth and filling out the rest with special FX - dreamy reverbs and echoes. The final result is a frankly amazing mixture of indie/lofi folk, Bedroom and Dream Pop.
Sarabean recently released her debut album, please don't let me be, where she showcases her considerable talents to stunning effect. Album opener "intentions" sets the mood and casts the spell while spelling out the album's thesis "I don't like your intentions/I just want your affections" while double-tracked vocals wail like a heartbroken mermaid in the distance. This is followed by a cover of Chris Isaak's "Wicked Game," which offers a glimpse behind Sarabean's music, process, and intentions. "Wicked Game," of course, recently enjoyed a resurgence with a high-profile cover by Lana Del Rey. Both Del Rey's cover as well as Chris Isaak's version seemed to exist behind a thick wall of shellac, dreamy but completely inaccessible. Sarabean's version is all acoustic intimacy, though, being built around simple strummed acoustic guitar which is augmented with the sparse touches of synth and drum machine. The minimal production leaves room for Sarabean's harmonies to reach out through the mist, to grab your heart and *squeeze*.
please don't let me be is a beyond-impressive debut, showcasing Sarabean's songwriting sensibilities and production abilities, which shows off musicianship and exquisite lyrics to incredible effect. It's a vindication of the promise of underground 90s rock, from lofi to indie rock to twee, resurrecting some lost and under-appreciated voices along the way. We Are: The Guard CANNOT WAIT to hear what she comes up with next!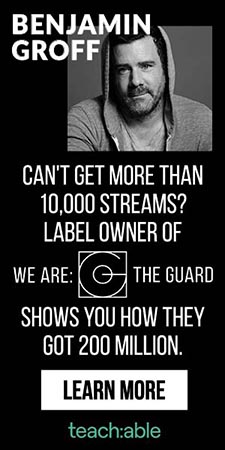 J. Simpson occupies the intersection between criticism, creativity, and academia. Based out of Portland, Or., he is the author of Forestpunk, an online journal/brand studying the traces of horror, supernatural, and the occult through music, fashion and culture. He plays in the dreamfolk band Meta-Pinnacle with his partner Lily H. Valentine, with whom he also co-founded Bitstar Productions, a visual arts collective focused on elevating Pop Culture to High Art.
Sarabean
Hometown
Seattle, WA/Tampa, FL
Inspirations
Lorde, Isaac Dunbar, Joji
WE ARE: THE GUARD LATEST RELEASES
Leon Else