FEATURED FIND: SHAMIR ON HIS NEW SINGLE "GAY AGENDA," LIVING IN A POST-LIL NAS X WORLD, AND SELF EXPRESSION
by Charlotte Stack
11/4/21
Photo via Yutaro Okamiya / Girlie Action Media
You have never listened to an artist like Shamir, and I say that confidently. Whether it be his distinct countertenor voice, heartfelt lyricism, or his ability to effortlessly blend genres, Shamir has found every possible way to shine as an artist and person.
I can't remember what I was doing or where I was when I first heard a Shamir song, but I do remember that my visceral reaction was to stop everything and to just listen. Once the song finished, I replayed it about three more times. I was mesmerized. Eagerly, I had to find out who this Shamir person was. Upon learning about Shamir and familiarizing myself with the rest of his discography, my admiration for him blossomed.
Las Vegas native Shamir Bailey, better known simply as Shamir, has always been around music. Shamir was raised by his mother and songwriter aunt, who inspired him to start songwriting after he received his first guitar as a nine year old. Shortly after graduating high school, Shamir signed a record deal with Godmode who released his debut EP Northtown in 2014. He then signed with XL Recordings, and subsequently released his first album Ratchet in 2015. By the end of 2016, he had opened up for Marina and the Diamonds, Years & Years, and Troye Sivan on tour.
SHAMIR - IF IT WASN'T TRUE
Even though Shamir was on a more than promising path to major success, he was struggling behind the scenes. In 2017 alone, Shamir was dropped from XL Recordings, ended things with his management team and was diagnosed with Bipolar Disorder after being hospitalized for an episode. Shamir was forced to confront how his success was affecting his mental health. This confrontation, although challenging at the time, yielded an elevated, new Shamir -  one that was refreshed, honest, and exceptionally raw. 
SHAMIR - GAY AGENDA
Shamir recently released "Gay Agenda," a powerful, confident single about freeing oneself from the people and things that inhibit self expression. I was fortunate enough to meet with Shamir over coffee to learn more about "Gay Agenda," his return to live music, and his upcoming projects.
WE ARE: THE GUARD: I wanted to start off by saying I'm a big fan. Big, big fan. It's so cool going from watching you perform at the Lucy Dacus show last Wednesday to sitting here with you! People were so excited to see you at the show. What aspects of performing live make you excited?
SHAMIR: You know, I recently realized - I think sometime last year when everyone's relationship with playing live was put in perspective - that I'm not really a live performer in the sense of getting on stage and giving the people what they want. For me, it's a little bit more selfish in that it is a moment of catharsis. I go on stage and I try to have this cathartic moment for myself, and hope that it resonates with everyone else.
WE ARE: THE GUARD: That's awesome. It did actually feel like you were up there for you and that we were lucky enough to watch you and feel your energy. It was mesmerizing.
SHAMIR: I think that's it. If you're down with the energy, you're going to have a good time. There have been some times where that's not what people want and they don't have a good time. My shows always work for me but when they go great, I'm happy and everyone else is happy, too.
WATG: That makes complete sense. On the topic of the show, how was it that you met Lucy Dacus? What was the genesis of your guys' relationship?
S: The music industry is small, and everybody kind of knows everybody. We first met in 2018 at South By [South West]. It's funny because we both got signed to Beggars Music around the same time - I was even interning there - but I don't really remember hearing her music until 2018.
WATG: That is funny! I wanted to ask you about your amazing new song "Gay Agenda." What inspired it and how did it come about?
S: When I was at the show on Sunday in New York, my friend and other artist Macy Rodman said that "Gay Agenda" gives her "Army of Me" by Bjork vibes to which I said, "You got it!" I was just trying to do my best Bjork impersonation without it being too noticeable. That wasn't the immediate inspiration - my producer sent me the beat which was just a thirty second loop at the time. I wrote over it and that's how it started. It didn't have any chords so I wrote the chords with my voice and harmony. I guess the beat and distortion automatically reminded me of "Army of Me." With the vocal delivery, I thought, "Okay. I am Bjork right now."
WATG: I love it. When in doubt, channel your inner Bjork. At the show, you performed a new song that is coming out on November 9th. Can you tell me about it?
S: Sure! It's called "Cisgender" and is about how I am not cisgender. It's definitely my most metal song, maybe other than the Billie Eilish cover I did, but it's literally just about how I'm not cisgender. The lyrics in the chorus are very straightforward: "I'm not cisgender / I'm not binary, trans / I don't want to be a girl, I don't want to be a man."
SHAMIR - OCEAN EYES
WATG: I could tell that a lot of audience members felt seen while watching you perform "Cisgender." I love what you are doing with your lyricism and it is so exciting to see you represent such a prominent group of people with your art.
S: I think this whole record, as you can tell by the singles, is the first record where I felt comfortable. It was natural for me to put my queer perspective into it. I've always talked about my queer experience in my previous stuff, but it was just natural for these songs to come together into a whole project the way that it did with this record. There was a lot of learning that had to be done, and was unfairly put on my back to be the poster child when I came out.  But now that we live in a post-Lil Nas X world, I feel like I can kind of slide under the radar which is great. Shoutout to Lil Nas X!
WATG: That is great - Lil Nas X is doing the most for the LGBTQIA+ community right now. If you were to think back to your 2016 self, do you think you would be surprised by the current social climate or how your songs about gender and queerness are resonating with so many people?
S: I was always very open about my queerness when I first came out in 2014. A lot of people didn't even know what nonbinary was. In interviews, I would talk about being nonbinary and queer and interviewers would literally make up words like "post gender." I don't want to say there was a lack of respect because it was just so new to a lot of people. Now, everyone knows what nonbinary means and there are nonbinary characters on TV. When I came out in 2014, there were no nonbinary characters on TV.
I was basically the nonbinary pop star and that's not what I had asked for. It was really really hard. It's not like I was taming myself then and now feel free to be fully open. I was already fully out there and talking about my experiences - but just doing it with a wink. I am like how I was back then, just without the weight of being a poster child for anything. I couldn't joke about my queerness back then, because everyone said, "You're the only representation out there right now!"
WATG: If you could go back to the time when you were this poster child, what would you tell your team or the people around you that were trying to understand the concept of gender identity? Is there something you wish they understood at the time?
S: We could be here forever. I think that really, everything comes down to timing. And I think that it wasn't the best time for my mental health. I've been told to tone down my queerness by other queer people on my team even though the New York Times was covering me and discussions about my identity. But I'm glad that it ultimately helped other people feel seen. I don't take any of the bullshit I went through for granted.
WATG: On the topic of self expression, gender and queerness, what's your take on Billy Porter's statement about Harry Styles' Vogue cover?
S: I don't know, it's pretty weird. It's such a weird thing to talk about or fight over being the first [man to wear a dress]. I think Billy made some points. Obviously, there is a racism problem in Hollywood and fashion - and I'm all for gender free clothing, but it's weird to see that this conversation is being held by two cisgender men. As a nonbinary person, I feel like this has nothing to do with them. It's a weird battle and almost feels like they're telling themselves that wearing dresses is for shock value, not a genuine expression of self. As a nonbinary person, when I wear a dress, I'm wearing a dress because it is what I want to wear that day. At the time, nonbinary people were praising Billy Porter because it seemed like [wearing dresses] was just something that he wanted to do. So for him to come out and complain makes me feel like he was dressing fluidly for attention.
WATG: I completely agree with you - it was disappointing. On a brighter note, what is on the horizon for you?
S: A few more singles and I'm going on tour with Courtney Barnett! I'm joining her for eight dates, going up the east coast and ending in Canada.
WATG: Courtney Barnett. That is amazing! You have opened for some amazing artists.
S: Well, I know Lucy [Dacus] and I know Courtney, and they're both homies. Lucy's career and my career started around the same time, and Courtney has always been around me, and constantly making music. We've all been making music since 2015, and that's so long ago. Altogether, I'm pushing a whole decade in this industry. I remember Tegan and Sara talking about this too, when they hit their ten year mark. They realized how long, especially in music, ten years is. You see so many artists come and go and come and go, you know what I mean? But Courtney has always been consistently creating and both of our careers are still alive, still thriving.
WATG: That's amazing. It's been so great to see you finally get the recognition you deserve.
S: Thank you! For me, it's less about the fact that the stuff I'm making now is getting critically acclaimed, but that I'm getting critically acclaimed for making music that feels true to me. My old stuff was also critically acclaimed, and I was on billboards, but none of that music really felt true to me. I don't want to say that I feel unfazed by the praise, but I'm just glad that the praise is coming at a time when I feel my work is authentic to me.
WATG: Shamir, thank you so much for sitting down with me to talk. It's been so great and I can't wait to see and hear all of the amazing things you do in the future!
S: Thank you!
Interview has been modified for clarity
"Gay Agenda" was independently released on October 12, 2021 and is available to stream wherever you listen to music.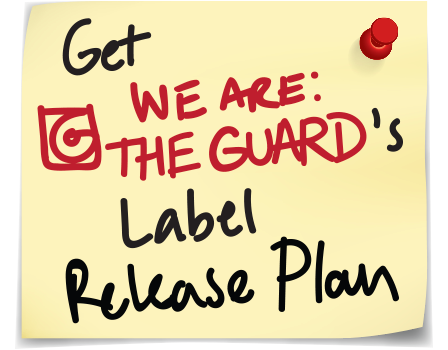 Charlotte Stack lives in Philadelphia, Pennsylvania, where she studies Music Business in Drexel University's Music Industry Program. When she isn't working, Charlotte is most likely cuddling with her dog, Jade or at a show.
Shamir
Hometown
Las Vegas, Nevada
Birthday / Sign
November 7, 1994 / Scorpio
Inspirations
His songwriter aunt
Genre
Indie-rock, Pop, Country, Metal, Electronic
WE ARE: THE GUARD LATEST RELEASES
Leon Else