FEATURED FIND: SOPHIA GRIPARI, THE INDIE POP SINGER-SONGWRITER BORN TO MAKE MUSIC
Some people are quite simply born to make music. Sophia Gripari is one of those people. Listening to her gleaming, golden-hour indie pop sounds, it's abundantly clear that songwriting is bound into her bones. Of course, a formal education at the esteemed Berklee College of Music may have helped matters along a little, but this? This is something that can't be taught through even the finest curriculum or university lecturer. This – dare I say – is something god-given.
SOPHIA GRIPARI - "HATE YOU BUT I DON'T"
Hailing from London, England, but currently based in Los Angeles, California, Sophia Gripari was first exposed to music from the age of three – namely when a piano tuner would come around to her family home to correct the pitch of their instrument. "I would sit next to him, before I could even walk, and sing back the notes he was playing," Sophia reveals in a richly insightful interview with the online magazine VoyageLA. "He actually went to my parents that day and said 'I have a feeling your daughter is going to be a musician.'"
The piano tuner was right. By the age of nine, Sophia Gripari was already writing songs like a natural. As she grew older, she developed an interest in production – learning tools such as GarageBand to bring flesh to her acoustic creations – and performing live – with Sophia becoming a regular on the London circuit, including playing a set at the legendary Ronnie Scott's Jazz Club. Sophia wanted more, however, with the young artist moving to Boston, Massachusetts to study songwriting and production at the acclaimed Berklee College of Music in 2016.
SOPHIA GRIPARI - "LIE TO ME"
It was a deeply formative period for Sophia, who eventually moved to Los Angeles to pursue music full time. "Getting the chance to finally move here and live in a city with one of the most vibrant, iconic music scenes has been, for lack of a less cheesy phrase, life-changing for me," Sophia adds in her interview with VoyageLA – her enthusiasm for her current surroundings shimmering throughout her art. From her breakthrough single "Hate You but I Don't," to the gilded pop sensibilities of "Lie To Me," to her most recent release "Pleasure & Pain," Sophia exudes an effortless, sun-soaked California cool, as topped off by a voice that I can only describe as the stuff of angels.
Even though she's been making music since she was a literal child, it's wholly evident Sophia Gripari is only at the beginning of a long-term, successful career in the industry. As her explorations into songwriting and production continue, we couldn't be more excited to see – and hear, for that matter – what lies ahead for this immense talent. And with a brand new single "DLS" out this Thursday (February 25th), We Are: The Guard recently caught up with Sophia to discuss her plans for 2021, life during COVID-19, and how she defines success.
SOPHIA GRIPARI - "PLEASURE & PAIN"
WE ARE: THE GUARD: Hey there, Sophia! Thanks so much for chatting with us. As 2021 enters full swing, what's on the horizon for this year?
SOPHIA GRIPARI: Hello hello! Thank you guys so much for having me on We Are The Guard! 2021 has actually already been a really exciting year- I've put out two singles, "Think" and "Pleasure & Pain" and am getting ready to release a couple more in the upcoming months! "DLS," my next single actually comes out in 1 week (it might already be out when you're reading this). I have a couple of really exciting features planned and am currently finalizing the designs for my first ever merch drop, which I am so so excited for! We just wrapped up shooting the next video project, which is a docu-style virtual live show. That's airing in March, so be sure to keep an eye out for that! Other than those things, I'm excited to keep writing and releasing music and videos this year.
WE ARE: THE GUARD: Is songwriting and performing what you always thought you'd end up doing? How did you get started?
SOPHIA GRIPARI: I've known that songwriting was something I wanted to pursue since I started writing when I was 9. I would spend hours on Garageband with my Band Hero USB mic recording songs and burning them on CD's to give out at school. I think when it was clear that it wasn't a phase, I knew that it was something that I really wanted to keep doing. A snippet of my first ever song "Chaos In The Bathroom" (I know, ridiculous) is actually hidden somewhere in the depths of Spotify. 10 points to Gryffindor if you can find it. Growing up, I kind of went back and forth about performing, I think it wasn't until I started creating music that I really loved and connected with that I fully fell in love with it. Now I can't imagine myself not doing either.
WATG: What has it been like releasing music throughout the pandemic?
SG: Obviously the pandemic has brought a lot of obstacles, but it has forced us all to get creative and work outside of our comfort zones. Luckily, I went into the pandemic with three songs already written and recorded that I knew I wanted to release, ("Hate You but I Don't," "Clear to Me," and "Lie to Me"), so the first 5 or 6 months of lockdown was the time I used to plan those releases. Those releases pushed me to keep working on my artist project and it kinda just snowballed from there. The music I'm putting out now is my favourite yet. Not being able to do as many in-person sessions has been tough for everyone- there's no way you can really replicate the vibe of creating something together in the same room. I think though, thanks to Zoom, I've been able to work with people from all over the world that I usually wouldn't have due to distance, so I have some cool features coming up that probably wouldn't have happened otherwise.
WATG: We love your last release, "Pleasure & Pain!" Can you tell us about the process of writing that one?
SG: Thank you!! I think "Pleasure & Pain" is probably my favourite song I've released so far. I wrote it with Alex Koste, Eden Neville, and Alex Borel back at the end of 2020. You know that when you have a session with that group, it's gonna be a blast regardless of if the song turns out well or not. It just so happened that we lucked out and ended up loving what we made. Eden came into the session with the opening line and we just immediately rolled with that. Personally, I loved the contrast between the first two sections and the chorus from day 1. That wasn't the unanimous opinion, but that was one of my favourite parts about the song, so I did my best to keep it in there for as long as possible. Luckily, we all ended up feeling the same way about it in the end! We did 3 sessions for that song, the day 1, the rewrites, and the backing vocal session. So. Many. BV's. I think a lot of what we added is super subtle, but adds SO much to the song.
WATG: You previewed it in your Unreleased_Series on YouTube. Can you tell us about how that idea came to be and any stories behind creating those videos?
SG: Yes! Since everyone has had to go virtual, I feel like social media feeds are so oversaturated with other people's self promotion. I've been trying to think outside the box about how to promote what I'm doing, in the hopes that it stands out even just a little. I'm really lucky that my roommate/best friend/total lunatic Mia Doyon is an incredible videographer, so since the start of COVID, we've been able to continue creating content together. We did the Live From Lockdown video that came out in July and then just wanted to one up it. We came up with the idea of doing the Unreleased_Series so that I could put out an episode a week during the lull between Thanksgiving and Christmas. I decided to only do unreleased songs because they were some of my favourite demos that I didn't want to just sit on a hard drive forever. The plan was to dedicate that month to the demos I didn't think would come out. That clearly didn't work, because here we are talking about "Pleasure & Pain!" I guess it's a good way to test out unreleased stuff and see how people respond to it. Maybe we'll have to do an Unreleased_Series 2!
WATG: What's on your playlist right now?
SG: Oooooof. I have far too many playlists and they're kind of all over the place. Right now I'm really on a Fletcher, Astrid S, Charlotte Lawrence kick. Don't even get me started on "BOYSHIT" by Madison Beer. Also love "Stop!" by UPSAHL and OSTON just released "Lie About You," say no more. I've recently been binge watching early 2000's music videos. We need to bring 2002 Avril energy back.
WATG: What does success look like for you?
SG: I feel like my answer for this changes daily. There are things that are happening right now that might not seem like huge wins, but if you'd told me that they'd be happening 2 years ago, I probably would've laughed. In terms of goals, I would definitely be gassed to get to a point where I can work with some of my biggest, current musical inspirations. I guess overall if I can continue doing music full time and keep growing an audience while still absolutely loving getting up everyday to do it, then that's pretty much a success.
Sophia's new single "DLS" is out now on all streaming platforms!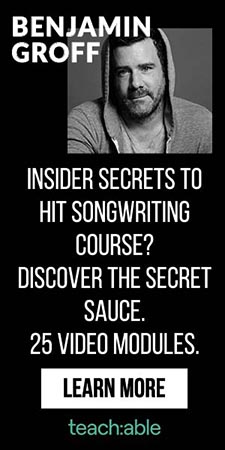 Jess Grant is a frustrated writer hailing from London, England. When she isn't tasked with disentangling her thoughts from her brain and putting them on paper, Jess can generally be found listening to The Beatles, or cooking vegetarian food.
Sophia Gripari
Birthday / Sign
24th August 1998 / Virgo
Favorite Movie/Show
Killing Eve (cough Love Island cough)
Instruments played
Guitar, Voice, Bass, Piano, Drums
Favorite song you've written
Lie to Me or Pleasure & Pain
Life changing album
Oh Wonder by Oh Wonder
Favorite City
Gstaad, Switzerland
Drink of choice
Gin & Tonic
Dream Collaboration
Dua Lipa
Favorite Condiment
Ketchup
What's in your fridge
TraderJoe's Mini Cones (freezer, but it still counts)
Celebrity Crush
Harry Styles
WE ARE: THE GUARD LATEST RELEASES
Leon Else