FEATURED FIND: SUPERLOVE – THE HEAVIEST BOY BAND I KNOW
by Bianca Fernandes
4/7/22
Image provided by Superlove
The United Kingdom has brought us a lot of great pop rock over the years, with the likes of Blur, Super Furry Animals, Gorillaz, Coldplay, Arctic Monkeys to name a few off the top of my head. But here's something new and fresh from the UK scene for your listening pleasure. Superlove is a young noise-pop band formed in 2018 from famous old Bristol town, and have since been racking up accolades and streaming numbers like there's no tomorrow, and let's face it, in recent years impending doom has felt very real!
I could list all their accomplishments like over 1 million streams on Spotify, being featured in multiple prominent playlists, touring with some really great UK bands and more, but why would I do that when you could just trust me, right?!
If you're looking for something tasty to sink your teeth into then you've just found it with Superlove. With catchy pop sensibilities, strong harmonies, and left-of-center songwriting, Superlove delivers music that's equally modern and a throwback to earlier UK pop rock bands that just works so well.
When asked why people should pay attention to Superlove, the band said "We have a bit of something for everyone I feel. We're honest and just ourselves, we started the band to write some music we'd never heard done before. Mixing pop with heavy rock etc, two genres we love so much and we just wanted to hear them together. It's a new sound and we love that people can get excited about our music because we're just being ourselves and doing what we want so hopefully a few more people start to see that and get on board!"
Superlove consists of Jacob Rice on lead vocals and bass, and Jon Worgan on guitar and vocals. Their influences include legendary bands like Lower Than Atlantic, The 1975, Enter Shikari and Royal Blood, with their genre influences listed as indie, metal and pop, quoting "from Maroon 5 to Meshuggah". And I couldn't sum this band up better if I tried!
When asked to describe their music, the band said "Pop music but make it sound rocky?? We're fun and catchy. Nothing too crazy but I'm sure you'll enjoy it if you're into pop or rock music.".
They're surprisingly heavy for a pop band so you get the best of both worlds! It's called synergy, people! They almost remind me of a more modern Bring Me The Horizon with a much stronger pop edge. Let's just say I fuck with it, hard!
SUPERLOVE - THINK ABT U
I'm getting big Enter Shikari vibes on this one. It's that combination of powerful instrumentals and delicate vocals that hits the spot just right. When you don't know what you're in the mood for, I'd throw this on and get it all at once. Loud in your face, while still tugging at the heartstrings. Just like when you're thinking about someone that you know you shouldn't be! Superlove is clearly full of fun, just like their music videos and I'm loving it. They don't take themselves too seriously and that leaves room for a diverse fanbase and an honesty and authenticity that you can't help but admire. I can hear a jam-packed room singing along to this one at the top of their lungs. They remind me of the bands on the emo scene – fun-loving music geeks with a passion for what they're doing and a strong following. If you get a chance to see them on tour, DO IT because I have a feeling their lives shows are where it's at!   
SUPERLOVE – WANNA LUV U
This track is all over the place and I love it. It's got a unique kind of chaos that's extremely infectious and hard to put down. Lots of electronica, lots of autotune, lots of simple yet emotive lyrics. It's got everything! Stand out lyrics from this one include: "I wanna love you but I don't know where I'm supposed to start. I like the chase but sometimes it just goes on way too far". Again, reminding me of some Midwest emo shit with a unique UK twist. Love it!
Superlove is the heaviest boy band I've come across, and yes, I'm gonna call them a boyband because they just give off that pop energy. IN A GOOD WAY! No wonder these guys are so popular, their music speaks to so many people. Young and old. Well, mostly young. I don't think old people can handle their heavy-hitting youthful energy. This stuff is for the young and free at heart!
SUPERLOVE – SAVE YOURSELVES
Their most recent single release "Save Yourselves" is their most popular track on Spotify right now, and for good reason. It's a clear post lockdown release and a teaser of their upcoming debut album Colours soon to be released on Rude Records. In fact, the release date is 1 April 2022, so you don't have to wait long to hear more of what these boys have been cooking up.
On their much-anticipated upcoming Colours album, the band said "Main influences for the album were bands like Enter Shikari and the 1975 and their ability to create a full LP filled with so many different styles of music but still sound like one coherent album. We just wanted to do something that would really excite us as songwriters, push the bands sound into unexplored avenues. We basically wanted to make a really hopeful and uplifting album! Really excited for people to hear what we have to offer with a full-length release."
The title Colours comes from the idea behind a colour wheel, all the different colours bring out different feelings and emotions but still remain as part of the colour wheel. That refers back to how our album crosses into different styles of songwriting and genres but still remains under the same collection of music.
But they also released a collection of singles in March called World of Wonder that you're gonna want to check out. I'll link it below just for you. Don't say I never gave you anything! It's another super-charged teaser of what's to come on their debut album. Now aren't you guys lucky I introduced you to this band?!
Their upcoming tour is sure to blow fans and new audiences away! On the upcoming tour, Superlove said "You're gonna get all round entertainment at a Superlove show. We aim to just have a massive laugh and get everyone in on the laughs too if we can. I would love for people to leave a show thinking yeah they were fun and I really enjoyed it. Having a laugh and enjoying the moment is such a big part of shows for us, we want people to leave behind everything happening outside the venue, in the real world and come and be entertained for the night."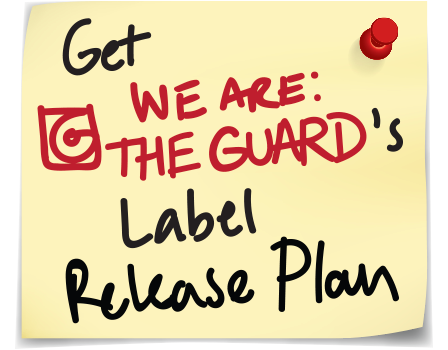 Superlove
Favorite Movie/Show
The Office UK
Favorite Book
Guinness World Records 2006
Instruments played
Guitar, piano, bass, bassoon
Favorite song you've written
The People You'll Love Forever
Favorite song by another artist
Yesterday - The Beatles (basic but it's unreal)
Life changing album
A Flash Flood of Colour, Enter Shikari
Favorite City
Bristol baby
Hidden Talent
Impression of the announcer from the X factor UK, Peter Dickinson
Hobby / Passion
Painting (Jonathan)
Drink of choice
Gotta be a cuppa tea
Favorite Animal
Sarcastic Fringehead Fish
Favorite Food
A massive pizza
Dream Collaboration
Enter Shikari/Biffy Clyro
Favorite Condiment
Ketchup all day
Education
had no idea the value at the time haha
What's in your fridge
Oat Milk
Organizations
Mind Charity
Celebrity Crush
Harry Styles
WE ARE: THE GUARD LATEST RELEASES
Leon Else