FEATURED FIND: TIA TIA'S DANCEABLE WORLD
by Mary Ruth McLeay
12/13/22
Cover Art by Prince & Jacobs
Tia Tia's style, upon first glance, is powerful. Look at any of her social media pages or artist platforms and you will see splashes of fearless and bold neons and perfectly crafted hairstyles. It's no wonder fashion magazines chose to talk about her inventive updo after her most recent fashion moment at the Grammy's. Influenced by the early 2000s, Tia Tia is a visual icon, as well as a musical one. Her music jumps into your earphones with excitement, just daring you to move.
Tia grew up in New Jersey and when she moved to Los Angeles in 2019, she took the city by storm. In just a few years, Tia wrote hits for the likes of Justin Bieber, was a co-writer on the highly-publicised "Skin" by Sabrina Carpenter, and earned a BMI award "My Head & My Heart" with Ava Max.
She was no stranger to climbing the charts by the time she released her first single, "Red Wine." It landed immediately on Spotify's Fresh Finds, solidifying Tia's well-deserved spot as an up-and-coming artist to watch. She has continued to release well-received singles including the wildly catchy and fun "Boys Go Marching." She recently dropped a Christmas bop with a signature early 2000s style cover. She's getting ready to release a debut project we should all be watching for!
TIA TIA - "UNWRAP ME"
Tia Tia's latest release is the Christmas song you get ready to when you're going to a Christmas party you're gonna see your ex at. It exudes confidence- with a holiday twist. It manages to feel like both a chart-topping pop song and a classic Christmas bop. It's ready to take its place among the pop Christmas hits of Ariana's and Justin's.
TIA TIA - "HEY WOULD U COME MY WAY"
In true hit songwriter-fashion, I can't get this hook out of my head. The melody is infectious and the production is cool and rhythmic. It moves and glides and showcases the lighter side of Tia's vocals.
We got the chance to talk with her about being an acclaimed co-writer, finding her own sound, and, of course, Rihanna.
WE ARE: THE GUARD: Hey Tia Tia! With a name so nice, you gotta say it twice :) We're so excited to talk with you! Your music feels so fun and empowering to me. What do you hope listeners feel while listening to your music?
TIA TIA: AYEEE! Thank you so much for saying that. I truly want people to feel those emotions when listening to my music, because that's how I'm feeling when I'm making it. I want people to be able to put on my music and be transformed into their own music video, where they're feeling hot and like their best self.
WATG: I absolutely love the cover art on "Wait." Was there anything in particular that inspired the aesthetic? What was the process of creating it like?
TT: Thank you!!! That shoot was my favorite shoot ever. We shot the looks for "Wait" before any other song. I remember looking for creative directors to help me take my music visually to the next level, and I found the icons Prince & Jacob, who I immediately needed to figure out a way to work with. Together, we wanted to create a futuristic nostalgia aesthetic, and I think we really nailed it with this look. The moment I put on the latex lime green piece, I felt like the most powerful version of myself, and I think that really shined through in the visuals.
WATG: You've described your music as "danceable" before and have some great choreography in your music videos. What part does danceability play in the making of a new song? Is it something you are conscious of while writing- if the music makes you want to move?
TT: Yes! Being able to dance to a song is literally everything to me. I grew up dancing and love the feeling of hearing a song that just makes you wanna move and gets everyone around you wanting the same. I also think that a lot of melodies are very rhythmic and I think it comes from the nature of me always wanting to dance. If I can't dance to a song, I rarely wanna put it on the aux on a night out, so it's really about making music that gets you hype.
WATG: You're a fantastic songwriter for others too! Are there any particular parts of the writing process that differ when you know you're writing for yourself as opposed to others?
TT: Awwww thank you so much! It is different and the same in a sense! When I'm writing for others, I am trying my best to tell their story, or make something that inspires them and can elevate whatever vibe they already have going on. When I'm making music for myself, it's really freeing because I can say & do whatever I want, and I can create a world of my own. Also I really enjoy co-writing, and when I write for others, I'm usually in the room with more people than when I write for myself, so it can be very collaborative. When I'm making my own music, it's just me and Ryan McMahon (my producer & bf), and a lot of the time, songs come from me riffing on the mic, or an idea sung randomly in the car, etc. But I am always trying to write the best song I've ever written everyday, so in that sense, it is similar hahaha.
WATG: Because you've written for so many others, you've probably witnessed a variety of visions and project management styles. Have you ever watched someone in the studio and felt like you picked up something specific about the way they work?
TT: I truly try to learn something everyday I am in the studio, because everyone can work so differently. I definitely didn't used to riff on the mic- it was daunting to me. (Also, "riffing" on the mic is basically when the producer plays the track on loop, and you're just singing whatever comes to your brain as it comes on the mic.) And so I was in sessions where my co-writers would go off for 2 minutes on the track and come up with these melodies that sometimes wouldn't have happened without the auto tune bending it in a certain way or them just being in the zone, and that was really inspiring to me! I think I definitely pick up on different things in every room I'm in because I think you grow as a writer by doing so.
WATG: What was the process of finding your sound as an artist?
TT: Honestly, the first song I sat down to write for myself consciously was "Wait." It was right before quarantine lockdown hit, and I was writing to a loop my friend Nick Sarazan made. "Wait" truly fell out of the air. I then took it to Ryan McMahon (my now co-writer & producer), and played it for him and he saw the potential of what it could be. Together, we then produced it 3 different times before landing on the production you hear today. It's crazy how much production can change up a song and I am soooo happy with where it ended up. This track is one that makes you wanna grab the aux and play for all your friends on the way to the club, or on a boat, and that's the feel we really wanted it to have.
WATG: Who inspires you as a songwriter?
TT: I think Starrah is a genius. She inspires me so much. Her melody choices are incredible and I am just super in awe of her. I also really love Raye. Both Raye and Starrah are artists as well, and write for many other people, and I truly love everything they do!
WATG: Who inspires you as a performer?
TT: RIHANNA. Rihanna is my ultimate inspiration and a true queen. I admire so much about her. I admire how she just commands whatever stage she's on. Also of course GWEN!! I feel like I share similar energy to Gwen, because she is always running all over the stage and you can see she's just having the best time ever up there. She also has the most energy in the world and she truly gives every ounce of it to her audience, which I love.
WATG: What excites you most about your upcoming year career-wise?
TT: I am really excited for the songs I will release in 2023. I think they sound really fresh and I'm really proud of them. I'll also be featured on a few songs in the new year, so I'm excited for my audience to hear these collabs! I also have a bunch of songs to be released by some of my favorite artists, so fingers crossed, but I think 2023 will bring great things!
 

 

 

View this profile on Instagram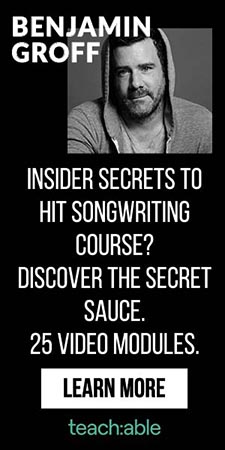 Mary Ruth is a Nebraska-native currently studying Songwriting and Music Business at Berklee College of Music. Right now, she's probably reading about the Beatles, creating her new aesthetic (with a corresponding playlist, of course), or explaining what Taylor's Version means to someone who didn't ask.
Tia Tia
Birthday / Sign
AUGUST 27, VIRGO
Favorite Movie/Show
THE OTHER GUYS
Instruments played
GUITAR / PIANO
Favorite song you've written
(ITS NOT OUT YET)
Favorite song by another artist
PON DE REPLAY BY RIHANNA
Life changing album
THE STRANGER by BILLY JOEL
Favorite Animal
PUPPY DAWG
Favorite Food
APPLES & PB
Dream Collaboration
RIHANNA
Favorite Condiment
BBQ sauce
What's in your fridge
CELSIUS
Celebrity Crush
JUSTIN BIEBER
WE ARE: THE GUARD LATEST RELEASES
Leon Else