FEATURED FIND: TROUSDALE, THE TIKTOK FOLK TRIO HARNESSING THE POWER OF FEMALE STORYTELLING
In October 2020, Trousdale made their debut on the blogosphere with a cover of "Wouldn't It Be Nice" by The Beach Boys. It was a bold move from the Los Angeles-based trio. Not only were they introducing themselves to the public with a reinvention of one of the greatest songs from one of the greatest albums of all time, they were also doing so in the shadow of some of the best harmony writers in the business. As soon as you press play on "Wouldn't It Be Nice," however, any reservations you may have about the cover are quickly put to rest. With vocals interweaving like strands of angel hair, Trousdale immediately assures listeners they're no amateurs to this kind of euphony, delivering a cottony soft ode that'd make Brian Wilson and company beam with pride.
TROUSDALE - WOULDN'T IT BE NICE
Comprising of lead vocalists Quinn D'Andrea, Georgia Greene, and Lauren Jones, Trousdale first came together in 2014 while studying the prestigious Popular Music program at the University of Southern California. As Trousdale personally puts it over at Reddit: "We met with a gust of wind pushing us toward each other in freshman year of college. We looked at each other and said 'Absolutely yes. I do.' This was seven years ago and we've been together and in love ever since." With a bond of three sisters separated at birth, Quinn, Georgia, and Lauren soon set about making music together, naming themselves after the bustling thoroughfare that runs through the middle of the USC.
TROUSDALE - WOULDN'T COME BACK
Just under a decade on from originally meeting at university, Trousdale is finally starting to enjoy the fruits of their labor this year, namely on TikTok, where Quinn D'Andrea, Georgia Greene, and Lauren Jones currently boast over 145,000 followers and 1.6 million likes. It isn't hard to hear why. With a Lilith Fair-like folky delicacy, radiance, and waywardness, Trousdale makes music that goes down like a tumbler of honey-blended whisky on a summer's evening. Their harmonies are masterfully arranged, too, feeding into the richly storied Americana traditions of their songs. A genre typically dominated by males, it's beyond refreshing to see three powerful women exchanging narratives close to their hearts, from unsatisfactory love ("Happy Anymore"), to toxic relationships ("Wouldn't Come Back"), to accepting you're quite simply not right for someone ("Better Off").
TROUSDALE - BETTER OFF
With one EP under their belts (Look Around) and new material on the way, We Are: The Guard couldn't be more excited to see what the future holds for Trousdale. On their most recent single "This Is It," it's already possible to hear the sonic development, with the trio moving from the skeletal folk surroundings of their earlier material, to instead explore a fleshed-out production akin to The Chicks or Kacey Musgraves. Whatever direction they choose to head in over the next few weeks and months, though, we have every bit of confidence in Trousdale. Not to mention, the more women that come forward to share their stories and use their voice to process and understand the world around them, the better. And if they sound this stunning? Well, it can only be an added bonus!
TROUSDALE - THIS IS IT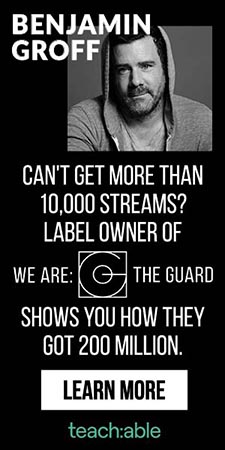 Jess Grant is a frustrated writer hailing from London, England. When she isn't tasked with disentangling her thoughts from her brain and putting them on paper, Jess can generally be found listening to The Beatles, or cooking vegetarian food.
Trousdale
Inspirations
Crosby Stills and Nash, Kacey Musgraves, HAIM
WE ARE: THE GUARD LATEST RELEASES
Leon Else