FEATURED FIND: WILL ORCHARD, THE WIDE-EYED WONDER WRITING FOLK MUSIC LIKE THE ALL-AMERICAN GREATS
Ten years ago, Will Orchard was asked what he wanted to be when he grew up. "Erm, I don't know," he nervously shrugged, his emo bangs perfectly swept across his eyelids. "Probably something to do with fish." It was a sweet, dorky moment that just so happened to be caught on camera for the hilariously titled FishGuyTV. A YouTube channel dedicated almost entirely to documenting the secret lives of aquarium hobbyists (yep, they exist!), Orchard's young passion for marine biology shines forth throughout the five-minute interview. And while, almost a decade on, the Rhode Island musician is not quite pursuing the career path he imagined, that same sense of wide-eyed wonder can be found inside of every note on Orchard's latest album I Reached My Hand Out, available now on Better Company Records.
WILL ORCHARD - SORRY, BABY
Hailing from Barrington, a suburban town in Bristol County, Rhode Island, Will Orchard got his start in music at the age of nine when he was encouraged by his parents to take up guitar lessons. While he initially resented learning the instrument, by the time he was a teenager, Orchard was sold, spending his weekends playing with bands in numerous local venues. It was under his solo moniker, LittleBoyBigHeadOnBike, Orchard finally found his true calling, however. Inspired by the lo-fi works of Greta Kline (Frankie Cosmos), Phil Elverum (Mount Eerie), and more, Orchard set about uploading an EP every week to Bandcamp, with the artist eventually clocking up over 100 releases.
WILL ORCHARD - RITA
LittleBoyBigHeadOnBike was, in many respects, a testing of the waters for Will Orchard, who, in January 2020, finally found the confidence to release a debut album under his real name. Entitled Old Friends on the Mountain, it was a rustic, homespun introduction to Orchard's folky hymnals, which, one year on, have been refined even further on his second record I Reached My Hand Out. A sunset excursion through Orchard's tender psych that contains emotional intent in every creak, rattle, and crevice, I Reached My Hand Out is packed full of songs that genuinely, genuinely stand up to the all-American greats. Pairing Bruce Springsteen's curiosity for the human experience with the trembling, gossamer melodicism of The Killers frontman Brandon Flowers, I Reached My Hand Out is a modern Americana masterpiece through and through.
WILL ORCHARD - BONES
With a brand new collection of songs already lined up for fall, it's evident Will Orchard is every bit as dedicated to his craft as he was when he was a teenager collecting fire-bellied toads and Bolivian ram cichlids. Of course, quantity doesn't necessarily equate to quality, but for Orchard? The guy just keeps on getting better and better. As another prolific year starts to unfold for this folk prodigy, then, We Are: The Guard recently caught up with Orchard to discuss his upbringing in Rhode Island, making music through the pandemic, and the closest he's ever come to a ghostly encounter.
WE ARE: THE GUARD: Hi Will! Thanks so much for chatting with us. Congrats on the release of your album. How does it feel?
WILL ORCHARD: Hey Jess! Thank you! It feels like a lot of contradictory things at once... On one hand, I've been listening to these songs in their mostly finished form for about 8 months, so it almost feels the same to me - meaning, I have the same relationship to these songs that I have had for a while. However, it's really sweet to hear folks' thoughts and interpretations of the songs, which really renews them for me. Plus, this is my first record I'm putting out with a label (Better Company Records) which is exciting and new.
WE ARE: THE GUARD: Can you tell us what it was like to record and release an album throughout the pandemic?
WILL ORCHARD: Well, in the past, so much of releasing a record (or at least promoting it) has been going on tour. I have always felt so much closure in playing a record release show, which wasn't able to happen of course. It's always a real joy to be able to have that one night with friends and celebration and playing the record front to back. So because of the lack of shows, releasing the record almost felt like a video game, if that makes any sense? That said, I'm also really grateful I was able to work with some really great friends on different live video takes of the songs, which added something more personal and raw. In March of this year, I was able to go to Brooklyn and film a short set with two other artists and people who I love dearly (Jess Kerber and Sean Null) in a really beautiful art studio of a friend. That was something really special and unexpected that came out of the pandemic. I think because of Covid, we've all had to come up with some out-of-the-box ways to make music.
WATG: We love "Sorry, Baby" and the music video! Can you tell us about the story of that song?
WO: Thank you so much! Yes... so that one still feels a bit tender, but basically I was on tour alone for the first time ever. I can often be a pretty spacey and absent minded person, and because of this, I did something pretty regretful (watch the video and you'll know what I'm talking about, haha). It was a scary and embarrassing situation, which brought to mind so many other, similar situations I have been in. All of these memories and feelings of shame and self-hatred just kind of exploded, and I wrote "Sorry, Baby." It's a song about loving your flaws, while also recognizing wrongdoing. The song has helped me through so many things. Emily Kreusch did an incredible job on the video, though the story portrayed in the video is heavily embellished from what actually happened.
WATG: What's on the horizon for the rest of 2021?
WO: Lots of exciting things, and a lot of uncertainty. I have the songs written for another record, which I might be recording this fall... I'm also releasing an EP this fall. It's five songs that I'm frankly more proud of than anything I've created. On top of that, I think I'm finally returning to touring along with the rest of the music industry. I have a few outdoor shows in the Northeast planned for the summer, but in the fall I will be playing everywhere from LA to Berlin, which is kind of wild to think about. Excited to keep moving, keep creating, and excited to push some upcoming work by some lovely close friends of mine.
WATG: Can you tell us about how you got your start in music?
WO: Well, I was nine years old and I wasn't doing well with sports in a pretty athletics-heavy town. My mom signed me up for guitar lessons, which I didn't really enjoy for a couple years. I'm so grateful she didn't let me quit, because I don't know where I'd be today if she did. I had an excellent teacher (shoutout to David Lauria!) and was really privileged to grow up in a place where kids like me had the time, space, and resources to learn music. I started playing in bands when I was about 14 and spent my weekends in local venues in Providence, RI. Early in high school, I became pretty obsessed. After losing interest in playing in a band, I started a whacked-out solo project called LittleBoyBigHeadOnBike. I was very inspired by the lo-fi prolificacy of Greta Kline, Mark Linkous, and Phil Elverum, and set this goal of releasing one EP every week on Bandcamp, no matter what it sounded like. That kind of spiraled and got more serious, and eventually evolved into Will Orchard.
WATG: Do you have any secret talents or hobbies outside of music that people might not guess?
WO: I was very interested in marine biology and home aquariums until I was about 16... If you go on youtube and search "fish guy TV will orchard" or something, you'll find something pretty hilarious. I was a dweeb, but I was also pretty cool I guess.
WATG: What's been on your playlist as of lately?
WO: Henry Jamison, Pieta Brown, Joan Shelley, Great Grandpa, and so many more!
WATG: To end with a fun one, have you ever had a paranormal encounter?
WO: Honestly, I have not. I used to live in a 300-year-old farm house where there were definitely ghosts, but they knew I was utterly terrified of them and were nice enough to leave me alone, which was honestly sweet of them.
---
Will Orchard's album I Reached My Hand Out is available now on all streaming platforms!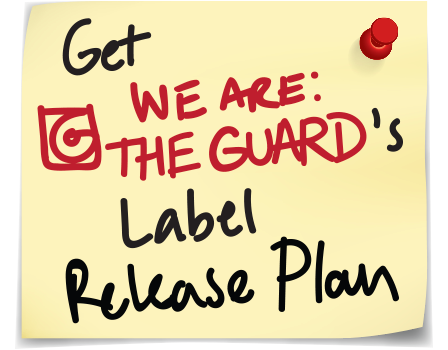 Jess Grant is a frustrated writer hailing from London, England. When she isn't tasked with disentangling her thoughts from her brain and putting them on paper, Jess can generally be found listening to The Beatles, or cooking vegetarian food.
Will Orchard
Birthday / Sign
May 24th / Gemini
Pets
My sweet as heck goldendoodle, Teddy
Label
Better Company Records
Favorite Movie/Show
Twin Peaks The Return
Favorite Book
The End of the Beginning by Avi
Instruments played
Guitar, Bass, Banjo, Singing
Life changing album
Vivadixiesubmarinetransmissionplot, Sparklehorse
Hidden Talent
Aquarium Fish-keeping
Drink of choice
London Fog
Favorite Condiment
Sriracha
What's in your fridge
Siggi's Yogurt, Tofu, OJ, hella strawberries cause I eat 'em quick
WE ARE: THE GUARD LATEST RELEASES
Leon Else