THE BEST NEW INDIE POP SONGS FOR WARMER WEATHER
Image by Mick Haupt on Unsplash
As spring enters full swing and the weather heats up, your playlists should do the same. A sense of newness is in the air, and we've got you covered with the best new indie pop releases. From hip hop to indie acoustic, there's a lot of great new music to dive into here!
MASO - HOUR LOVE
Maso's second single off of his upcoming debut album, For Loving Me, has arrived and we couldn't be more excited. Sonically, "Hour Love" is more R&B leaning than his first single, "Brooklyn." Both songs, however, contain what is clearly and consistently becoming his signature writing style- honest lyrics. Maso's music is a masterclass on how to skillfully and poetically craft stories about various types of love. "Hour Love" was produced by Tim Gamache, Kyle Brookes, and Szabolcs Kiss, and features Felice.
AG CLUB - HOT PINK
Situated at the intersections of  hip hop, indie, pop, and alternative, the AG Club (Avant-garde Club) is a genreless group combining our favorite parts of all of our favorite genres. The first part of the Bay area group's debut album F**k Your Expectations PT. 1 just arrived and is full of features, hard hitting lyrics, unique beats, and soundscapes. It's a must listen and we will be counting down the days to part 2.
ELIO, ADAM MELCHOR - ELIO.IRL
There's no better feeling than when two of your favorite new artists collab. ELIO and Adam Melchor are almost too good to be true. Adam Melchor's rework of "@elio.irl" introduces acoustic guitars and intricate harmonies to the former bedroom pop banger.
WALLICE - HEY MICHAEL
Yesterday, new WATG favorite Wallice shared her third single featuring marinelli. She once again delivers what we've been loving about her music- storytelling lyrics over expert level indie rock guitar parts. She shared "'Hey Michael' is a revenge anthem for anyone who has encountered a gaslighting, manipulative person."
MADDIE JAY - EXCUSES
Maddie Jay's honesty on her new R&B-bedroom pop song, "Excuses" stops you in your tracks. It's an isolation bop, diving into the struggles of doubt and comparing to others. Over a unique, sparkly beat, she sings:
"All of my friends got record deals,
my therapist asks me how I feel
Been a little busy gotta feed the cat
I'm a little bitter but I don't say that
blaming my frustrations on
things I can't change and tik tok
every day I get a little deeper in my thoughts"
OLIVIA RODRIGO - DEJA VU
Olivia Rodrigo has struck again, solidifying her place as one of the best new young songwriters. Instead of trying for "drivers license" part 2, she shows us a new side on "deja vu." Synth driven with vocals at the forefront, "deja vu" is upbeat and absolutely feels inspired by the likes of Lorde and Taylor Swift. Her debut album is on the way, and we're excited to get to know Olivia Rodrigo's artistry further.
REI AMI - THAT'S ON YOU!
REI AMI's "THAT'S ON YOU" is confident and we love that! She shared: ""THAT'S ON YOU!" is about recognizing your power again. It's about being yourself to the fullest extent and if others don't like it, then that's their problem. I exist for myself and myself only. I refuse to dull myself down to make others comfortable. So if you don't like me, baby that's on you." As she does on "Dictator" as well, "THAT'S ON YOU" features contrasting sections, keeping us on our toes as we listen.
Looking for more? Be sure to check out our Weekly Indie A&R Chart playlist!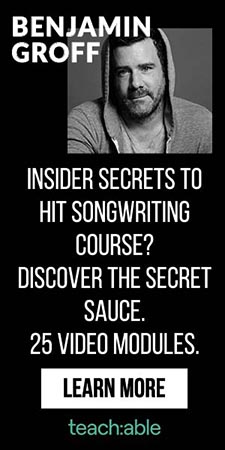 Arielle Tindel is from Cleveland, Ohio. She recently graduated from Berklee College of Music with degrees in Music Business Marketing and Songwriting. In her free time, Arielle can be found gardening or playing bass.