THE BEST NEW INDIE POP SONGS FOR EVERY EMOTION THIS WEEK
Image by Robert Bye on Unsplash
There's a lot going on in the world right now. With things opening up, things starting, and things ending, we're covering a WIDE range of emotions in this week's Best New Indie Pop round up. From Olivia Dean's vulnerable, romantic ballad "Slowly," and ROSIE's post-break-up-glow-up anthem, "to get over you," to mazie and nobody likes you pat with existential bops, there's something for everyone- no matter what emotional state you might be in. So sit back, relax, and hear our favorite new indie pop releases of the week.
MAZIE - DUMB DUMB
Welcome to the whimsical world of mazie's DIY indie pop. The Baltimore native gained traction after the release of her first single, "no friends." She now shares her fourth song, "dumb dumb." Equal parts circus and chaos, she lands at one definitive conclusion, sighing: "Everyone is dumb."
NOBODY LIKES YOU PAT - NOUNS (IT'S ALL GOOD)
The world is full of so many people, places, and things that it can be overwhelming at times. On his new single, "nouns (it's all good)," nobody likes you pat silences the noise and reminds us of what really matters: the people we love. Strong melodies, indie pop/rock production, and the relatable lyrics make "nouns (it's all good)" a slam dunk. We like you, Pat.
BOON - CAN'T BE LOVE
18 year old Nashville native Boon returns with a new single, "Can't Be Love." Self produced, "Can't Be Love" features hard hitting lyrics and instrumental breaks. Siting influences of The Black Keys, Skrillex, and The Weeknd, his music is situated at the intersections of dark pop, rock, and electronic music.
OLIVIA DEAN - SLOWLY
Olivia Dean's "Slowly" is a vulnerable, stunning ballad about falling in love. In her own words: "I used to think falling in love was supposed to be chaotic, fiery and tumultuous, but I've realised that really, to fall in love normally – and to have a healthy and ordinary relationship is a beautiful thing. It's a song asking for patience when starting to fall in love." We're so excited to hear the rising singer-songwriter's new EP coming July 30th.
ROSIE - TO GET OVER YOU
After going viral with over 17 million views for her song "Never the 1," TikTok sensation ROSIE is back with her new pop track "to get over you." Realizing all human emotion ultimately stems from either happiness, sadness, anger, or fear, she wrote this song that encompasses all 4. Whatever you've got on your mind, you'll definitely relate to this one.
DAYTIME - FRANCES FOREVER
After grabbing TikTok and streaming platforms with their infectious indie pop song, "space girl," Frances Forever returns with a new EP paranoia party via Mom+Pop. The Boston-based artist proves that they are not a one hit wonder with "daytime." Contrasting the bubbly guitars of "space girl," "daytime" is introspective and synth driven.
BLÜ EYES - IF I WERE A FRIEND
BLÜ EYES shared a vulnerable new song called "if i were a friend" where she reflects on being a better friend to herself. We are often our harshest critics, and say things to ourselves that we'd never say to someone we care about. Her clear voice sits atop guitars, gentle percussion, and lush vocal harmonies.
In search of more of our favorite music? Well you're in luck! Every Tuesday, we update our Weekly Indie A&R Chart Spotify playlist. We also send out newsletters of some of our favorite new artist finds every week, so be sure to sign up at the top of the site!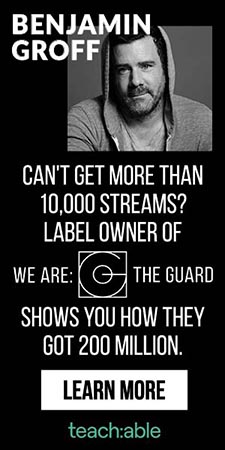 Arielle Tindel is from Cleveland, Ohio. She recently graduated from Berklee College of Music with degrees in Music Business Marketing and Songwriting. In her free time, Arielle can be found gardening or playing bass.