NEW ARTIST FINDS: ADAM SNOW
by Prashant Bajpai
1/15/15
Beatplay is a craft that was once the hobby of dingy rave party starters a few decades ago. Now that EDM succeeded in doing what Ebola couldn't – infecting the world – there's never been a higher electronic producer to dancer ratio. While one can debate just how positive this paradigm shift really has been thanks to a DJ culture that went from being regarded as basement geek culture to this: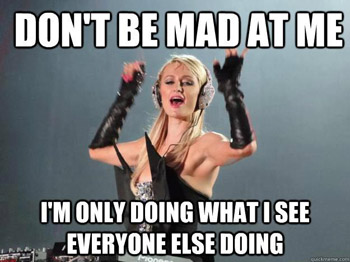 This is why we can't have nice things. Every sacred sonic experience today gets hijacked, whitewashed, auto-tuned, recycled, and bastardized until it sounds nothing like Satan taking a dump after eating bad Mexican food. Luckily, we have also seen the rise of thousands of talented electronic producers enter the fold who fight the good fight.
One of these noble electronic vagabonds happens to be Adam Snow – our discovery of the day!
Dropping beats and making waves in Washington, DC, Adam Snow made his solo venture a grand one by breaking through the doors of indie label Camp Wild with his splendid instrumental track, "All I Need."
Channeling his signature hip-hop percussion style from his early collaborations with emcees Lil B and Tayyib Ali, Adam applies a loving touch of synthastic bass and blends it with pitched-down piano and soothing vocals from Sara Bareilles's track, "Breathe Again."
ADAM SNOW - ALL I NEED
It's a sweet breath of fresh air to see him take the grinding bass and ethereal vibes from his sets with Tayyib Ali up a notch and experiment with dreamy electronic further.
Dreamwave/synthwave/future-retro is one of the hottest genres out there, and some of the best bands include Noir Deco, Makeup and Vanity Set, Perturbator, Tommy, and Power Glove. I can definitely see Adam Snow up there with them and churn out some more ethereal electronic awesomeness.
His artistic unorthodoxy shines brighter in the new MV for his track "Amelia's Theme," which plays along to Shinchiro Watanabe's anime movie Space Dandy. Not this kind though.
It makes me think Adam Snow would also do really well taking his talents to score the soundtracks for such kind of art instead of sticking to the lone wolf "cross your fingers and hope your album goes platinum" approach of yesteryear artists.
ADAM SNOW - AMELIA'S THEME