NEW ARTIST FINDS: LTGL
by Calvin Paradise
11/29/14
The debate about what is and what isn't 'beat music' is akin to the 'art or porn' debate in that it's hard to define, but you know it when you hear it. And emerging artist LTGL is definitely beat music.
Short for Living The Good Life, the young Belgian was born Ashley Morgan and has been DJing for the better part of five years. He's steadily grown his sound and fanbase with a smattering of shows across Europe. While he's always keeping himself busy, Morgan finally got around to releasing his debut EP, Mountain Peaks And Temple Shields, this year.
It would appear that Mr. Morgan is hitting his prime and very soon will indeed be living the good life (sorry).
LTGL "ORANGUTAN"
LTGL has rocked the internet and underground enough with his original tracks and one-of-a-kind bootlegs long enough to garner praise from the likes of Flume, Djemba Djemba, and The Gaslamp Killer, essentially a "who's who" of his respective genre.
LTGL "BOOTYLICIOUS RMX"
With those co-signs and his much-hyped debut receiving nothing but praise, you'd guess that Morgan is on top of the world. So what's next? Well as of writing our hero seems to be undergoing an existential crisis of sorts.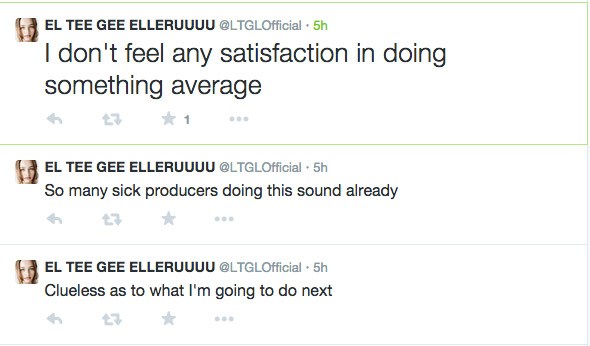 It's an incredible thing, creativity. One moment it makes you feel unstoppable, like you can take on and conquer anything. The next you feel like an unoriginal sap who should have never bothered. Such are the highs and lows of making art.
But take it from us LTGL, you need to keep at this shit. 'Cause frankly, you're doing it better than just about everyone else.
LTGL "FEMALE DOG"
Assuming he can find his mojo again, LTGL seems prime for a further breakthrough in Europe. The general consensus is that his beats are a little too out-of-left-field for him to find mainstream success Stateside, but I wouldn't be so certain. I'm not in the predicting business, but he more than has the chops to hit it big here. Fame isn't really the point though. If anything, it just seems like it would get in the way of living the good life, yet I digress.
Whether or not LTGL ever becomes a star on this continent is irrelevant. He'll get enough love to get by, and any of my fellow Yanks smart enough to ride with him will have just a little bit more happiness and funkiness in their lives. 
LTGL "ACCELERATOR"
About Calvin Paradise
Calvin Paradise manages to live a productive life despite a childhood of home schooling and suffering from what some doctors have called the worst case of Groucho Marx's Syndrome in recorded history.