NEW INDIE MUSIC: THE 10 BEST BOPS OF THE WEEK
Guys… Do I have a playlist for you today...
I know we're only three months into the year, but trust me: This might be the best set of songs I've served up so far this 2021. Maybe it's all of this talk of non-fungible tokens, or perhaps we're high on the hope of live music returning in some form within the next few weeks. Either way, you should strap your headphones on real tight, as we're going big and we're going hard today. Before I waste any more time, then, let's crack on with the latest edition of We Are: The Guard's New Indie Music,featuring Jordana & Ryan Woods, St. Vincent, girl in red, and others!
-
JORDANA & RYAN WOODS – DOUBT OF REVIVAL
Following on from the release of the excellent Something To Say To You last year, We Are: The Guard favorite Jordana returns today with "Doubt of Revival" featuring Ryan Woods. "'Doubt of Revival' is a song written about the obsessive thoughts that have haunted me from past decisions," explains Jordana of the chugger, which starts off full of shy uncertainty, before erupting into all-out grunge catharsis. Brilliant, brilliant, brilliant!
ST. VINCENT – PAY YOUR WAY IN PAIN
St. Vincent is back, baby! Four years on from the release of MASSEDUCTION, Annie Clark is returning this 2021 with "Pay Your Way in Pain." The first single to be unveiled from Daddy's Home – due out May 14th – is a gaudy, glamorous piece of plastic-funk that Young Americans-era Bowie would proudly call his own, with smudged makeup and ripped tights rubbing up against lyrics about the everyday struggle for survival.
GIRL IN RED – SEROTONIN
Go off, girl in red! Ahead of the release of her debut album if i could make it go quiet on April 30th, the Norwegian singer-songwriter and LGBTQ+ icon returns this month with "Serotonin." Produced by Billie Eilish's big brother FINNEAS, it's a brain-melting banger about intrusive, self-destructive thoughts that immerses Marie Ulven in a kind of Vertigo nightmare sequence, all the while she tries her hand at some tongue-twisting rapping.
JAPANESE BREAKFAST – BE SWEET
Having spent her last two albums documenting the devastating loss of her mother to pancreatic cancer, Japanese Breakfast's Michelle Zauner is finally going in pursuit of joy on "Be Sweet." Featured on her from her forthcoming album Jubilee – due out June 4th – it's a sparkling ode to throwing yourself into love that ought to be booming out at an 80s high-school prom alongside the likes of Belinda Carlisle and Cyndi Lauper.
MITSKI – THE BADDY MAN
St. Vincent and Mitski in the same playlist? Happy International Women's Month, guys! The Be the Cowboy singer is continuing to embrace her inner buckaroo on "The Baddy Man." Lifted from her companion score to the upcoming graphic novel This Is Where We Fall by Chris Miskiewicz and Vincent Kings, it's a country banger about bad men and robot ladies, with Mitski sounding every bit the space-western starlet over a backdrop of twanging honky-tonk.
OLIVER MALCOLM – SKYWALKER
Indie alchemist Oliver Malcolm – one of We Are: The Guard's favorite discoveries of 2020 – continues his meteoric rise today with "Skywalker." According to a press release, "Skywalker" was written after Oliver decided to quit his job and pursue music full time, with the hoarse-voiced musician sounding like the definition of a free man as he sings about "blasting off into the nebula" amid synthy space debris and rupturing sub-bass.
POM POM SQUAD – LUX
Pom Pom Squad's Mia Berren has had it up to here with trash men on her latest single, and first since signing to City Slang Records, "Lux." "It's about the fear of intimacy I felt as a teen that stemmed from negative early experiences of male attention," says Mia of the song – a two-minute sucker punch of manic, unfiltered feminine rage that the New York City act wrote at the age of 17 after watching Sofia Coppola's adaption of The Virgin Suicides.
AZIYA – SLIP!
She recently went viral with her cover of Tame Impala's "The Less I Know the Better," and today, British badass Aziya is making her original debut with "Slip!" It's a mammoth, gargantuan piece of rock music that'll very much leave you at the mercy of Aziya's shredding skills, with the crunchy chords providing a backdrop for the guitarist to belt about the unspoken dangers of infatuation and obsession. Crank it up to 11!
GIRLHOUSE – LOADED GUN
Just a few weeks on from making her debut on We Are: The Guard with "the fatalist," girlhouse's Lauren Luiz is back in our ears this Monday with "loaded gun." The song hears the Nashville act continuing to blend indie-pop sublimity with existential lyrical despair, as Lauren sings about embodying the traits of her past abusers: "I'm screaming at the top of my lungs/It looks like I've become what I was running from." FFO: Soccer Mommy, Julien Baker.
TOBACCO – FOR THE QUEEN
Closing out this Monday with a fresh and hot one from TOBACCO. Featured on the Black Moth Super Rainbow troll king's recent album F*cked Up Friends 3, it's a wonky, scuzzy, and, yes, massively f*cked-up instrumental groover that'll send you head-nodding all around town. Or as YouTube commenter Dominationic quite frankly puts it: "I'm gonna blast this in my car and drive around and flip everyone off that I see."
-
Follow We Are: The Guard's Weekly Chart for more bops! x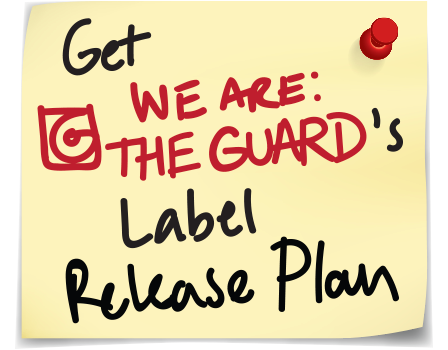 Jess Grant is a frustrated writer hailing from London, England. When she isn't tasked with disentangling her thoughts from her brain and putting them on paper, Jess can generally be found listening to The Beatles, or cooking vegetarian food.