NEW INDIE MUSIC: THE 10 SONGS YOU DON'T WANT TO MISS THIS WEEK
Hi, everyone! How are you? How was your Fourth of July? Did you spend it with friends or keep it more low-key and close to home? Whatever you did, We Are: The Guard hopes you wore a mask and took some time out to reflect on why we still have some way to go until we can truthfully celebrate freedom for all. Anyways! The party may be over, but we're keeping the good vibes flowing here with the latest edition of New Indie Music. Okay, so there are no mustard-slathered hot dogs in sight, but the team and I are nevertheless confident you'll find the following tracks from Sufjan Stevens, Tei Shi, HAIM, and more equally as tasty!
-
SUFJAN STEVENS – AMERICA
Sufjan Stevens may have never finished his 50 States project, but the indie troubadour is more than making up for that with the release of "America." Clocking in at just under 13 minutes, it's a sweeping protest piece that sonically builds on the haunted ambience of Aporia – the 45-year-old's recent collaborative album with his stepfather Lowell Brams – with the song lyrically ruminating on Sufjan's growing sense of despair and disillusionment with his home country.
P.S. Any excuse to bring back this GIF.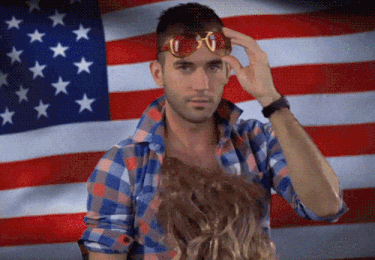 TEI SHI – GOODBYE
Valerie Teicher Barbosa – better known to most of us as Tei Shi – rekts an ex on the latest single to be unveiled from her forthcoming EP Die 4 Ur Love. Don't be fooled by the song's spacey, unbothered exterior. Dig a little deeper and you'll soon unearth the badass within: "You are so predictable/In making me feel miserable/Thought I'd let you know/You're so boring/Also I'm sick of your shit."
HAIM – GASOLINE
HAIM are putting the pedal to the metal on the gloriously honeyed "Gasoline." The standout from their recent album Women in Music Pt. III is inspired by that moment when you're barreling toward the fiery wreckage of a breakup, but you can't quite bring yourself to hit the brakes, with Danielle, Este, and Alana channeling their inner Sheryl Crows as they bask in the glow of the warm embers.
HOLLY HUMBERSTONE – OVERKILL
Holly Humberstone is bottling up equal parts hormonal teenage angst and the thrill of first love on her latest single "Overkill." For those of us too old to remember our younger years, there's something energizing – adrenaline-inducing, almost – about this three-minute number, with grungy chugs and coruscating synth arpeggios supporting Holly as she provokes herself to reveal her true feelings to a crush.
GLASS ANIMALS – HEAT WAVES
Just in time for the arrival of the summer months, Glass Animals have shared "Heat Waves." The latest single to be unveiled from the British outfit's forthcoming album Dreamland doubles down on that sultry serpentine-pop fans have come to expect from the four-piece. The lyrics, meanwhile, reveal a far more emotive side to Glass Animals, with frontman Dave Bayley delivering a eulogy of sorts to a relationship he realizes is beyond saving.
JORDANA – BIG
Jordana is making quite the entrance with the gargantuan "Big." "'Big' is written about my experience of entering a state of pure confidence. It describes the fearlessness that I've taken on to reach this point," writes the Kansas act of the earthshaking elephant stomp – which is lifted from Jordana's forthcoming EP Something to Say – with the 20-year-old guaranteed to turn heads with her fusion of vocal swagger and supermassive guitar riffs.
FONTAINES D.C. – TELEVISED MIND
There's something shattering about the music of Fontaines D.C. Following on from the release of "I Don't Belong" last month, the Irish post-punk outfit return today with another piercing look into the void in the form of "Televised Mind." "That's a televised mind/That's a televised mind/That's a televised mind," repeats frontman Grian Chatten on the song – an incisive indictment of groupthink and echo-chamber living that cuts like a knife.
ELLA VOS – STATE OF EMOTION
Ella Vos embraces The Art of Feeling on her crystalline latest single "State of Emotion." "'State of Emotion' is a snapshot of feeling overwhelmed in the lows and the highs. I wrote this song shortly after discovering that I'm an 'empath,' or a highly sensitive person," writes the Los Angeles-based artist of the inspiration behind the track, with muddy guitar licks churning underneath Ella as she sings of coming to terms with her intense capacity to feel.
BOYBAND – TATTOO
Having caught our attention earlier this year with "realtree," the GRAMMY Award-nominated producer boyband continues his meteoric rise today with the genre-blending "tattoo." The latest single to be unveiled from the Dirty Hit signee's forthcoming album alone in a boyband is a throbbing low-end banger that's equal parts Kid Cudi and Lil Peep, with boyband mixing hip-hop and emo vibes with finesse as he raps about trying and failing to move on from an ex.
RALPH CASTELLI – BENDS
Radiohead walked so Ralph Castelli could run. Jokes aside, Ralph is delivering a bop with a capital "b" in the form of his carefree latest single "Bends." "I've got the bends from coming up/I can feel it bubbling in my blood," sings the Los Angeles-based artist on the laid-back, easygoing indie-pop groover – a track about diving into a relationship too quickly that could well be a contender for We Are: The Guard's Song of the Summer.
-
Don't forget to follow We Are: The Guard's Weekly Chart on Spotify for more!
Photo by DESIGNECOLOGIST on Unsplash
Jess Grant is a frustrated writer hailing from London, England. When she isn't tasked with disentangling her thoughts from her brain and putting them on paper, Jess can generally be found listening to The Beatles, or cooking vegetarian food.