NEW INDIE MUSIC - WEEK 36
Just in time for Labor Day, Lana Del Rey returns with the perfect soundtrack to bid farewell to summer to. Norman F*cking Rockwell! is a F*cking Masterpiece! and I'd feature every song on the album here if I could. I mean, have you HEARD "Cinnamon Girl?" "The Next Best American Record?" "HAPPINESS IS A BUTTERFLY?" *Chef's kiss* Anyways, before I get carried away and start delivering a whole-ass TED Talk like the Lana stan that I am, let's move on to this week's edition of We Are: The Guard's New Indie Music. Featuring Bombay Bicycle Club, Charli XCX, Tegan and Sara, and seven other favorites, this playlist has something for everyone!
-
LANA DEL REY – DOIN' TIME (SUBLIME COVER)
Okay, now, THIS is iconic. Coinciding with the release of Norman F*cking Rockwell!, Lana Del Rey returns today with the video for her sultry, sun-kissed cover of "Doin' Time" by Sublime. Directed by Rich Lee, the B movie-inspired clip sees a supersized Lanazilla stomping her way through the streets of Los Angeles, with the visual culminating with the larger-than-life Lana getting her sweet, sweet revenge on a man who wronged her in an alternative universe.
BOMBAY BICYCLE CLUB – EAT, SLEEP, WAKE (NOTHING BUT YOU)
BOMBAY BICYCLE CLUB ARE BACK! Five years on from the release of So Long, See You Tomorrow, the British indie stalwarts return today with "Eat, Sleep, Wake (Nothing but You)." As the song title suggests, the three-and-a-half-minute cut is an ode to obsession and infatuation – when every waking moment is taken up by thoughts of another – with frontman Jack Steadman's dreamy vocals positively soaring to Cloud Nine on a bed of wobbly guitar riffs.
GABRIEL BLACK (FEAT. KEY!) – FLAMES
One week on from making his real-life debut in the video for "dead yet" – his collaboration with phem – gabriel black returns today with the KEY!-featuring "flames." It's a churning chugger that hears the self-described "sad boy" showcasing his stunning higher resister unlike ever before, with gabriel also letting rip a truly electrifying guitar solo in the final minute of the song.
TR/ST – DESTROYER
Ahead of the release of the second half of his two-part album The Destroyer in November, TR/ST is back this Monday with the title track. The song finds Robert Alfons moving away from the club lights in order to explore a darker, more melancholic underworld – where the dance floor gives way to an ocean of tears – with TR/ST's voice moving from chilling highs to stirring lows over an echo of pianos.
A$AP ROCKY – BABUSHKA BOI
LONG. LIVE. A$AP.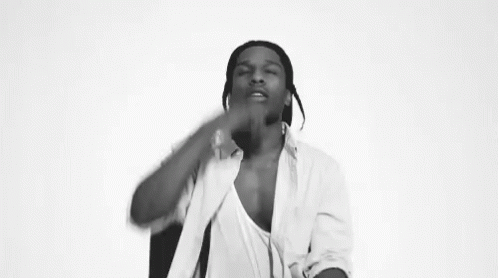 CHARLI XCX (FEAT. HAIM) – WARM
Following on from the release of "Cross You Out" – her dark, moody collaboration with Sky Ferreira – Charli XCX is back this week with another must-hear collaboration. "Warm" hears the glitch-pop android joining forces with sisterly trio HAIM, with all four women forming a kind of warped, AutoTune-laced choir against a cascade of flickering neon synths.
COLD WAR KIDS – COMPLAINER (STRINGS & KEYS)
And now for something a little different from Cold War Kids. Following on from the release of their single "Complainer" earlier this year, the Silverlake outfit return today with a groovy orchestral version. It hears the soulful stomp of the original coming replaced by a billowing of strings and keys, with the lush symphonies lending the call to arms an added sense of funky urgency.
SIMPLE CREATURES – THANKS, I HATE IT
blink-182's Mark Hoppus is almost 50 years old, but he's here to remind us that he's still the King of Teenage Angst on "Thanks, I Hate It," his latest single with Simple Creatures. "I don't owe you anything/But I'll give you everything/Watch you pile it up and sing/'Thanks, I hate it,'" sings Mark alongside bandmate, All Time Low's Alex Gaskarth, on the cut, a distortion-heavy anthem for p*ssed-off young people everywhere that features on the duo's forthcoming EP Everything Opposite.
TEGAN AND SARA – I'LL BE BACK SOMEDAY
Tegan and Sara revisit their teenage years on their spunky latest single "I'll Be Back Someday." The first taste from their forthcoming album Hey, I'm Just Like You – which is made up of rerecordings of songs that the sisters originally wrote while in high school – was initially penned by Tegan and Sara when they were 16, with the duo's youthful zeal and ebullience really shining through the cut's playful power-pop guitar riffs and attitude-packed vocal harmonies.
SHY TROY – UP IN SMOKE
Hailing from Melbourne, Shy Troy is making his debut on We Are: The Guard today with "Up in Smoke." Despite its chilled facade, "Up in Smoke" is actually a song about falling apart, with an unwinding guitar riff backing Shy – who counts Bob Dylan and Tyler, the Creator among his influences – as he delivers a deft, thoughtful stream of consciousness about internal struggle: "Cause I'll be up in smoke/You can find me in my zone; in my Zen/And maybe then we can joke and pretend that I'm cool."
-
Don't forget to follow We Are: The Guard's Weekly Chart on Spotify for more! x
Photo by Timothy Paul Smith on Unsplash
Jess Grant is a frustrated writer hailing from London, England. When she isn't tasked with disentangling her thoughts from her brain and putting them on paper, Jess can generally be found listening to The Beatles, or cooking vegetarian food.