NEW INDIE MUSIC: THE 10 BEST SONGS TO WELCOME NOVEMBER
Photo by Matt Koffel on Unsplash
Hi, everyone! How are you? Can you believe it's already November? Does that mean I finally have permission to put on my Christmas sweater? Okay, so maybe I'm getting ahead of myself, but I do love the holiday season! Between the gifts and decorations, the final few months on the calendar are such a fruitful, bountiful time for new music! Don't trust me? Check out the latest edition of We Are: The Guard's New Indie Music, featuring Yaeji & OHHYUK, Metronomy, Snail Mail, and more!
-
YAEJI & OHHYUK – 29
New York City's Yaeji is finding her love for music again on the OHHYUK-featuring "29." "When I was feeling a bit stuck and stagnant with music, Hyuk helped me find the joys of creating again," Yaeji says in a press release. "This was my first time collaborating with someone so closely on music." Featuring grimy guitars and rumbling basslines underpinning Yaeji's disjointed vocals, "29" is unlike anything the typically chilly producer has done before, with the 28-year-old shaping up as quite the rock star.
METRONOMY – IT'S GOOD TO BE BACK
Metronomy's squiggling dance-pop never fails to leave a big grin on my face. Case in point: "It's Good To Be Back." The first single to be taken from the Devon indie band's forthcoming seventh album Small World – due out on February 18th – "It's Good To Be Back" serves as a much-needed bolt of sunshine as we plunge into the darkness of November. With ping-pong basslines linking up with Metronomy frontman Joseph Mount's sentimental sighs, "It's Good To Be Back" sounds like a long-lost 80s heater.
SNAIL MAIL – MADONNA
The rollout to Snail Mail's sophomore album Valentine – due out November 5th – continues today with the release of "Madonna." Opening loose and slinky, "Madonna" hears Lindsey Jordan mulling over lust, obsession, and "why love can't exist between a person and a concept of a person." It's once the driving, propulsive drums enter that "Madonna" showcases its strengths, however, with Snail Mail spilling her husky vocals over the shifting space and dynamics like a glass of hot toddy. Brilliant.
SPOON – THE HARDEST CUT
Spoon is back, baby! Just over four years on from the release of Hot Thoughts, the Austin indie-rock legends are blazing back onto the scene this Monday with "The Hardest Cut." As the name suggests, "The Hardest Cut" goes very, very hard. With Britt Daniel wailing about losing his religion atop chugging guitars and smoking-hot bends, "The Hardest Cut" was reportedly inspired by ZZ Top and quite brilliantly described by Britt as "the sound of classic-rock as written by a guy who never did get Eric Clapton."
SASAMI – THE GREATEST
She recently announced her sophomore album Squeeze – an 11-song set featuring Hand Habits, Vagabon, King Tuff, and more – is coming February 25th, and today, SASAMI has shared "The Greatest." Clocking in at four minutes, "The Greatest" is a big, bold, melodramatic power ballad about unrequited love. "And that's the strangest part/At the bottom of a wasted heart/With all that room to fall/The greatest love of all," sings SASAMI atop crunching guitars on the cut, which revels in glorious tragedy.
CHRISTIAN LEAVE – DAYS LIKE LOST DOGS
Having made his debut on We Are: The Guard in 2020 with "Bedache," Wichita Falls native Christian Leave is returning to our column today with "Days Like Lost Dogs." Featured on his recent EP of the same name, "Days Like Lost Dogs" is a swirlingly melancholy chugger that hears the former Vine star continuing to settle into his role as an indie luminary. "Have I met the end and seen the wrath of he?" asks Christian on the cut, which comes paired with a film noir starring some adorably cute canines.
BOY HARSHER – TOWER
Halloween is over, but Boy Harsher is keeping the dark little spirit alive in all of us on the fantastically suspenseful "Tower." "What you love most can make you into a monster," Jae Matthews says in a statement. "That's what this song is about, being a paralyzed fiend." Opening to pulsating basslines that search through the night like aerobeacons, before industrial atmospherics build the song to its cathartic climax, "Tower" is a horror masterpiece that channels John Carpenter and The Exorcist.
BEACH BUNNY – OXYGEN
There's something equal parts terrifying and exhilarating about falling in love. Chicago's Beach Bunny is capturing both sides of the spectrum on their dizzying latest single "Oxygen." Produced alongside Fall Out Boy associate Sean O'Keefe, "Oxygen" is a heady, giddy grunge sugar rush that hears Lili Trifilio announcing in the chorus: "Baby, you're my oxygen." "I wanted it to have a playful vibe with anthemic choruses and a big, blissed-out ending," Lili says in a press release. Mission accomplished!
CANNONS – RUTHLESS
Cuffing season is officially upon us, but Cannons is speaking up for lonely, aching hearts everywhere on their brand new single "Ruthless." "If you're feeling second best, forgotten, sad, or frustrated, sometimes you just need a good song to blast in your headphones and let out your inner emotions," Michelle Joy says in a statement. With her airy vocals pirouetting atop digital pulses, "Ruthless" is a breathy breakup anthem that hears Michelle declaring in the chorus: "Man, you're so ruthless, f*ck you."
SLOW PULP – SHADOW
They recently unveiled their spin on Sum 41's "In Too Deep," and this Monday, Slow Pulp is back with the joyous "Shadow." Coming ahead of their North American tour, "Shadow" is a distortion-caked slice of luscious, playful shoegaze that was written at the tail end of recording Moveys, which came out in 2020. "This song is about feeling like you're out of control, like there's a certain part of you that doesn't seem to want to work with the rest," Slow Pulp's Emily Massey says in a press release. Crank it up!
-
Why not follow We Are: The Guard's Weekly Chart for more? x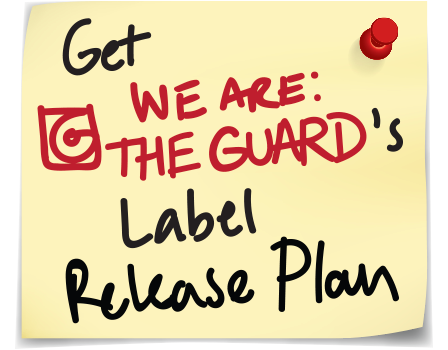 Jess Grant is a frustrated writer hailing from London, England. When she isn't tasked with disentangling her thoughts from her brain and putting them on paper, Jess can generally be found listening to The Beatles, or cooking vegetarian food.