NEW INDIE MUSIC: THE 10 BIGGEST BOPS OF THE WEEK
Photo by rlyblonde
Happy Monday, everybody! Sorry if this seems like a shameless plug, but I may have treated myself to a sneaky listen of We Are: The Guard's Indie Christmas over the weekend. It sounds so good, even five years later! Anyways, more on that in a few weeks, as first it's time for the latest edition of We Are: The Guard's New Indie Music. Check out the following bops from spill tab, Jordana, Hatchie, and seven other favorites!
-
SPILL TAB – CRÈME BRÛLÉE!
She recently covered "White Winter Hymnal'' by Fleet Foxes for Apple Music, but today, spill tab's Claire Chicha is taking another erratic left turn on "CRÈME BRÛLÉE!" "'CRÈME BRÛLÉE!' is the result of Solomonophonic and I wanting to make the zazziest song we could," reveals Claire of the cut, which burns through its circuitry like an intense heat ray before its trip-hop epilogue. "We spent many days tweaking and creating different dynamics, wanting to make it fluid but jarring at the same time."
JORDANA – YOU'RE IN THE WAY
Jordana is unquestionably one of the sweetest songwriters of her generation, with the 22-year-old returning to her folkier roots on "You're in the Way." Lifted from her recent EP, I'm Doing Well, Thanks for Asking, "You're in the Way" is described by Jordana as being "about getting to know yourself again after seemingly wasting time investing in someone else." With Jordana's lilting vocal coo interweaving with King of Limbs-esque tapestries, "You're in the Way" is a darling ode to inner rediscovery.
HATCHIE – NOSEDIVE
Just a few months on from dropping her fantastic sophomore album, Giving the World Away, Australia's Hatchie is back with "Nosedive." According to Hatchie, she wrote "Nosedive" alongside Joe Agius and Jorge Elbrecht after she "hit up an amazing goth megaclub in Denver on a weeknight." "We were inspired to recreate the energy we felt there and experiment with a lyric-free chorus," adds Hatchie of the cut, a Nine Inch Nails-esque industrial banger encrusted in glitter. Crank. It. Up.
DAGR & CHERRY GLAZERR – TEXAS
Experimental hip-hop duo DAGR and the Clementine Creevy-fronted grunge band Cherry Glazerr unite for the haunting "Texas." Coming to us via Hardly Art, "Texas" is a sexy heat mirage written "in the 100-degree heat of Palm Springs on a psychedelic golf course." "We're both from Texas and initially wrote it as a love letter to the absurdity of our home state. Cherry Glazerr transformed our ode to alt-metal into a beautiful love song," adds DAGR of the cut, a darkly pulsating trip-hop banger.
J EMBER – BABY BLUE EYES
Ahead of performing his debut hometown show tonight at Drake Underground, Canadian singer-songwriter j ember is sharing the hypnotic "Baby Blue Eyes." Written and produced alongside Duncan Hood, "Baby Blue Eyes" is a mind-bending, consciousness-expanding psychedelic-rocker that melts through the speakers and synapses like the clocks from Salvador Dalí's The Persistence of Memory. "I got nothing to do," repeats j in the chorus, and for the next three and a half minutes? Neither do we.
SHARON VAN ETTEN – DIE AGAIN
It's only been six months since Sharon Van Etten dropped her sixth album, We've Been Going About This All Wrong, but the Belleville artist is already back today with "When I Die." Featured on the recent deluxe edition of We've Been Going About This All Wrong, "When I Die" is a darkly looming silhouette on the hill that hears Sharon singing about life and death with resounding conviction: "Yeah, I wanna remember/And I wanna do so much more/Yeah, I wanna be much better/And I wanna do so much more."
CHIIILD – BON VOYAGE
Coinciding with the announcement of Better Luck in the Next Life, Canada's Chiiild is sharing the softly kaleidoscopic "Bon Voyage." Following 2021's Hope for Sale, "Bon Voyage" is described by Chiiild as "the beginning of this new chapter." He adds: "It was a form of healing putting these real situations into songs. When everybody is out here on the same thing, we're just out here levitating." With his reverb-laced voice floating several inches above the ground, "Bon Voyage'' is a certified trip.
ALEX LAHEY – SHIT TALKIN'
Australia's Alex Lahey is dancing off her anxieties on her latest single, the joyously delightful rocker "Shit Talkin'." In a press release, Alex reveals that "Shit Talkin'" is "about people pleasing, social anxieties and irrational thinking." "We've all been there, and I wrote this song in an attempt to shake it all off," adds Alex of the cut, an unstoppable chugger that features a Chorus with a capital C: "They're shit talkin' all the way home/Oh...shit talkin' all the way home." Brilliant.
RUNNNER – BIKE AGAIN
He recently made his debut in our Indie column with "i only sing about food," and today, Runnner is returning with "bike again." "This is a song about falling off my bike, remembering all the other times I've fallen off my bike, and then wondering what I would say if I could talk to all of those past selves," notes Runner of the cut, a mountainous piece of homespun, banjo-speckled folk. "I think it's the oldest song on the record." like dying stars, we're reaching out drops February 17, 2023.
PERFUME GENIUS – 4 MINUTE WARNING (RADIOHEAD COVER)
Perfume Genius takes time out from promoting Ugly Season to offer up a cover of Radiohead's "4 Minute Warning." Listen as the Des Moines musician delivers a hauntingly desolate reinterpretation of Thom Yorke's nuclear fallout lullaby, which originally featured on In Rainbows Disk 2. "'4 Minute Warning' became a favorite of mine during lockdown, something I would sit and sing over and over on the piano in my room," says Perfume Genius. "I'm happy to be out of that room now and sharing again."
-
Don't forget to follow We Are: The Guard on Spotify for more! xo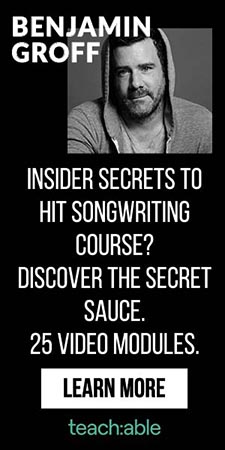 Jess Grant is a frustrated writer hailing from London, England. When she isn't tasked with disentangling her thoughts from her brain and putting them on paper, Jess can generally be found listening to The Beatles, or cooking vegetarian food.