THE 10 TOP INDIE SONGS WE'RE LOVING THIS WEEK
 Photo by Jordan Rodriguez
Between The 1975's Being Funny in a Foreign Language last Friday and Taylor Swift's Midnights this Friday, it's an important seven days for people who made their Tumblr their personality in 2014 (Read: Me). While we love a big album rollout here at We Are: The Guard, however, we're bringing you some lesser-known singles that may have slipped under your Spotify Release Radar in the latest edition of Top Indie Songs. Headphones at the ready, then, as it's time to check out the following songs from JAWNY, Fazerdaze, Runnner, and lots more!
-
JAWNY – WIDE EYED
JAWNY's Jacob Lee-Nicholas Sullenger recently kicked off his new era with the Strokes-esque ode to being head over heels, "strawberry chainsaw," and today, the 26-year-old is once again feeling giddy on the massive "wide eyed." "Hey you got my heart in a holster babe/I wanna live in your goddamn veins/If that's okay," rips JAWNY in the distortion-caked chorus of the century. Written about the kind of electric love where physical touch isn't enough, "wide eyed" might be JAWNY's biggest banger to date.
FAZERDAZE – THICK OF THE HONEY
She recently stated she intended to explore "ugly feelings" on her latest EP, Break, with Fazerdaze's Amelia Murray very much embracing the downward spiral on "Thick of the Honey." "It really was like, the pressure of everything in my life is too much, and I'm going to tell you about it," reveals Amelia to Radio New Zealand. With distorted desert-rock riffs coiling in all kinds of directions beneath her while an egg shaker lends the cut an added sense of urgency, "Thick of the Honey" is music for the collapse.
RUNNNER – I ONLY SING ABOUT FOOD
Runnner's Noah Weinman is a regular over at our Chill column, but this October, the Los Angeles musician is making his crossover into our Indie bulletin with "i only sing about food." Coming alongside the announcement of his debut album, like dying stars, we're reaching out, "i only sing about food" is a warm song about self-deprecation that hears Noah's pleasantly inviting twang surrounded by licks of banjo: "I overanalyze, I never let it feel good/I only think about death/I only sing about food."
MEN I TRUST – GIRL
Canada's Men I Trust recently switched things up with the pedal-to-the-metal post-punk thriller "Billie Toppy," and this Monday, Emmanuelle Proulx, Dragos Chiriac, and Jessy Caron are making another left turn with "Girl." Much like the John Lennon-penned Rubber Soul classic of the same name, "Girl" is a lush, melancholy nightwaltz that hears Men I Trust code-switching between French and English atop sumptuous acoustic strums: "Girl/My Bird/Tell me stories 'bout a better place to be/Let yourself free."
BRISTON MARONEY – OREGON
Back in summer, Briston Maroney dropped "Paradise" alongside news of his festival of the same name, and this October, the Knoxville native is making his return with "Oregon." Produced alongside Caleb Wright and Jake Luppen of Hippo Campus, "Oregon'' is a life-affirming address to never lose hope in the face of unrelenting darkness as run over a rapid-fire bassline. "'Oregon,' more than anything, is about being young, and I love that it feels fresh and the opposite of jaded," adds Briston. Enjoy.
WEYES BLOOD – GRAPEVINE
She recently reestablished herself as the Queen of Grandiosity on "It's Not Just Me, It's Everybody," and this Monday, Weyes Blood is continuing to conjure pure majestic splendor on "Grapevine." The latest single from the forthcoming And in the Darkness, Hearts Aglow hears Natalie Merring once again putting her Karen Carpenter-esque contralto to fine use, with the song lyrically delving into the mythology of the Great American Road Trip: "Six hours on the Grapevine/And I feel kidnapped this time."
PLAINS – HURRICANE
Plains, the new project from Waxahatchee's Katie Crutchfield and Jess Williamson, is capturing the imperfectness of love on "Hurricane." According to Jess, "Hurricane" was the last song written for their recent collaborative album, I Walked With You a Ways. "We knew we needed one more, and when Katie brought Hurricane to the table we both knew the album was complete," adds Jess of the cut, with Plains transforming their self-sabotaging tendencies into a vast, great-wide-open country banger.
BARRIE – UNHOLY APPETITE
Just a few months on from unveiling Barbara, an album that explored joy and grief in equal measure, New York City outfit Barrie Lindsay is returning with "Unholy Appetite." Coming alongside "Nocturne Interlude," which previously appeared in NBC's Good Girls, "Unholy Appetite" is a softly lush, rapturous piece of jangle-pop that hears Barrie tapping into an inner well of confidence with a mantralike chant of determination: "I'm the boss yeah I'm running (yeah yeah yeah)/Got some salt in my skin (yeah)."
DRUGDEALER (FEAT. KATE BOLLINGER) – PICTURES OF YOU
Ahead of the release of Hiding in Plain Sight, Drugdealer's Michael Collins is returning with the Kate Bollinger-featuring "Pictures of You." While I'm disappointed to report this isn't a cover of The Cure song of the same name, "Pictures of You'' is nevertheless deserving of a place in all of our hearts, with Michael's retro, sunbaked guitars riffs backing Kate as she clutches on to the celluloid remains of a relationship: "Because baby/I know that it's wrong but I'm holding on/To pictures of you."
MUNAN – FREAK LIKE ME
Munan recently made his debut on We Are: The Guard with "Your Life," and today, the South Korean-Australian producer is back in our ears with the sparkling "Freak Like Me." Speaking in a press release, Muna reveals he wrote "Freak Like Me" after purchasing a reel-to-reel tape machine. "I wanted to give my new music its own distinct sound, so I bought the tape machine and started playing with it," adds Munan, with the final result making for an Empire of the Sun-esque acoustic psychedelic odyssey.
-
Follow We Are: The Guard's Weekly Chart on Spotify for lots more! xo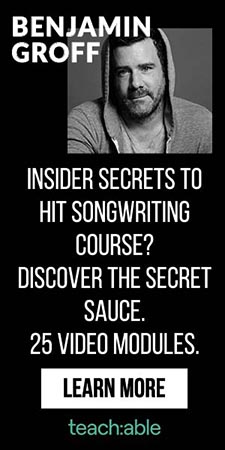 Jess Grant is a frustrated writer hailing from London, England. When she isn't tasked with disentangling her thoughts from her brain and putting them on paper, Jess can generally be found listening to The Beatles, or cooking vegetarian food.