THIS WEEK'S 8 NEW INDIE POP SONGS THAT YOU'LL HAVE ON REPEAT
Image by Juliana Malta on Unsplash
Buckle up everyone! We're bringing you the best new indie pop songs and they're hitting hard this week! We've got Julia Wolf with a confident new release via Spotify's new Fresh Finds program, Maddie Ross with the angry breakup song of the summer, another single from Jelani Aryeh's highly anticipated upcoming album, and much more that you're not going to want to miss out on.
JULIA WOLF - RBF: PART 1
While Julia Wolf shows a more vulnerable side on "RBF: Part 1," she is as lyrically confident and melodically stunning as ever. "RBF: Part 1" lets listeners in Wolf's past as a shy kid who got taken advantage of. She reminds us that we don't have to give power to what other people call us, singing "He called me a b*tch to his buddies / If he said it I'd just take it as a compliment / Must mean he's afraid of my confidence." Co-written and produced by Jackson Foote, "RBF: Part 1" was released as a Spotify Single as a part of the streaming platform's new Fresh Finds Program.
MADDIE ROSS - EARS BUNNY
Maddie Ross has delivered the revenge anthem of the summer with "Ears Bunny." As she explained on Urban Dictionary, "Ears Bunny" means peace out to a toxic ex. While she gets open and honest about her breakup in the song, she's also created a place for listeners to share their breakup horror stories at earsbunny.com. Guitar driven and lyrically hard-hitting, "Ooooh honey" this song rocks.  
V!CTORIA - PETRICHOR
At just 15 years old, V!ctoria has done what most of us in the music industry have been tearing our hair out trying figure out for the past year: how to successfully market a song on TikTok. The New York native shared "Petrichor" at the top of last week and by the end of it, landed on New Music Friday. With it's chill vibes, clear vocals, and catchy lyrics "Petrichor" has us so excited for what's to come from this rising talent.
DRO KENJI - TRANCE
For fans of The Kid Laroi and Juice WRLD, meet your new favorite artist: Dro Kenji. The melodies are SO good, like insert-this-into-my-brain-to-play-on-loop good. At just under 2 minutes, "TRANCE" was meant to be played on repeat.
TIMMS - SEROTONIN KILLER
It was really only a matter of time before the rest of the world caught onto TIMMS' infectious dark pop. After a viral TikTok, the South African artist got the recognition she deserved. On her newest song, "Serotonin Killer," TIMMS speaks to "that toxic person you talk about in therapy." Warning: side effects of listening may include feeling like an absolute baddie.
CAROL ADES - I CAN'T WAIT TO BE BRITISH
Having written songs for artists like Selena Gomez, Ava Max, and Demi Lovato and competing on the TV show The Voice, it only makes sense that the launch of Caroline Pennell's artist project, Carol Ades, would be absolutely amazing. "I Can't Wait to Be British" is the first song off of her upcoming EP and it's so devastatingly honest. She puts words to feelings of self doubt and delusion. Whether she's speaking to a part of your current self, or a past version, she describes a feeling that women especially know all too well.
BROOKE WILLIAMS - DESPERATE TIMES
Brooke Williams' voice is so insanely good and she absolutely soars on new song "Desperate Times." Sonically, "Desperate Times" sits somewhere at the pop-electronic intersection of The 1975 and Ellie Goulding. Lyrically, she is empowered after a heartbreak. With her airtight pop songwriting skills and vocal prowess, Brooke Williams belongs on your radar of artists on the verge of exploding.
JELANI ARYEH - OVEREXPOSED
Jelani Aryeh returns with another single off upcoming album I've Got Some Living To Do coming July 30th. Single "Overexposed" features his classic indie rock sonic palette and poetic lyrics. "Overexposed" has some counterpoint harmony in the chorus for all you fellow music nerds and will have to hold us over as we count down the days to the album.
---
There you have it everyone! Our top indie pop picks of the week that you'll be playing over and over this summer. As always, you can find more of our favorites on our Weekly Indie A&R Chart Spotify playlist, as well as on our TikTok!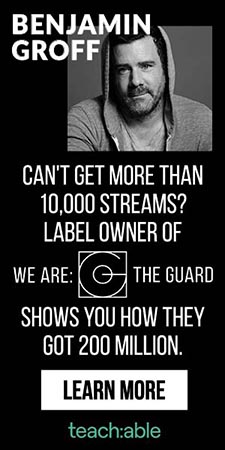 Arielle Tindel is from Cleveland, Ohio. She recently graduated from Berklee College of Music with degrees in Music Business Marketing and Songwriting. In her free time, Arielle can be found gardening or playing bass.