TOP CHILL MUSIC: 10 SONGS TO EASE YOUR ANXIETY THIS 2022
Photo by Maddie Collet on Unsplash
Hello, friends! Happy New Year! I hope you all had a safe and relatively stress-free Christmas? Of course, the New Year can bring with it its own series of doubts. With talk of resolutions at every turn, the pressure is most definitely on this January. Whatever goals you may or may not have set yourselves this 2022, We Are: The Guard is here to help ease your anxieties this Friday with the latest edition of Top Chill Music. Just don't forget to follow us on Spotify after checking out the following songs from Bonobo, Teflon Sega, Boehm, and seven other favorites!
-
BONOBO (FEAT. JOJI) – FROM YOU
Having recently teamed up with the likes of Jamila Woods and Jordan Rakei, Bonobo's Simon Green continues to prepare for the release of the much-anticipated Fragments today with "From You." A collaboration with 88rising's Joji, "From You" is a heady, bass-tinged intoxicant that moves like fluid through the speakers and directly into our veins. "I remembered all over again how much I loved crowds and movement and people connecting with each other," says Simon of the cut. Tune in and drop out.
TEFLON SEGA – STRANGE CONDITION
While he may be a purple anime character born and raised in the metaverse, Teflon Sega makes music that feels more human than most. Case in point: "Strange Condition." Coming ahead of his debut NFT collection, "Strange Condition" is an equal parts fragile and impactful piano ballad that bleeds with raw emotion. "And I get so manic and I go way up and way down," despairs Teflon at one point – his lyrics sure to resonate deeply with those who have ever battled with depressive thoughts.
BOEHM – BRIGHTSIDE
Just in time for the New Year, Boehm is returning with the stunningly, stunningly optimistic "Brightside." As we head into this period of fresh starts and new beginnings, "Brightside'' couldn't make for a more perfect musical accompaniment to the days, weeks, and months ahead. With deep, throbbing basslines acting as a kind of central gravitational force, around which the Romanian producer arranges his lush melodics, "Brightside" genuinely feels like the dawn of a more hopeful chapter in our lives.
GRAACE – HALF AWAKE
It's coming up to 10 years since she suddenly lost her father, and in tribute, Australian singer-songwriter GRAACE is sharing "Half Awake." According to GRAACE, "Half Awake" was written about her experiences with lucid dreaming in the period following her dad's tragic, untimely death. With her delicately fragile, breathy voice interweaving with light plucks and soft thuds, "Half Awake" is an exploration of grief, trauma, and our hidden ability to reconnect with loved ones in the afterlife.
NIJA – ON CALL
There's no shortage of booty-call bangers written and performed by men, but Nija is flipping the script on her brand new single, "On Call." "I guess that's why I keep you on call/Every time I'm sippin' alcohol/'Cause I know you gon' do what I want," croons Nija in the chorus of the sultry R&B slow jam – her tone dripping with assured confidence. And rightly so. Having previously written songs for the likes of Cardi B, Beyoncé, and Summer Walker, "On Call" is Nija's moment in the spotlight.
LATE JUNE – HANG TIGHT
Late June was undoubtedly one of We Are: The Guard's favorite discoveries of 2021, and as we head into the New Year, the New Zealand producer is continuing to deliver the goods with the quietly euphoric "Hang Tight." Clocking in at just over three minutes, "Hang Tight" was made for cruising through the city lights in the heat of summer. Bringing together softly thumping drums and vocal samples that border on the ecstatic, "Hang Tight" will have you counting down the days to festival season.
MAX (FEAT. FLETCHER) – BUTTERFLIES
Last summer, MAX celebrated signing to Warner by sharing "Butterflies." A tribute to his wife, Emily Schneider, the gorgeously sentimental ballad quickly went on to clock up almost 40 million streams on Spotify. Just over half a year on, and MAX is returning this January with a brand new version of "Butterflies" featuring We Are: The Guard favorite FLETCHER. It makes for a stunningly emotive duet, with FLETCHER adding another sweet layer to the lyrics as she sings of that fluttery feeling in her stomach.
LIESL-MAE – SOLACE
Introducing liesl-mae, the Malaysian artist immersing us in her most vulnerable thoughts on her latest single, "Solace." Speaking on Instagram, liesl-mae revealed "Solace" was written during the peak of the pandemic, when fear and anxiety were at an all-time high. "I turned to silence and slowing things down to cope with the helplessness and hopelessness I felt," adds the OFFMUTE signee of the cut – a beautifully frail acoustic epistle about the value of quiet during times of seemingly unending chaos.
LSTN – SECOND CHANCE
Every New Year offers us an opportunity to restart. An opportunity to begin again. An opportunity to turn the page and write a whole new chapter about our lives. The enigmatic, mysterious Lstn is capturing that very feeling on their latest single, "Second Chance." Coming after "Oceans," "Second Chance" is a tranquil house cut that soars with a sense of promise and potential. With melodic pianos climbing to the sky atop sublime strings, "Second Chance" is dedicated to everybody trying over this January.
KEVIN MORBY – I HEAR YOU CALLING (BILL FAY COVER)
Dead Oceans continues to pay tribute to the British singer-songwriter Bill Fay this January with Kevin Morby's radiant cover of "I Hear You Calling." The follow-up to Steve Gunn's take on "Dust Filled Room," Kevin's version of "I Hear You Calling" is a loyal revision that fills the room like the early morning sun. Kevin: "Bill Fay exists as a secret handshake amongst us musicians. Those of us familiar with his body of work are obsessed with it. It's an honor to be able to cover one of my favorite songs of his."
-
Follow We Are: The Guard on Spotify for more! xo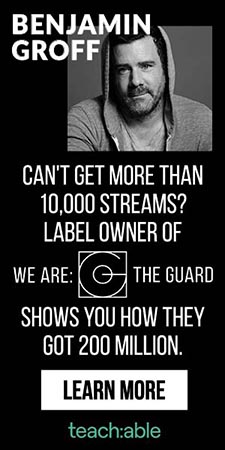 Jess Grant is a frustrated writer hailing from London, England. When she isn't tasked with disentangling her thoughts from her brain and putting them on paper, Jess can generally be found listening to The Beatles, or cooking vegetarian food.