THE TOP CHILL MUSIC TO SEE YOU INTO THE WEEKEND
Edu Grande on Unsplash
As much as we try to keep this column as a place of sanctuary, it'd be wrong to begin this week's edition of We Are: The Guard's Top Chill Music without mentioning the news coming out of Atlanta. The rise in anti-Asian attacks over the last few months ought to concern and disgust us all, so we encourage you to read up on resources and take action however you can this weekend, be that in the form of donating to organizations, or simply educating yourselves and others around you. #StopAsianHate
This shooting was targeted against asian women, he was fucking ARMED. they arrested him alive and well & they said that it was a "bad day for him". This shit sickens me.

Please donate here:https://t.co/K0q0w5FMHYhttps://t.co/LgvGiauAJ1https://t.co/h7OTe67Ti9

— Rich Brian (@richbrian) March 17, 2021
Check out the following tracks from cehryl, Christian Lee Hutston, Yehra, and plenty of others.
-
CEHRYL – OUTSIDE THE PARTY, INSIDE THE DREAM
Ahead of the release of her EP time machine – due out April 9th – Hong Kong's cehryl has shared the lullaby-like "outside the party, inside the dream." As the track title suggests, it's a tranquil, blissful, almost phantasmagorical reverie of a listen, with cehryl dreaming up a love affair between soft blankets of guitars: "Hurry up, we don't have enough/Time beforе the real world interfеres/Over here, closer, dear/Minimize our distance until we disappear."
CHRISTIAN LEE HUTSON (FEAT. SHAMIR) – JUST LIKE HEAVEN (THE CURE COVER)
Just a few weeks on from releasing his version on Billie Eilish's "Ocean Eyes" via our very own label here at We Are: The Guard, Shamir returns this Friday with another cover in the form of The Cure's "Just Like Heaven." Recorded alongside Christian Lee Hutson as part of his covers EP The Version Suicides, Vol. 2, it's an indescribably sweet take on the gothic love song – one that hears Shamir and Christian exchanging whisper-soft vocal harmonies over tender acoustic strums.
YEHRA – DAYDREAMING
Introducing Yehra, the intercontinental duo who are bringing the sultry vibes on their debut single "Daydreaming." Despite having never met in real life, lead singer Jen Mahon and producer Rasmus Liebst couldn't sound more at one with each other on this titillating R&B ballad, with Jen hitting all of the right spots with her note-perfect vocals over a bed of velvet sheets and soulful grooves.
CARIBOU – HOME (TORO Y MOI REMIX)
Caribou's soulful "Home" gets a studious, spacious reinterpretation this Friday courtesy of Toro y Moi's Chaz Bear. "His remix is like an Alexander Calder mobile or a Kandinsky painting where the musical geometries of the original song circle each other in space," says Caribou of the reinvention, which hears Toro y Moi excavating the Suddenly cut of all of its plunderphonic grit to instead present "Home" as a deconstructed sculpture – the kind that ought to be hung up in a contemporary art gallery.
LUNA LI – CHERRY PIT
As sakura season approaches, Luna Li has shared the deeply delightful "Cherry Pit." According to Luna, the track was inspired by her childhood vacations to Muskoka in Canada, with her haiku-esque lyricism coming set against a whimsical, playful production that hears Luna tapping into both her classical background and her more pop-oriented sensibilities. "It's the type of music I always dreamed of making, but never fully got there until now," says Luna. Enjoy.
CROOKED COLOURS – NO SLEEP
They recently teamed up with slenderbodies on "superpowerful," and today, Australian outfit Crooked Colours return with the mesmerizing "No Sleep." "At the heart of it, the song is about someone who treated a relationship with a sort of arrogant nonchalance and didn't truly appreciate it until it's too late," explain Crooked Colours the cut, which hears lead singer Phil Slabber's intoxicating, supple croon giving itself over to a dose of electronic euphoria come the chorus.
QUINN XCII & JEREMY ZUCKER – DORIS TERRACE
Quinn XCII's Mikael Temrowski details his experiences with depressive thoughts on "Doris Terrace." "Some nights I felt like ending it/I barely ever fall asleep/If I'm 28, why do I feel like this?/Some days feel like I am not me," begins the Change of Scenery II cut, which eventually moves to a place of radiant hope and optimism as Mikael learns to celebrate the small but important accomplishments in life alongside his friend and frequent collaborator Jeremy Zucker. Stunning.
SULTAN + SHEPARD (FEAT. RICHARD WALTERS) – SOMETHING, EVERYTHING
These are heavy, intense times we're living through, but Canadian electronic duo Sultan + Shepard are helping us to escape – if only for five minutes – on the Richard Walters collaboration "Something, Everything." Featured on their recent album of the same name, it's a lush, soaring head rush of listen – one that hears Sultan + Shepard continuing to shift their focus to a more melodic-house-driven sound. FFO: Lane 8, Nora En Pure.
BRENT FAIYAZ – SHOW U OFF
Coinciding with International Women's Month, Brent Faiyaz has shared the thoughtful, contemplative "Show U Off." The follow-up to last month's Do Not Listen EP is a tribute to – and a celebration of – Black female resilience, with the Columbia, Maryland singer-songwriter's soulful falsetto coming enveloped in plucked strings as he commits to being there for the ladies in his life, no matter the circumstances.
GIGI – SOMETIMES (BACKWOOD)
It's no secret TikTok is a hotbed for musical talent, with the latest star to emerge from the app coming in the form of gigi. Fans of The Twilight Saga are sure to love this rising artist and her affecting acoustic ballad "Sometimes (Backwood)" – which currently soundtracks around 50,000 clips on TikTok – with gigi's androgynous vocals and crushing tale of heartache giving me serious New Moon vibes.
-
Until next Friday, why not follow We Are: The Guard's Weekly Chart for plenty more? See you next time. x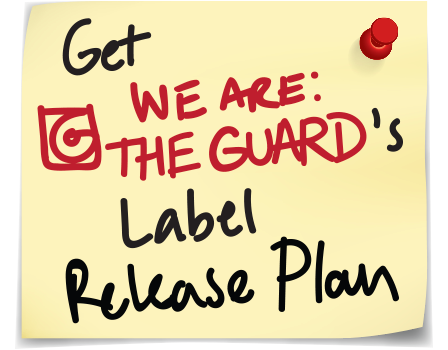 Jess Grant is a frustrated writer hailing from London, England. When she isn't tasked with disentangling her thoughts from her brain and putting them on paper, Jess can generally be found listening to The Beatles, or cooking vegetarian food.