TOP CHILL MUSIC: OUR 10 FAVORITE VIBES OF THE WEEK
Photo by Ben Murphy
Spring is finally here, and I'm absolutely loving it! The birds are tweeting, the trees are blossoming, and, ah yes, my allergies are back with a vengeance. Oh well, you can't have everything, can you? Anyways, before I go and pop another Claritin, let's check out the latest edition of We Are: The Guard's Top Chill Music. With the weekend fast approaching, it's time to decompress with the following spring vibes from Mansionair & Vandelux, Σtella, Jaguar Sun, and lots more!
-
MANSIONAIR & VANDELUX – EMPTY PROMISE
Ahead of the release of their sophomore album, Happiness, Guaranteed, Australia's Mansionair has unveiled the gently soaring "Empty Promise." A collaboration with San Francisco producer and singer-songwriter Vandelux, "Empty Promise" is all about coming to terms with the fact a relationship has reached its natural conclusion. With synthesizers softly inhaling and exhaling beneath Jack Froggatt's purest of tones, "Empty Promise" has an air of catharsis about it amid the sweeping melancholy.
ΣTELLA – CHARMED
She recently signed to Sub Pop, and to celebrate, Greek singer-songwriter Σtella is unveiling the delightfully funky "Charmed." "We strive to charm, and to be charmed. Mirroring each other's desires like birds-of-paradise in a tropical forest, dancing wildly to impress a potential mate. But despite our best efforts, things don't always go as planned," says Σtella. With retro riffs and deep basslines bopping beneath Σtella's kiss-from-a-rose voice, "Charmed" is a song of desire for distant lovers everywhere.
JAGUAR SUN – ONE DAY
If there's one thing I've noticed over the last few months as a music journalist, it's that the pandemic has made artists increasingly nostalgic and reflective. Case in point: Jaguar Sun's "One Day." The latest single to be unveiled from the Canada act's forthcoming sophomore album, All We've Ever Known, "One Day" hears Jaguar Sun leaning into the mix of happiness and sadness that comes from looking back on our younger days, with acoustics bending around his soft voice like spring blooms.
BENÉT AND MAMALARKY– WILL I SEE U?
As much as it hurts, there's something deeply intoxicating about the pain of unrequited love. Benét and Mamalarky's Livvy Bennett are reveling in that feeling of unattainable connection on the sun-bleached "Will I See U?" "Are you real or make-believe?" asks Livvy in the opening verse, setting the tone of aching, longing teenage despondency that defines much of the jazzy lo-fi groove. "The song is about the people in my life where our relationship exists mostly in the bounds of my imagination," says Livvy. Enjoy.
ARLO PARKS – YOU'RE THE ONE (KAYTRANADA COVER)
While she may have missed out on the GRAMMY Award for Best New Artist to Olivia Rodrigo on Sunday night, Arlo Parks is reminding us why she'll always be a winner in our eyes with this glisteningly cool cover of KAYTRANADA and Syd's "You're the One." Listen as the British singer-songwriter transforms the club banger into a crackling slice of old-school soul for Spotify Singles, with her signature childlike vocals exposing the earnest sentiment behind the veil: "If I survive, baby, you're the one, you're the one."
MANILA KILLA & KWESI – DARK PLACES
It's been a gloomy couple of years for so many of us, but Moving Castle's Manila Killa is helping us to feel our way out of the shadows on his latest single, the aptly titled "Dark Places." A collaboration with Los Angeles vocalist Kwesi, "Dark Places" is a soulful listen that explores humankind's murkiest emotional crevices, before erupting into radiance come the euphoric chorus. "'Dark Places' marks the beginning of a new perspective on how I view the world alongside music," explains Manila Killa. Listen.
PARKER LOUIS – NOTHING & EVERYTHING
This is completely, utterly intoxicating. Hailing from Columbus, Parker Louis is immersing us in his deeply soulful frequencies on "Nothing & Everything." The latest single to be unveiled from Parker's forthcoming EP, Lifted, after "Say Less," "Nothing & Everything" is a static-speckled groove of the highest order. Bringing together R&B, jazzy, and trip-hop influences, before concluding with a hypnotic saxophone solo courtesy of Terrance Charles, "Nothing & Everything" is a cratedigger-esque gem.
FINDING HOPE – NO MATTER WHAT
He's already unveiled "Crush on You" and "Magazines," and this Friday, San Antonio native Finding Hope is continuing to cut straight right through to the feels on "No Matter What." Featured on his recent EP, Crush on You, "No Matter What" is described by Finding Hope as his "favorite song" from the collection. With his emotive croon coming set against gently rippling waves of acoustic, "No Matter What" is a declaration of love that floats like a late-night lullaby: "No matter what/Nobody knows you like I do."
BENJI LEWIS – HEAD RUSH
We Are: The Guard regular Benji Lewis is caught in the intensely thrilling throes of a young love on his latest single, the vulnerable "Head Rush." Featured on the Australian singer-songwriter's forthcoming EP, Floating, "Head Rush" will resonate with anyone who's ever felt the trepidation that comes with making yourself fragile when entering a new relationship. "I feel the struggle and frustration of wanting this love story to work out," says Benji of the cut, which hears his voice soaring with a passionate purity.
ALEXANDER STEWART – ECHO (ACOUSTIC)
Alexander Stewart takes time out from promoting his forthcoming single, "when you love someone," to share an acoustic rendition of "echo." While the original arrived in the form of an achingly anthemic ballad, this live version hears Alexander stripping the song down to its emotional core. The final result is nothing short of crushing, with a piano and very little else backing Alexander as he brings to life the pains of letting go: "Please don't keep me haunted by your ghost/When you leave me, all I hear is your echo."
-
Follow We Are: The Guard on Spotify for lots more spring vibes! xo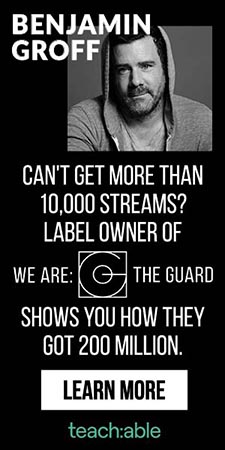 Jess Grant is a frustrated writer hailing from London, England. When she isn't tasked with disentangling her thoughts from her brain and putting them on paper, Jess can generally be found listening to The Beatles, or cooking vegetarian food.