TOP CHILL SONGS: THE 10 VIBES YOU NEED TO HEAR THIS WEEK
Photo by Cavetown
Question! Does anybody else really hate January? The pressure to be Your Best Self™ combined with the cold, dark nights means it's a very difficult month for me! It's only a matter of weeks until we start seeing signs of spring, of course, but in the meantime, I'm going to be indulging in some much-needed self-care! With the weekend almost upon us, then, feel free to join me in getting cozy and snuggly with the latest dose of We Are: The Guard's Top Chill Songs, starring Cavetown, Gracie Gray, Finding Hope, and more!
-
CAVETOWN – SQUARES
This is probably the first time I've written on a song directly inspired by a video game, but after listening to the stunningly gorgeous "squares," I certainly hope it isn't the last time. According to Cavetown, "squares" is his tribute to Minecraft – a game he says helped to get him through a very difficult period in his life recently. "I survived another lap around the sun thanks to these songs, the video, my friends, and one very special game," adds Cavetown of the cut – a comforting lilt of escapism.
GRACIE GRAY – HAPPINESS
Los Angeles poet Gracie Gray continues to hone her spectral, haunting breed of folk music on "happiness." The latest single to be unveiled from her forthcoming sophomore album, anna, after "alienlover" and "dig" is a quiet lament for more innocent times, with Gracie's vocals dancing like a night wind over delicate acoustic strums. "When I wrote it I was processing a lot of hard memories. When I finished it, I felt like I was just beginning an ugly process of letting go," says Gracie in a press release. Listen.
FINDING HOPE – CRUSH ON YOU
Introducing Finding Hope, the San Antonio musician hailed in a press release as having "a knack for composing melancholic melodies with such poppy flair that his songs get stuck in your head like a broken heart." This description is very much ringing true on the soothing "Crush on You." Featured on his forthcoming EP of the same name, "Crush on You" is a soft, delicate digital love letter to a sweetheart, with Finding Hope's healing vocals slowly stitching this listener's wounds back together again.
RÖYKSOPP – THE LADDER
Norwegian duo Röyksopp has spent the last few years focusing their attention on rarities in the form of the Lost Tapes series, but this Friday, Svein Berge and Torbjørn Brundtland are finally offering up something new in the form of "The Ladder." If you've been enjoying The Weeknd's output of late, then I highly recommend you give this song a spin. With its dark, retrofuturistic chug, "The Ladder" orbits the same cinematic universe as Abel Tesfaye's Dawn FM, with synthesizers forming like a metropolis.
ROSIE THOMAS – ALL IS FULL OF LOVE (BJÖRK COVER)
Rosie Thomas enlists Sufjan Stevens, Iron & Wine, The Shins, and more on this steeply beautiful cover of Björk's "All Is Full of Love." The latest single to be unveiled from her Lullabies for Parents project – a collection of songs, videos, essays, and podcasts created in "an attempt to reach out to parents and help them self-soothe" - "All Is Full of Love'' opens like a calm sea. As the backing vocals enter, however, the cover rises to gorgeous heights, plunging listeners in its affectionate embrace.
TEFLON SEGA – ROSES
He recently announced Maya's Revenge – a 10-song mixtape that'll see him sampling some of his favorite anime songs alongside producer JordanXL – and today, Teflon Sega is giving us the first taste of the project in the form of "Roses." Clocking in at just under three minutes, "Roses" hears Teflon unleashing his inky, melancholy hip-hop flow and emotive falsetto croon over a shivering remix of the GOBLIN SLAYER! theme tune: "Roses, flowers on the grave/A million roses/Remember my name/When it's all over."
SUN JUNE – REMINDED
When a band describes their latest single as "the sexiest song" they've ever written, I quite simply have no choice but to listen. Austin's Sun June is most definitely tapping into their carnal side on "Reminded." Featured on the recently expanded edition of their sophomore album, Somewhere, "Reminded" is a waltzing nocturne and ode to lust. "Sure as your eyes/Dance around the room/Don't need to be reminded of the last time I saw you," sighs Laura Colwell, before losing herself to strokes of saxophone.
KHAMARI – DOCTOR, MY EYES
Khamari documents the struggle of finding yourself and your place in the world on his raw latest single, "Doctor, My Eyes." Having relocated from Boston to Los Angeles, Khamari wrote this ballad during a time of transition, with his gut-wrenching vocals breathing life into the lyrics about feeling too much and nothing at all. "Doctor, would you give mе something/Would you, would you/Doc, I'm only 20-something," despairs Khamari on the song, which was reportedly inspired by Incubus and Jackson Browne.
DEXTER – DIFFERENT
She recently caught our attention with the pulsating dance cut "Paper Cup," and today, British upstart dexter is back with "Different." Produced alongside Kurisu, it's a brittle confessional that hears dexter detailing the push and pull of a toxic relationship in almost visceral detail. "You caused the scars that you left on my skin/No one to get them out," croons dexter at one point – her voice arching over the gentle acoustic strums. "But you find ways back in/I'm tired of feeling like this won't end."
GRENTPEREZ – ABSENCE OF YOU
It's never easy moving on from a relationship, especially when your life and routine has been built around being with a person, but Australian act grentperez is slowly learning to let go of a lover on his latest single, "Absence of You." Written alongside Julia Church, "Absence of You'' reminds me of a gently swaying stroll on a summer's afternoon. With Latin-esque guitars underpinning grentperez's softly luscious croon, "Absence of You" is an ode to new beginnings that can be filed alongside Bruno Major.
-
Follow We Are: The Guard on Spotify for more self-care! xo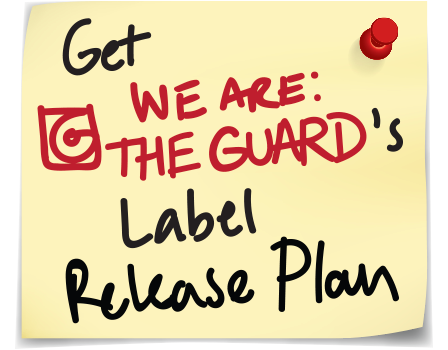 Jess Grant is a frustrated writer hailing from London, England. When she isn't tasked with disentangling her thoughts from her brain and putting them on paper, Jess can generally be found listening to The Beatles, or cooking vegetarian food.