TOP CHILL MUSIC: THE 10 SONGS YOU NEED THIS WEEK
Photo by FKJ
It's been a deeply, deeply troubling few days. It's important we stay informed and raise our voices during times like this, of course, but it's equally important we look after ourselves and our mental health. On that note, I hope you're able to find a moment to practice some much-deserved self-care today, perhaps with help from the latest edition of We Are: The Guard's Top Chill Music, featuring FKJ, Dreamer Boy, UMI, and beyond.
ABORTION IS STILL LEGAL AND AVAILABLE IN ALL 50 STATES. If you need an abortion, visit https://t.co/mDoIItVLPU (@i_need_an_a) to find a clinic near you and find a list of local abortion funds at https://t.co/xSELGzVGWv

Read this thread to learn how to support abortion access:

— abortion donation link fairy ✨️ (@helmsinki) October 26, 2020
-
FKJ – WAY OUT
He recently teamed up with Latino legend Carlos Santana on "Greener," and this Friday, FKJ is returning with "Way Out." The latest single to be taken from his forthcoming sophomore album, V I N C E N T, "Way Out" is a jazzy balm and meditation about escape, with twinkly pianos and sweeping strings dancing against a backdrop of lo-fi study beats. "'Way Out' is an invitation to leave my busy adult mind and yours too," explains FKJ of the track, which makes for a perfectly soothing segue into the weekend.
DREAMER BOY – JUMPSHOT!
There's no shortage of artists bringing together summer vibes with a dose of nostalgia, but they rarely do it as impeccably as Dreamer Boy on "JUMPSHOT!" Produced alongside Bobby Knepper, "JUMPSHOT!" is a syrupy ode to those summers spent shooting hoops and sipping on Sunny D with childhood friends and crushes. With flickerings of harmonica and acoustic strums surrounding the Nashville act like a nectar sunset, "JUMPSHOT!" is a flawless piece of pop that feels full of youthful invincibility.
UMI – WHATEVER YOU LIKE
As we grow older, we may find ourselves becoming coarse and hardened by the shifting sands of time, but UMI is reminding us to never let go of our inner child on "whatever u like." The latest single to be unveiled from her forthcoming debut album, Forest in the City, after "sorry," "whatever u like" is a celebration of curiosity, spontaneity, and playfulness in life, love, and relationships. "Baby, you're giving me light/You get whatever you like," sings UMI, her voice joyfully, gloriously winking over guitar melodies.
NUTRIENTS – WINDOW SEAT
Meet Nutrients, the Montreal, Canada band making their debut on We Are: The Guard today with the summer-mixtape essential "Window Seat." "This is a quick guitar pop song that harkens back to songs Nutrients used to write," reveals the outfit. "The guitar interplay is actually just two guitars playing this one-string riff at the same time with some minor deviations." A nimble, jangly ditty about two lovers complementing each other perfectly, "Window Seat" is sure to be on heavy rotation over the next few weeks.
SASHA ALEX SLOAN – NEW NORMAL
The words "new normal" have come to hold a lot of meaning over the last few months, but for Sasha Alex Sloan, "new normal" is less about navigating a post-pandemic world and more about learning to function following a devastating breakup. "I only see you whenever I dream/Where did you go, babe? I miss our routine," begins "New Normal," immediately setting the crushing tone of the track. It only gets more heart-wrenching from there on out, with Sasha's country twang carrying the song with emotional delicacy.
53 THIEVES – 3RD FLOOR
While the fear of getting hurt causes so many of us to reject love, 53 Thieves is taking the risk regardless on their breathy latest single, "3rd floor." According to 53 Thieves, "3rd floor" was written last summer when the four band members finally met in person after two and a half years of making music remotely. The results of being in the same room together are clear to hear on "3rd floor," with the track teeming with a kind of sultry life and electricity as they sing about breaking down emotional barriers.
LUCCA DOHR – THANKS AGAIN
Having made an impression with Norwich EP, Los Angeles act Lucca Dohr is continuing to build on the promise of his debut collection with "Thanks Again." A self-produced cut that was reportedly two years in the making, "Thanks Again" is a moving ballad that appears to be a rebuke to an ex attempting to reconnect. "Not gonna let you push me out and pull me in/I've had enough/Thanks for checking in," sings Lucca, his voice soaring with Jeff Buckley-esque aplomb over an emotive string arrangement.
TEEN SUICIDE – COYOTE (2015-2021)
It's been six years since It's the Big Joyous Celebration, Let's Stir the Honeypot, an ambitious 26-song collection that was once described as their "final album," but Teen Suicide is making their return today with "coyote (2015-2021)." Clocking in six minutes, "coyote (2015-2021)" is a sprawling composition that initially appears as an expansive, transportative post-rock instrumental. Eventually, however, the cut transforms into a homely acoustic vignette, with Sam Ray's voice sounding comforting in its familiarity.
GRANDMA – I MET GOD ONLINE
Hailing from Atlanta, Georgia, grandma's Liam Hall studies the alien experience of going in search of human connection in the digital age on "I Met God Online." "'I Met God Online' is about people's fascination with internet esotericism," says Liam. "A meditation on how someone's life and Internet presence can amorphously become someone else's religion, obsession, or gospel." Sounding like Phil Spector's Wall of Sound doused in psilocybin, "I Met God Online '' is a surrealistic, psychological dreamscape.
BEACHPEOPLE – AS LONG AS I'M HERE
Just one week on from making his debut on We Are: The Guard with "tonight," BEACHPEOPLE founder Malte Huck is back today with "as long as i'm here." According to Malte, "as long as i'm here" was written while traveling solo across America. "I don't wanna say too much about it, but I wrote it in a time where I felt very lonely," explains Malte in a statement. A meditative acoustic cut filled with a quiet, longing sense of isolation and melancholy, "as long as i'm here" dapples like a sunset in late summer.
-
Why not follow We Are: The Guard's Weekly Chart for more? xo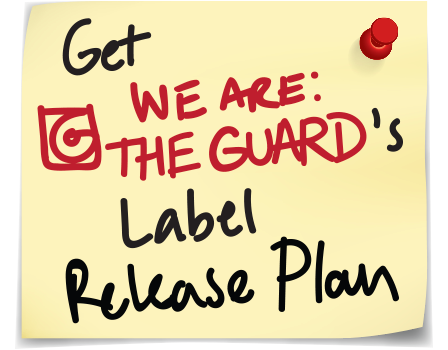 Jess Grant is a frustrated writer hailing from London, England. When she isn't tasked with disentangling her thoughts from her brain and putting them on paper, Jess can generally be found listening to The Beatles, or cooking vegetarian food.