TOP CHILL SONGS: 10 TRACKS TO EASE YOU INTO THE WEEKEND
Photo by Eddie Mandell
The weekend is almost here, and I'm not sure about everybody else reading this, but I'm very much ready to enter Goblin Mode. Just in case you're not down with the Internet's latest buzzword, The Guardian has a lengthy explanation, but in short? It essentially means "to get one's slob on." On that note, pull on some sweatpants, bowl up a bag of Flamin' Hot Cheetos, and embrace that inner goblin with the latest edition of We Are: The Guard's Top Chill Songs, featuring UMI, Omar Apollo, 53 Thieves, and plenty more!
-
UMI – SORRY
UMI is reminding us of the power of manifestation and, more importantly, self-forgiveness on her restorative latest single, "sorry." The first single to be unveiled from her forthcoming debut album, Forest in the City, "sorry" is a healing prompt to be kind to ourselves, and to allow that kindness to subsequently radiate through everybody else that we encounter in life. "To be kind to oneself is to end the inner war," UMI explains on Instagram. "And when there is peace within, there is peace all around you."
OMAR APOLLO – KILLING ME
Having recently teamed up with Daniel Caesar on "Invincible," Omar Apollo continues to tease the release of his sophomore album, Ivory, this Friday with the achingly lustful "Killing Me." Debuted during a recent appearance on The Tonight Show Starring Jimmy Fallon, "Killing Me" is a late-night R&B romp that hears Omar caught between love and infatuation. With Omar effortlessly code-switching between English and Spanish atop sultry riffs and soulful beats, "Killing Me" is a bedroom mixtape essential.
53 THIEVES – TWO DAYS
53 Thieves is very much getting behind the expression "If it ain't broke, don't fix it" on their brand new single, "two days." Coming after "heights," "two days'' finds 53 Thieves doubling down on the cosmically smooth vibes that first made us fall in love with them over two years ago, with British singers Jess Mollie and Conor Jordan once again displaying a soulful synchronicity over a rippling pool of spacey beats: "Two days later and/Times been ticking on/It's all I know/Now I'm leaving it all undone."
ORION SUN – PRESSURE
Just a few weeks on from opening our column with the lush, languid "dirty dancer," Orion Sun's Tiffany Majette is back today with "pressure." Featured on her recent EP, Getaway, "pressure" is a world-weary lullaby that Tiffany says is "a confession." "I'm strong and weak. I don't like to complain, but I do sometimes. This is just expressing the doubts and fears and weight that I carry," adds Orion Sun of the cut, which finds her relinquishing control, letting go of her worries, and embracing inner lightness.
FINNEAS – FLUME (BON IVER COVER)
Ahead of going up against Arooj Aftab, Jimmie Allen, Baby Keem, Glass Animals, Japanese Breakfast, The Kid LAROI, Arlo Parks, Olivia Rodrigo, and Saweetie for Best New Artist at the Grammys next month, FINNEAS has shared his opulent cover of Bon Iver's "Flume." Originally featured on Justin Vernon's beloved debut album, For Emma, Forever Ago, "Flume" is given a typically stately spin by the pop producer, with his Great American Songbook-indebted voice stunningly lending itself to the breakup ballad.
FORESTER & KOTIĒR – HOURGLASS
Los Angeles duo Forester enlists the help of Kotiēr on the expansive "Hourglass." The opening cut on their recent third album, Watercolor, "Hourglass" appears to be a song about the slow, gradual end of a love, with Kotiēr's weightless voice coming consumed by a bottomless ocean of synthesizers. "Out of time/Follow grains of sand/Here another day/Hourglass," sings Kotiēr, with his voice combined with Forester's production making for a transportive listen that sounds equal parts euphoric and melancholy.
CINEMA KID – ALIVE
If there's one thing the last few weeks, months, and years have taught us, it's how lucky we are to, quite simply, be alive. Lowly's Cinema Kid is celebrating this very fact on his latest single, the profoundly uplifting "Alive." "'Alive'' was the first song I wrote for this new Cinema Kid project. It was the first time I had felt something significant in the studio for a long time," says Cinema Kid of the cut, a euphoric house offering that soars skyward. "I hope it makes you feel alive just as it does for me."
HALEY JOELLE – BRAVE FACE
We Are: The Guard favorite Haley Joelle perfectly encapsulates that feeling of being left behind as all of your friends are busy getting married or having children on the devastatingly relatable "Brave Face." The follow-up to "Memory Lane" is a quietly shattering acoustic ballad that hears Haley's honey-dipped country tones oozing with emotion as she sings about watching the people around her moving on with their lives while she stays stuck in her old routines: "I'm sorry, I'm trying/To put on a brave face."
ANGUS MAUDE (FEAT. UNA MEY) – HONEY
He recently linked up with RYAN DALEY on the summer anthem "Calabasas," and this Friday, Angus Maude continues to deliver on his promise of dropping one song every three weeks in the form of "Honey." A collaboration with Canadian singer-songwriter and high-school friend Una Mey, "Honey" is a deceptively syrupy acoustic offering that hears Angus and Una trading golden-hued verses about a toxic relationship that romanticizes pain and betrayal: "Can I call you my miel?/'Cause your lies are sweet as honey."
JOSÉ GONZÁLEZ – EL INVENTO (SOFIA KOURTESIS REMIX)
José González takes time out from touring North America to share a deeply paradisiacal remix of "El Invento" courtesy of Peru's Sofia Kourtesis. "It is a privilege to have been asked by José to do this remix! His voice is as warm and beautiful as a summer night around the people you love the most. He let me dream and fly using his voice!" says Sofia in a statement. With her polyrhythmic beats intertwining with José's existential Spanish lilt, this remix is as tranquil as the sun dappling against the shore.
-
Follow We Are: The Guard on Spotify for plenty more! xo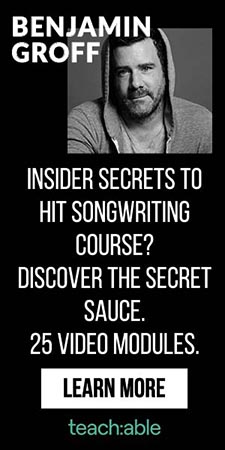 Jess Grant is a frustrated writer hailing from London, England. When she isn't tasked with disentangling her thoughts from her brain and putting them on paper, Jess can generally be found listening to The Beatles, or cooking vegetarian food.