TOP CHILL MUSIC: 10 SONGS TO BRING YOU GOOD VIBES
Photo by Wes Hicks on Unsplash
The countdown to summer is officially on, and I think we can all agree the change in season couldn't come soon enough! Everybody needs cheering up at the moment, and there's nothing like a bit of sunshine – not to mention some classic Bennifer action – to put a smile back on people's faces! While we hold out for happier days ahead, then, let's continue to bring on the good vibes with the latest edition of We Are: The Guard's Top Chill Music, featuring Fiji Blue, Cuco, TWO LANES & Panama, and plenty of others!
-
FIJI BLUE – OUTSIDE
Just in time for the world opening back up after months of being locked indoors, Fiji Blue returns with "Outside." Lifted from their recent EP Reasons You Should Care, it's an uplifting, optimistic oceanic breeze of a listen that makes for a perfect accompaniment to the weeks and months of socializing and human touch ahead. "Baby, I'm outsidе/Been thinkin' 'bout you all night/Been thinkin' it ain't right if you and me/Only see us in our dream,'' croons the band on the cut, which comes paired with a Say Anything...- referencing official video. Genius.
CUCO – FOREVERMORE
Cuco is in love and he wants everybody to know about it on his latest single "Forevermore." The follow-up to the equally romantic "Paradise" hears the California artist once again walking on Cloud Nine alongside his long-term girlfriend Marilyn Reyes, who also makes an appearance in the official video. "Empty days to every day/I want everyone to know/What I found roaming around," coos Cuco atop George Harrison-esque guitars on the psychedelic lullaby, which We Are: The Guard dedicates to young sweethearts everywhere.
TWO LANES & PANAMA – ROLLING BACK
We Are: The Guard favorite TWO LANES continues to build up to Reflections EP – due out on June 3rd via bitbird – by sharing "Rolling Back." It's another endlessly peaceful offering from the German duo that also features Panama's Jarrah McCleary. Bringing together soothing piano progressions and ticking clubby beats, "Rolling Back" has just the right amount of tension and dynamic to keep it sonically interesting. Panama, meanwhile, finishes the whole thing off with a calming vocal blanket, with his lyrics reflecting on our obsession with the past.
TOLEDO – DAVID
This is unspeakably, indescribably gorgeous. TOLEDO's Jordan Dunn-Pilz pays tribute to his younger brother on the New York band's latest single "David." "As siblings we share a lot of the same emotional baggage, but we process things differently as individuals. The song came out of a desire for healing in spite of those differences," writes Jordan of the cut – a softly lilting folk piece that hears TOLEDO's vocals coming cosseted by the gentlest of acoustic guitars and banjo wisps. Beautiful, beautiful stuff.
GREEN-HOUSE – NOCTURNAL BLOOM
Green-House's Olive Ardizoni continues to explore their fascination with plants on "Nocturnal Bloom." Lifted from their recent album
Music for Living Spaces
– the follow-up to 2020's
Six Songs for Invisible Gardens EP
– "Nocturnal Bloom" is a calming, albeit infinitely curious composition from this California producer. A blend of soft synthetic ambiance and organic field recordings, "Nocturnal Bloom" is a soothing study of the secret life of fauna and flora that deserves pride of place on any succulent mom playlist.
POWFU, SARA KAYS & SARCASTIC SOUNDS – THE LONG WAY HOME
Powfu, Sara Kays, and Sarcastic Sounds are stirring up all kinds of emotions with their incredibly powerful collaborative single "the long way home." According to Powfu, the song is dedicated to "all the people that are going through something and feel like they have nobody to talk to." Written from the perspective of a child whose mother is trapped in a toxic, abusive relationship, "the long way home" is a deeply moving piece of storytelling that reminds us of the importance of looking out for, and after, each other.
FORESTER – SYMPHONY
Forester's Xander Carlson and David Parris are capturing that feeling of being in complete and utter awe of the world around you on their latest single "Symphony." Written during a surfing trip to Big Sur, "Symphony" is a sublimely panoramic beauty that will make you relook at your surroundings with a wide-eyed, childlike wonder. "There's nowhere I'd rather be/Falling out of reality/No one is around, just you and me/Every sound is a symphony," declares the band on the cut, sounding like they mean every word they say. Dive in.
AXEL MANSOOR – I DIDN'T WANT ANYBODY ELSE TO KNOW
Clubhouse icon Axel Mansoor takes time out from singing us to sleep with his Lullaby Club to share "i didn't want anybody else to know." Featured on his recent EP i hadn't ever loved myself, it's an aching, cutting acoustic ballad Axel reveals on Instagram was written about masturbation and the shame surrounding the topic. "This song wasn't even gonna be on the EP originally, but Koby Berman and Dalton Ricks believed in it so strongly they produced a demo of it without me to convince me to put it on," he adds. Listen.
KOSTE – PRAYING
Every once in a while, a song comes along that takes you on a spiritual journey. "Praying" by Koste is one of those songs. Lifted from the Connecticut producer's recent album Bleeding Sun, "Praying" is a gorgeously lush, soulful piece that hears Koste singing about what appears to be some kind of out-of-body afterlife experience. "I'm up and I'm watching you/I'm praying, I'm hoping, yeah/That someday I'll be free from fear," croons Koste over fluting flamenco guitars on the cut, which makes for a genuinely transcendent listen.
ARK PATROL (FEAT. VERONIKA REDD) – LET GO (LATE JUNE REMIX)
Having recently gained popularity on TikTok approximately six years on from its original release, Ark Patrol and Veronika Redd's "Let Go" continues to ride a second wave of success this Friday thanks to this remix courtesy of We Are: The Guard favorite Late June. Listen as the New Zealand producer – who unveiled his EP Standing Still in April – transforms the cut from a brooding autumnal vibe into a tranquil tropical paradise, with the looping guitars and clubby beats making for the ultimate islandic experience. Blissful.
-
Follow We Are: The Guard's Weekly Chart for plenty more good vibes! xox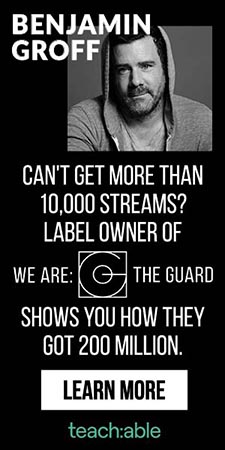 Jess Grant is a frustrated writer hailing from London, England. When she isn't tasked with disentangling her thoughts from her brain and putting them on paper, Jess can generally be found listening to The Beatles, or cooking vegetarian food.