TGIF: THE TOP CHILL MUSIC TO SEE YOU INTO WEEKEND
Marie-Michèle Bouchard on Unsplash
Happy Friday, everyone! The weekend is almost us, and I, for one, can't wait to get outside and enjoy this beautiful spring weather over the next couple of days. Of course, no weekend is complete without some fresh beats, so lucky for us, it's time for the latest edition of We Are: The Guard's Top Chill Music. With the countdown to 5 o'clock officially on, then, let's check out the following chill vibes from José González, Cuco, San Holo, and seven other favorites!
-
JOSÉ GONZÁLEZ – VISIONS
The world is a scary, confusing place, but José González is here to remind us we're all in it together on the deeply, deeply lovely "Visions." The latest single to be unveiled from his forthcoming album Local Valley after "El Invento" is a stunning acoustic hymn about finding peace in uncertainty. "No we can't know for sure what's next/But that we're in this together/We are here together," hums José on the birdsong-laced, Beatles-esque beauty, which the Swedish singer-songwriter reveals he wrote at the beginning of the COVID-19 pandemic.
CUCO – PARADISE
It's been a hot minute since we last heard from Cuco, but the California heartthrob is smooth-sailing back into our eardrums this Friday with "Paradise." The follow-up to 2019's Para Mí – which found Omar Banos coming to terms with his trauma following a near-fatal car accident – is a lovestruck ballad inspired by his relationship with his long-term girlfriend, Marilyn Reyes. Featuring dreamlike trap beats coming blanketed in Cuco's trippy haze of a topline, "Paradise" is a psychedelic nirvana that makes for a perfect end-of-week vibe.
SAN HOLO – BLACK AND WHITE
I'm going to go ahead and say it: San Holo is my favorite artist on the planet right now. The Dutch producer pours his heart and soul into everything he releases, and, honestly? That sh*t hits different! Case in point: "black and white." The latest single to be unveiled from his forthcoming album bb u ok? alongside the crunchy "MY FAULT" showcases everything I love about this man. Bringing together his equal parts sad and hopeful vocals and incomprehensibly emotive soundscapes, "black and white" is another must-hear work of art from San.
SONDER & JORJA SMITH – NOBODY BUT YOU
Brent Faiyaz's side-project Sonder links up with Jorja Smith on the somber breakup ballad "Nobody but You." "I've heard it all/Our conversations got me feelin' I'm the fool/Like I should've listened when they said that you/Would treat me like you did, oh, yeah," soulfully croons Jorja over acoustic plucks, immediately setting the tone of this melancholy ode to a relationship on the brink. Brent, meanwhile, spends the majority of the song pleading with Jorja to stay, with the whole thing making for a painfully raw, painfully realistic listen.
LATE JUNE & COURTNEY DRUMMEY – DRIVEWAY
Having recently signed to Heroic, We Are: The Guard regular Late June is giving us a taste of what's to come next on "Driveway." "'Driveway was a way of communicating a familiar sad feeling when passing driveways around my neighborhood reflecting on when life was normal," reveals Late June of the nostalgia-swept piece, which is perhaps his most mainstream offering to date. That isn't to say it's any less emotive or impactful, with Late June and Courtney Drummy affectingly capturing that sense of longing for a simpler time.
GABRIEL BLACK – KING OF THE NOSEBLEEDS
This one is dedicated to all those who never had a prom date or got invited to any parties. We Are: The Guard favorite gabriel black delivers an anthem for loners and outsiders everywhere on "king of the nosebleeds." "It's a love letter to the girl from another world, and at the same time, a love letter to myself to accept what I can't change and embrace who I am," explains gabriel of the cut – a simultaneously sad, angry, and legitimately moving piece that showcases gabriel's ability to tell stories and build communities with his art.
EMOTIONAL ORANGES & BECKY G. – DOWN TO MIAMI
Emotional Oranges is a gift that keeps on giving. Having recently tapped We Are: The Guard favorite Biig Piig for "Body & Soul," the enigmatic duo is back today with another five-star collaboration in the form of the Becky G.-featuring "Down to Miami." Built atop sultry guitar licks and a tropical-flavored beat, "Down to Miami" is a summer sizzler of the highest order. With Becky G. effortlessly code-switching between English and Spanish, "Down to Miami" delivers a luscious Latin vibe, too, making it perhaps the perfect post-pandemic groover.
LUZ – COUNTING HOUSES
Born in Ireland, Luz makes music that blankets you like a warm, comforting hug on a cold winter's day. Just take "counting houses." The rising artist's latest single is a piece of lyrical gorgeosity that feels like home. A song about love, friendship, and, as Luz puts it, "reassurance and hope to anyone who may be struggling with self-identity," "counting houses" is a truly beautiful offering that ought to be filed alongside the likes of Olivia Rodrigo and Jensen McRae.
UNUSUAL DEMONT – PURPLE
Wisconsin's Unusual Demont is tapping into his inner Purple One on his latest single – the aptly titled "Purple." "'Purple' got its name due to me listening to 'The Beautiful Ones' by Prince a loooot during the time I made it," explains Unusual Demont of the cut. Produced alongside Elijah Cruz, it's a seductively silken slice of cosmic-funk that oozes with a psychedelic sexual tension, with Unusual Demont delivering an aching topline that quite literally covered me in chills. Oh me, oh my!
VERSKOTZI – IN THE CLOUD
Closing out with a cut that recently slid into our Twitter DMs. Verskotzi is taking us to another dimension entirely on the ethereal "In the Cloud." Featured on the Los Angeles act's recent EP ARC 001 – which we recommend you listen to in full over at Spotify – this is the kind of instrumental that'll help you to forget whatever troubles you're dealing with this Friday. Soft, floaty, and incredibly otherworldly, "In the Cloud" is nothing short of an essential addition to all chill-out playlists.
-
Follow We Are: The Guard's Weekly Chart for more chill vibes! x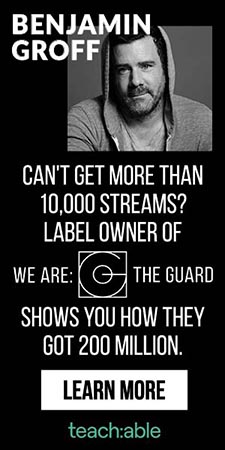 Jess Grant is a frustrated writer hailing from London, England. When she isn't tasked with disentangling her thoughts from her brain and putting them on paper, Jess can generally be found listening to The Beatles, or cooking vegetarian food.